RR 330: Dave Macholz – Academic Chair of Suffolk County College Automotive Technology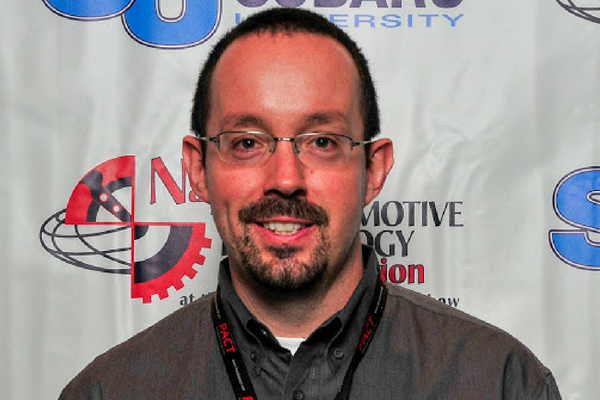 Dave Macholz is the Academic Chair of the Automotive Technology program at Suffolk County Community College, the largest Community College in the State of New York.
Dave began his career as a Technician at the age of fifteen and worked as a tech while pursuing a degree at CUNY Queens College. After College Dave owned and operated his own shop and continued to work as a Technician until being hired as a full-time High School Automotive Teacher at Eastern Suffolk BOCES in Oakdale NY.
Dave served as the lead instructor for the AYES Automotive program at ES BOCES for several years before leaving to take a position as a full time Instructor at Suffolk County Community College in Selden, NY where he currently Chairs the Fiat Chrysler MOPAR CAP Local, General Motors ASEP, Honda PACT, Subaru U, Toyota T-TEN, and general automotive programs.
Dave is an instructor and program consultant for Worlpac where he teaches and manages a team of Asian market vehicle technical trainers. In addition to his instructional background, Dave writes technical articles for Motor Age Magazine, serves on several industry and publishing company advisory boards and is an advocate for continuing automotive education for working automotive professionals.
Talking points:
Dave grew up in his grandfather's shop.
Suffolk County Community College on Long Island, New York is in its 30 th Year.
There are over 6,000 registered shops on Long Island.
How do we Improve enrollment in automotive technology college or automotive post-secondary schools?

Need to first communicate the need for techs which starts in schools

Middle school, high school, BOCES (Board of Cooperative Educational; Services in New York provides school districts with shared skilled trades courses)

It starts with parents.

If the parent's perception that the automotive industry isn't the right path for their child, then students never consider it as a career.

Students starting their career in the automotive.

Initial pay is lower than most careers, $12/hr, required to have own tools. This needs to change.
The Industry needs to start with a pay progression process along with pay scale that follows that progression.
Too many students are not doing challenging work after two years and they lose interest in their chosen career. We must take on this task to challenge our future techs.

Mentors are necessary to help students into their new career.

Key for the student to become successful.
Shops needs to commit to cost in training.
Mentoring is a skill and needs to be learned.

Most senior person in the shop is not necessarily the best choice for being a Mentor.

There will be a charge involved in mentoring young people. The shop must come to that realization.

Rethink automotive industry.

From training, certifications, and continuing education.
New business models may be considered.
With technology changing in cars you need a next level technician.

Internships

First semester- vet skills
Second semester in the first year- 80 hours spring semester, 400 hours over summer, 80-160 fall semester, graduation about 100% of interns are working. 60% dealerships, 40% independent shops.

Post-secondary must follow up with industry to verify students career pathing and learn about any changes to the program to better prepare and keep student employed.
Capital budgets for public college and the need for improvement.

70-80% is faculty salary and benefits.
Need to get creative for funding- grants, donations.
Facility upgrades need to be considered because of the demand of the industry.
The need of industry is so great which is sparking interest from colleges to help fill industry's employment needs. That is what community colleges do.
Grants are important to find funding.
In-kind donations are also important for his program.
Key to funding is involvement from industry.

Future of collegiate automotive training

With ever-changing technology, require trainees to have elevated reading skills, comprehension, critical thinking and soft skills
Be socially involved and in touch with the show:
Facebook   Twitter   Linked In   Email    Events    Speaking
This episode is brought to you by Federal-Mogul

Motorparts and Garage Gurus. With brands like Moog, Felpro, Wagner Brake, Champion, Sealed Power, FP Diesel and more, they're the parts techs trust.  For serious technical training and support – online, onsite and on-demand – Garage Gurus is everything you need to know. Find out more at fmmotorparts.com  and fmgaragegurus.com
---
Download the Remarkable Results Radio listening APP for your smart device: