THA 068: Why Just In Time Learning is Bad For Your Business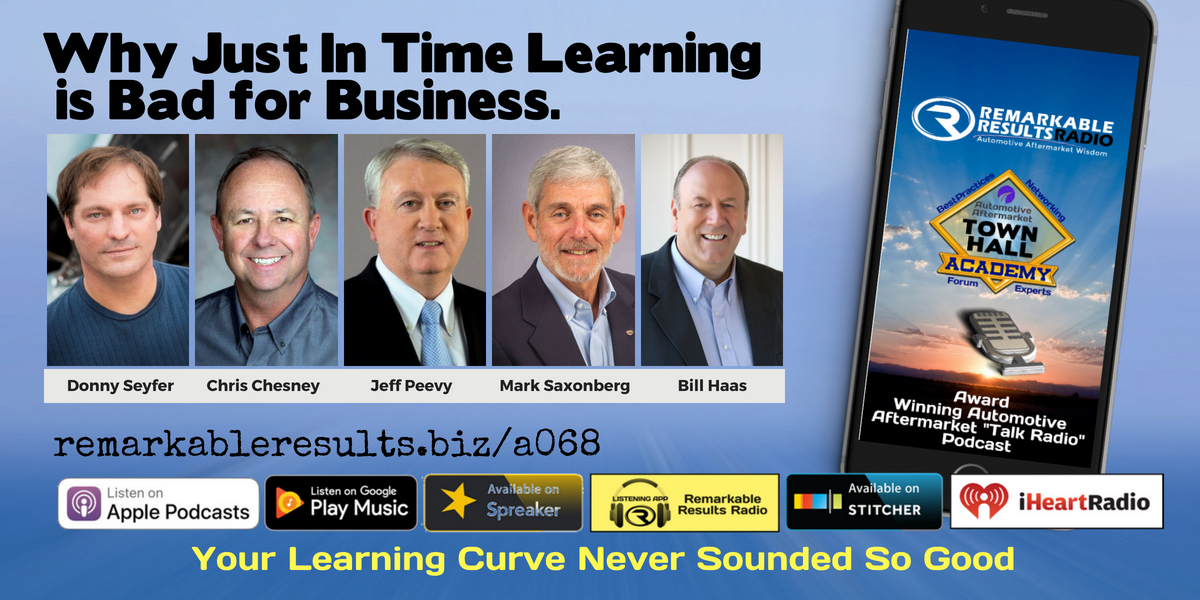 Your Learning Curve Never Sounded So Good
The Panel:
Donny Seyfer
Executive Officer of NASTF
Co-Owner of Seyfer Automotive
Donny's previous episodes HERE.
Chris Chesney
Director of Customer Training
Carquest TechnicalInstitute
NASTF Board Member
Chris's previous episodes HERE.
Mark Saxonberg
Principal, Saxonberg Consulting Services
NASTF Chairman
He is the founding father of the Road to Great Technicians and a huge proponent of being Service Ready.
Marks' Previous episodes HERE.
Bill Haas
Haas Performance Training
Business Manager of NACAT
Bill's previous episodes HERE.
Jeff Peevy, AMAM
President | Automotive Management Institut
Jeff's previous episodes HERE.
Talking Points:
A very important episode to listen to. The NASTF interview from Vision 2018: 'The Road to Great Technicians'

Episode 312

Just In Time. Came from the manufacturing
If you are waiting for the car to show up to lean you are in trouble, you can't expect to make any money when you are learning in the service bay.
It is not fair to the customer if you are learning core competencies.
But you have to learn in the service bay because many of the problems you come across you have never seen before.
Core competencies are critically important.
We need an approach to structured education.
You can interpret Just in time learning is not an excuse for knowing core competencies.
We need a structure for consistent for real education.
Do not use Just In Time learning as an excuse not to have structured education.
Managing your time is critical to profitability. So if core competencies are not ingrained in the tech assigned to the job will affect your profitability.
The concept of triage in assigning work inside the shop considers the competencies of the technician that is assigned a particular job.
As we attempt to keep up with technology we are falling further behind on core skills because we are not spending enough time in class or in labs so we can put that training to practical use in the bays.
A tricky part is teaching technicians where to find specific information and if they have the core skills they can be viewed as a rocket scientist.
The Road To Great Technicians. NASTF is creating a way to determine the competencies in the fundamental skills for the job you've hired for.
Just In Time Training can include a YouTube Video on the task you need to do because you learn about a specific task through a Service Support Resource. -Mark Saxonberg
The industry must cue up resources to make it easy for technicians. -Mark Saxonberg. This is an example of what Just In Time Learning should be.
The real opportunity to improve the business process is that the tech knows what they do not know.
To have the knowledge and tool is what being Service Readiness is all about.
A well-run shop with a schedule allows a tech to know what they need to prepare for a vehicle because research could be done by anticipating the challenge.
Much of this problem is because there is a lack of processes in shops.
It can start with the root of onboarding with new techs. There is hardly any onboarding that exists in our industry. Here is your bay have a go at it.
The Service Advisor is a critical component of this issue.

They need the skill set on who to assign the job to be based on the expectations that were set by the customer. Challenge is to do the job right the first time.

Many Service Advisors are also brought on without a great onboarding process. Many SA's go through Just In Time training at service counters all across North America.
Estimate: How many shops are service ready for the vehicles they service?
Define Service Reediness: Being prepared to service a vehicle before it shows up in your bay. That may be just 5% of the shops are ready. That demonstrates the power of having the core competencies as a foundation.
The future may have specialists in certain disciplines, such as:

Data Network Specialists.
An electrified vehicle specialist
A 3 Phase AC motor generator specialist

In the Car Quest program the program 'Virtual Vehicle' helps the customer understand systems but also helps to enable the Service Advisor learn systems to sell services.

You don't need to be a tech to sell service but need to understand the system.

The service advisor needs to know the capabilities of each tech.
A learning culture needs to be in place at every shop.
Your processes must include Service Ready Resources and training, so you can deliver and meet your customers' expectations.

Must set the standard of performance for your people.
Don't rely on a silver bullet data based to repair vehicles
Don't rely on a resource of public opinion to guide them in their diagnostics.
They should rely on resources with the experience and education through foundation skills with ongoing training.
A program such as Car Quest's Virtual Vehicle can support your Service Ready strategy.
More shops and technicians need to take it to the next level of commitment.

Any professional shop needs to aspire to be Service Ready.
The industry needs a model for technician development to demonstrate core competencies.
Don't make Just In Time Learning as just an excuse not to go to training because you can get it at your fingertips because you need the details and the knowledge and expertise to know when to apply them.
---
This episode is brought to you by Jasper Engines & Transmissions. When a car's engine or transmission fails, it's

not the end of the road. A remanufactured drivetrain product from Jasper Engines & Transmissions will give your car a new lease on life. JASPER has over 2000 Associates, three manufacturing facilities, two distribution centers and 45 branch offices across the country. They're all working to produce, transport and deliver the perfect product. That's what they do best… keep customers happy. Visit jasperengines.com