RR 348: Vinnie and Anthony Lucido from CoAuto – Community Conscious Car Care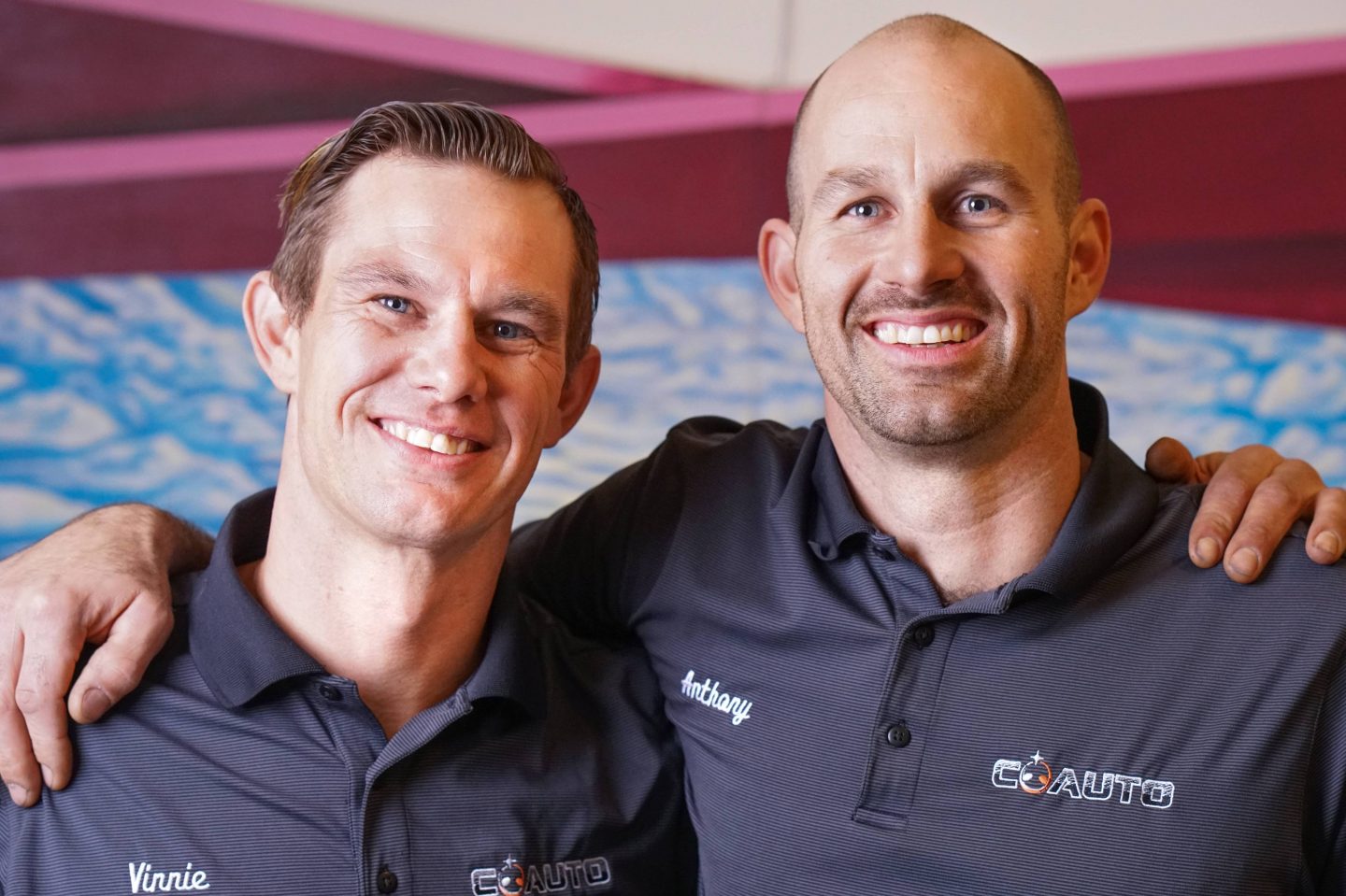 BIO:
Anthony Lucido started working in the service station business in 1995.  He has been tinkering with cars since the ripe age of 12 years old.  The first car he ever drove was an older Subaru he tuned up for his dads' friend, after the repair he drove up and down the long driveway (official test drive)
Anthony was an intern at the Porsche Service Training facility during his senior year in high school where he was taught many valuable lessons that have stayed with him to this day.
Anthony is a Master Technician, Advanced Level Specialist, Service Consultant, Undercar Specialist, Maintenance & Light Repair Technician–He currently holds 15 ASE certifications and 3 advanced level certifications.  He and his brother Vinnie went into business and opened CoAuto in 2014 and become a student of the automotive business.
In 2017 Anthony received his Integrative Nutrition Degree for Health coaching as he was planning on going into another field after building this business, but after attending Vision in 2018 Anthony has a renewed passion for the automotive industry.  Anthony is married with 2 boys and a beautiful wife. Listen to Anthony's previous episodes HERE.
Vinnie Lucido has had his hands in the automotive industry since 1996, starting in High school as a CSR at one of the last 76 Full-Service Gas stations in Reno. He found a passion for helping people through their most prized possessions, their automobile. Vinnie and his brother Anthony partnered together & opened CoAuto in 2014 and have been nothing but success in their new undertaking. Vinnie is ASE certified and has operated in every capacity of the automotive repair field. Throughout his career, he has been a customer service representative, a service writer, a technician, a manager and now an owner. Ultimately, he finds he is happiest when he is in communication with his clients and gets the opportunity to get to know his guests. Vinnie spends his time building relationships and networking and in turn, the shop continues to grow.
Vinnie an avid outdoorsman and enjoys all the Tahoe area offers. In his spare time, you will find him in the rivers, whitewater kayaking, rafting, and paddle boarding. In the mountains, snowboarding, timbersledding, and mountain biking. In the desert, dirt biking, rock climbing, and hiking. In the lakes, kiteboarding, wakeboarding, and swimming. In the city, one-wheeling, biking, and hanging out. Vinnie also lives a yogic lifestyle and teaches the art of Budokon. Budokon like a triathlete has 3 disciplines which are martial arts, yoga, and calisthenics. He is passionate about health and wellness. He and his beautiful wife Dawn are in the works of opening a yoga retreat in Belize where he plans to retire and enjoy all the Caribbean has to offer. Listen to Vinnie's previous episodes HERE.
Talking Points:
CoAuto- Community Conscious Car Care, Reno,NV

Veteran car giveaway every year

Local art display in the waiting room- shop doesn't take commission from sales

High school internship program

Reverse carbon footprint- Partnered with Arbor day foundation and have a tree planted with every oil service

Women's car care clinic

Anthony- taking a step back from the business and letting employees learn by themselves and not micromanaging company. Remained motivated from seeing the previous employer working to the bone as an owner who couldn't let go of control and knew he didn't want to be that type of owner. Both Anthony and Vinnie on 5-year plan to have the shop run by itself.

Culture of business

Starts with amazing staff that works well together

Murals on the wall when you walk in, it makes you feel inviting

"Like walking into doctor's office"  

Best advice

Build your business without you as the main employee, keep replacing yourself

Build relationships with customers and network- they trust you when they know you

Measuring success

ARO's, parts/labor margins, billed hours  

Facility of the Year 2108 from Vision High Tech Training and Expo.
---
Be socially involved and in touch with the show:
Facebook   Twitter   Linked In   Email    Events    Speaking
This episode is brought to you by Federal-Mogul

Motorparts and Garage Gurus. With brands like Moog, Felpro, Wagner Brake, Champion, Sealed Power, FP Diesel and more, they're the parts techs trust.  For serious technical training and support – online, onsite and on-demand – Garage Gurus is everything you need to know. Find out more at fmmotorparts.com  and fmgaragegurus.com