RR 375: Trained By Techs – Creating a Training Commitment Inside All Shops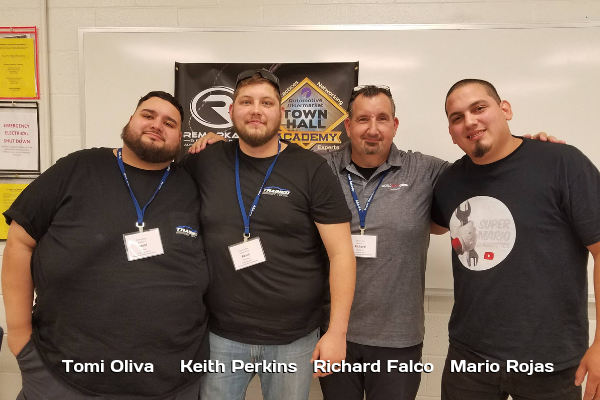 The Panel
Richard Falco Jr. is an instructor for Carquest Technical Institute (CTI). He is an ASE Master Technician L1 with over 25 years in the auto repair industry. His technical experience includes Domestic, Asian, and European vehicles both at the dealership level and as a successful shop owner. He has instructed technicians and college students in all aspects of automotive repair and currently takes care of our customers, for CTI, throughout the southeastern U.S.
Keith Perkins has been in the industry about 13 years, serving in various capacities, including; machine shop experience as a cylinder head machinist, cylinder block machinist, lead engine assembler, and engine performance tuner. Outside of the Machine shop, he has been a diagnostician at independent shops, contract trainer for independent shops and parts suppliers, a General Manager of a parts store and he has supported over 200 shops as a Nissan/Infiniti technical information specialist.
Keith is a member of the Trained By Techs group and currently serves as diagnostician, programming and security specialist for Christian Brothers Automotive, he also operates a diagnostic, programming and security training company (L1 Automotive Diagnostics and Programming). Keith holds 14 ASE certifications, and also serves as a "Subject Matter Expert" for the ASE A1 test. Keith has a passion for supporting professionalism in our industry, as part of that he pushes young and seasoned techs to get ASE certified. Keith says out of all his certifications and accomplishments he is most proud of his "Value of Life Award" he received for successful life-saving efforts on a civilian while in the line of duty during his hiatus from the automotive industry with the Colorado Department of Corrections.
Tomi Oliva is the owner and operator of San Jose Automotive Center in Chicago, IL. He grew up working in the family business. The primary business back then was tire related, but they did venture into some general repair.
This is when Tomi realized what he was going to be when he grew up. For Tomi, the tire side of the business was a chore but once he got a taste for the repair and technical side of the automotive service business, he knew his professional direction. Tomi was hooked. So much so that he went against his father's wishes and attended UTI Glendale Heights where he graduated in 2004. After graduating, he worked for a Nissan Dealer for a while before returning to Chicago to take over his Father's Tire Business.
If you guessed that Tomi would probably convert the tire shop into a full general repair business, then you guessed right. San Jose Automotive Center is now an automotive general service business and has been since 2015.
About two years ago, Tomi started attended technical training and meeting others that shared his same passion for diagnostics. The relationships that Tomi developed from these courses and training events have opened doors to some awesome opportunities. To say that Tomi is satisfied with his career choice and industry involvement would be an understatement, but he's just getting started.
Mario Rojas picked up a wrench for the first time 10 years ago, after watching someone do a brake job. He landed a job at the local repair shop a couple of years later after doing brakes, belts, hoses, and suspension work out in the street. That shop sent him to a small electrical theory class and he became fascinated with it. He studied every magazine, every YouTube video he could get his hands on and one by one took and passed his ASE tests. Once he received his L1 certification, he was fortunate enough to find a reputable shop. They allowed him to create a YouTube channel. His goal is to share with and motivate techs of all ages but to especially motivate the younger techs in the industry. He hopes to share as much knowledge as possible in the same fashion that he was fortunate enough to acquire it.
Key Talking Points:
We need to stop the loss of our talent and engage the technicians of the industry through building a strong network.

Many technicians don't know about another level that they can aspire to.

Many don't know that being a lead diagnostician can be profitable.

Techs do side work because they are not being compensated properly.

Trained By Techs is working tirelessly to reach technicians that have not been to training.

They have an open mike weekly on the zoom meeting platform.

As a technician who works for a shop that does not pay for training, you will have to pay for your training. Come back to the shop and share and show the owner the value you've received and that all in the shop can benefit and will be split your next training investment with you?

Do our shop owners really know what is going on in training classes?

Every technician class should also be attended by shop owners and service advisers.  

There is a need to create a manifesto for techs that will outline and create a training commitment inside their shop. It is time to pull a training commitment from shop owners.

Part of being hired at a shop you must require training.
Resources Mentioned:
Thanks to Keith Perkins, Richard Falco, Tomi Oliva and Mario Rojas for their contribution to the aftermarket's premier podcast.
Link to the 'BOOKS' page highlighting all books discussed in the podcast library HERE. Leaders are readers.
Leave me an honest review on iTunes. Your ratings and reviews really help and I read each one of them.


Be socially involved and in touch with the show:
Facebook   Twitter   Linked In   Email    Events    Speaking
This episode is brought to you by Federal-Mogul

Motorparts and Garage Gurus. With brands like Moog, Felpro, Wagner Brake, Champion, Sealed Power, FP Diesel and more, they're the parts techs trust.  For serious technical training and support – online, onsite and on-demand – Garage Gurus is everything you need to know. Find out more at fmmotorparts.com  and fmgaragegurus.com