THA 091: Workshop – Service Adviser Roleplay – Part 2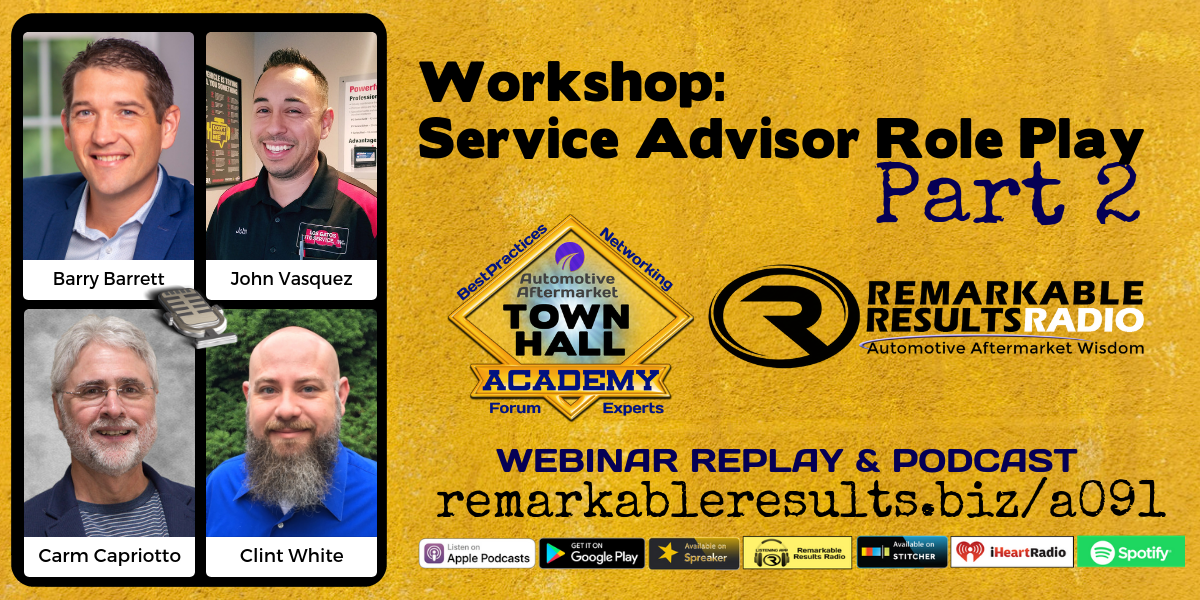 Your Learning Curve Never Sounded So Good
The Panel:
Clint White holds the ASE Master Tech, Under Car Specialist, & Service Writer Certifications. He started wrenching in 1995 and landed his first job via BBB chat room connection. Clint moved on to manage & tech at Midas and then at an independent shop. He moved to Idaho to get away from the overcrowded West Coast and worked as a Chevrolet/Cadillac tech.
Next, he managed another independent in Meridian Idaho. While there, the owner of the business sent me to shop owners training through RLO and ATI 2-3 times a year and he also took it upon himself, at the same time, to attend Bible College full time for 2 years and become a licensed Pastor (talk about being stretched!!!). His fire was lit !!
Clint found out quickly he has a passion to OWN his own shop and a passion to TRAIN/TEACH people. His world was rocked when his father (also a Pastor) was diagnosed with Parkinson's, Prostate Cancer, had neck surgery and a knee replacement all within a short span of time. Clint moved home to spend time with his Dad. It was a tough choice to leave what he had in Idaho but for him, family must come first.
Clint now manages one of two shops owned by a shop owner he teched with way back in the day. Coopers Auto Repair Specialists in Tacoma, WA. Listen to Clint's previous episodes HERE.
Barry Barrett is an authority on sales and selling. He is the Director of Training for RLO. Barry's sales and training capabilities operate at full capacity in his dual roles as the lead salesperson and service manager trainer.
During Barry's career as a Service Manager and top salesperson, he honed his talents in communicating with people.
Barry is tireless in his pursuit of excellence in the automotive industry and in all that he does. His passion for providing tools to train owners and their teams to the next level is unlimited. Barry is a Ziglar Legacy Certified Coach. Listen to Barry's previous episodes HERE.
John Vasquez is the Shop Manager and Service Advisor at Los Gatos Auto Service since 2006. As a child, John was always into cars. That love never went away and he thought that the automotive industry would be a good place to start his career. He first worked in a parts department for a local distributor, then moved on to detailing vehicles at a Volkswagen dealership. After about a year and a half, he worked his way up to valet, then greeter and finally, service advisor which he really enjoyed and just confirmed for him that he had picked the right career path. He enjoys spending important time with his wife and daughter. If he is not watching the Niners, Warriors or Giants, you'll find John enjoying some delicious food and/or taking in a movie.
Role Plays:
#1. A very common call ……How much is a tune up? On this one the year make and model doesn't matter…..
Customer: John Service Advisor: Clint Observer/Coach: Barry
We think customers ask for a price way more than they do.
About 25% of prospects ask for a price.
Great service advisors will get about 10% of price requests because they are using the Socratic Question method.
Clint showed his pace so he slowed John down.
This is a very common call, almost 50% of the calls that come in.
#2. The service writer is calling back a customer with a 2008 Toyota Highlander with over 200k miles.
Customer: Clint Service Advisor: Barry Observer/Coach: John
When they brought the vehicle in, it was running poorly and they were very open about the fact they had done little to no maintenance to the vehicle Upon inspection it was found it needed over $4000 worth of repairs just to make it safe and reliable, not to mention a few other maintenance issues that could be deferred for a few months. The tension in this scenario is very much a daily one in real life…..How do you sell a large repair on a vehicle that "blue book's" for less than the needed repairs?
Barry does the 'set-up' for this role play.
This is an example of spending $4,000 on safety and reliability vs $30,000 for new, plus depreciation, higher insurance and registration fees.
The vehicle has not had maintenance in 10 years and it now needs $4,000 or on average $400 a year for the last 10 years. A very low number to have maintained that car each year vs buying new.
Prepare for this call by doing the math on different scenarios.
Some service advisers sometimes sell with their own wallet. If they personally can't afford the repair, they have a tough time selling it.
If you can't afford $4,000 how can you afford $30,000, even long-term, plus, plus.
If they are thinking of a new car used or new, have a referral ready.
#3. Customer calls in stating their vehicle won't go faster than 30 miles an hour and has a driveway diagnostics remedy.
Customer: Barry Service Advisor: John Observer/Coach: Clint
The customer states they went to an auto parts store where the employee there plugged in a scanner. The customer then provides codes indicating transmission troubles and says the auto parts store employee said they need a new transmission (driveway diagnosis).
Careful on the detail you provide. Don't build the watch, just tell the time. (Don't overcomplicate)
Magic box at the parts store is very different than what you have.
Transmission may not even need replacement.
Use high caliber words.
Barry was ready to set the appointment way before he asked.
Great language. "I would like to invite you in."
Always think Unique Selling Point.
Building trust is not installing a transmission if one is not necessary and didn't solve the problem.
Learn to be confident in your presentation by practicing. Confidence comes from mastery.Practice makes permanent.
Practice with a purpose.
#4. Selling a larger part/repair that involves a "dealer only" part.
Customer: John Service Advisor: Clint Observer/Coach: Barry
The savvy customer has already viewed his DVI and has already called the dealer parts dept to get a "list price" on the needed Powertrain Control Module (PCM) for his 2016 Dodge Grand Caravan. The rub on this one is the need to sell parts with the appropriate markup/margin to be able to stand behind the warranty on the repair….
Never use 'about' to convey price of job. Always be exact when giving the price. Leave no room for negotiation.
Always say 'investment'
Be careful when using the steak in restaurant analogy.
Is peace of mind warranty important to you. Dealership warranty vs aftermarket.
Resources:
A link to Part 1 – Service Adviser Role Play HERE.
A special thanks to Barry Barrett, Clint White and John Vasquez for their contribution to the aftermarket.
Books Page HERE
Leave me an honest review on iTunes. Your ratings and reviews really help and I read each one of them.
Facebook Twitter Linked In Email
This episode is brought to you by Jasper Engines & Transmissions. When a car's engine or transmission fails, it's

not the end of the road. A remanufactured drivetrain product from Jasper Engines & Transmissions will give your car a new lease on life. JASPER has over 2000 Associates, three manufacturing facilities, two distribution centers and 45 branch offices across the country. They're all working to produce, transport and deliver the perfect product. That's what they do best… keep customers happy. Visit jasperengines.com