RR 376: The Undeniable Rise of Digital Vehicle Inspection (DVI)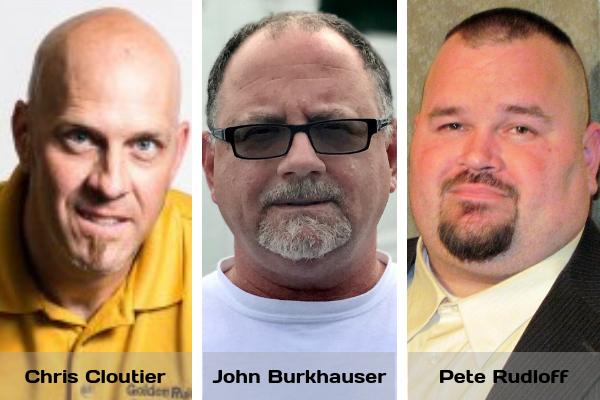 Chris Cloutier is co-owner of Golden Rule Auto Care in Dallas, Texas for the last 5 years and is an expert at software development who understands what customers want in a digital sales process. He came from the software industry developing solutions for companies like Southwest Airlines, and Wyndham Intl. Chris worked for companies that understand the marriage of service and software and have applied it in an effective way.
After opening his shop, he founded autoflow.me, a workflow and communication solution, specifically to give his shop a competitive advantage. As he talked to more shop owners he realized there was a need for better technology and has since worked toward helping the industry embrace and move forward with it. Listen to Chris' previous episodes HERE.
John Burkhauser is currently employed at BOLT ON TECHNOLOGY as the Director of Education, a job that allows him to use a lifetime of learning experience day in and day out.  John dreamed of being a meteorologist but found out college wasn't for him.
When his car failed the state inspection, that was the day his career was decided on. John went to Pennco Tech to attend the Auto Gas and Diesel program.  After graduation, John started work in a dealership where he went from a "D" technician to an "A" technician in a few short years. He also added shop foreman to his resume.  During this time, John became certified as an ASE Master Technician and Advanced Level Technician which he still maintains.
Crossing to the other side of service, he became a service adviser winning the Ford Silver Medallion award. He then became a Service Manager for a large dealership.
John also worked in the independent aftermarket. He then applied to be an instructor at a post-secondary automotive training school where he taught basic electrical and HVAC courses for the better part of ten years.
Fortune would change his career path again when John learned about BOLT ON TECHNOLOGY and became part of the team. Listen to John's previous episodes HERE.
Pete Rudloff is a national automotive instructor/advisor, ASA volunteer leader, nationally published technical writer and owner of both Pete's Garage, Inc. and Blue Collar Technologies, Inc. in Newark, DE. Pete has a passion for raising the bar for the auto trade and a reputation as a friend to the general auto repair shop with many calling themselves Pete's customer. More than just a guy who fixes cars, Pete is out to change the auto trade and how vehicle owners view auto shops with his new FlexCheck Auto Digital Vehicle Inspection Software. Listen to Pete's previous episodes HERE.
Key Talking Points:
DVI is so important because it will increase the transparency with what is going on with their vehicle.

More and more people want to be in control.

DVI allows you to maximize opportunity with each vehicle that comes into the shop.

DVI is not going away. It is like a smartphone. 'Everyone has one'

DVI penetration is only about 10%, however, it is the norm today.

There is no excuse not to DVI. It is not going away. Sop ignoring that this is a fad.

DVI bring the vehicle in the bay to their home or office.

Adoption rate issues:

Change

Fear

Battling priorities (fire drills)

DVI is a major change. It has a major impact on the business. You need to be prepared.

Lay your plans and vision to adapt DVI over the next few years. Let your people know.

Involve your team to improve your engagement. Get your teams feedback and buy-in.

Get them to kick the tires with you.

Time is necessary to get full adoption.

Leadership/Management must take a strong lead in the implementation of DVI and stay engaged with the team not only during integration but into full adoption and as a system.

DVI's are comprehensive and have so many features. You must be a perpetual student to be sure your DVI systems features are being considered for your company.

Look for a DVI company where you find a fit for your culture.

You need a lot of force and momentum to get through implementing DVI

If you adopt early you gain a competitive advantage.

Consumers will demand this in the future and force you to have DVI. Become the leader in your market.

You will have pain in the implementation but fight through it.

DVI is the single biggest thing you can do for your bottom line.    
Resources Mentioned:
Thanks to

Chris Cloutier, John Burkhauser, and Pete Rudloff

 for their contribution to the aftermarket's premier podcast.
Link to the 'BOOKS' page highlighting all books discussed in the podcast library HERE. Leaders are readers.
Leave me an honest review on iTunes. Your ratings and reviews really help and I read each one of them.


Be socially involved and in touch with the show:
Facebook   Twitter   Linked In   Email    Events    Speaking
This episode is brought to you by Federal-Mogul

Motorparts and Garage Gurus. With brands like Moog, Felpro, Wagner Brake, Champion, Sealed Power, FP Diesel and more, they're the parts techs trust.  For serious technical training and support – online, onsite and on-demand – Garage Gurus is everything you need to know. Find out more at fmmotorparts.com  and fmgaragegurus.com