RR 379: A Banker and a Master Tech Build a BMW Specialty Shop – Down Under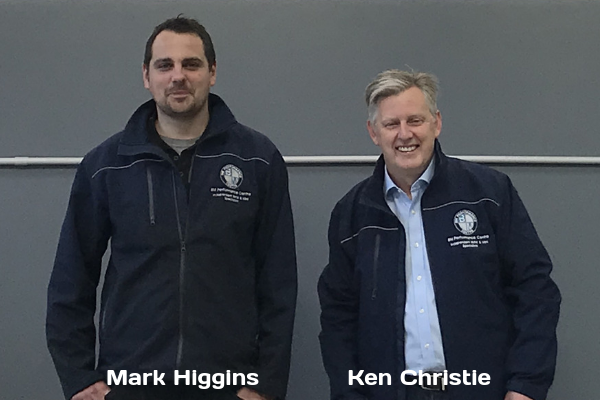 Ken Christie is the Chief Financial Officer of the Australian Bank division of National Australia Bank (a global top 25 Bank), his role is responsible for driving the financial performance and oversight of the Consumer, Business and Private Bank, Wealth division and Customer Experience and products division in Australia. In addition to this fulltime role, Ken is a passionate car owner and collector and has a 50% equity ownership in an Independent BMW & MINI workshop in Melbourne Australia "BM Performance Centre". This ownership with Mark Higgins blends his passion for cars with that of building and growing a small business.
He has an Undergraduate Degree in Banking and Finance from Victoria University, an MBA from Melbourne University and is a Graduate of the Advanced Management Programme at Harvard Business School. His passions outside of work include snow skiing, car racing, and vehicle restoration and spending time with his family. As a side note, his passion for skiing has led him to pass his level 1 and 2 Canadian Ski Instructor exams.
Mark Higgins is the Co-Owner of BM Performance Centre and is an experience BMW Mastertech. His experiences have brought him to New Zealand, US, and the UK. He is already in the business for 8 months and has set the roles and responsibilities of the shop. He has worked before as a workshop manager and a BMW Diagnostic Technician.
Key Talking Points:
The shop opened 6 months ago in Williamstown, Victoria, AustraliaKen Cristie- CFO of Australian Bank but has a passion for his car collection
He wanted to create a BMW and Mini's specialty shop.He races a BMW M3
Mark Higgins- Partner in business from answering an ad. He has been around BMW's his whole life.
Business plan:Exclusive BMW operation
Ken found his partner via an ad placement
They built a business case and as a CFO. Ken was very familiar and Mark thought it was
Their labor rate is $175. The dealerships are $240 – $280. General shops in Australia is prox $130
Building a long-term sustainable business.
ChallengesA consistent flow of customers and earning their trust
MarketingKen and Mark often go to malls and put flyers on cars in parking lot to attract new customer attention
They are getting 5-star reviews on Facebook
Australia aftermarket:Techs go through 4-year apprenticeship- then qualify to start 50-55k salary (40k US Dollars) Often only learn to do oil service/brakes at dealerships 3
Tech shortage- veterans struggling with new technology, new techs losing interest.
They are looking for techs from the UK to come here on work visas.
Australia has low unemployment.
Australia imports their vehicles.
BMW is the second popular vehicle in their area. Mercedes, Toyota, VW, GM, and Ford are in the top.
OE information is slowly trickling out to the aftermarket.
Mark is getting help from friends in the dealership network to get information to repair vehicles.
Technicians must go through an apprenticeship like the UK.
Legacy technicians are getting disenchanted as the new technology is coming at them so fast.
Parts margins and parts pricing are a challenge. They are trying to maintain a 40% margin.Off the scale compared to the UK.
A new key in the UK is about $150. In Australia $700.
They are looking for partnerships from parts suppliers
BM performance experience is a program they run at the shop.They adopted STEM ideas they heard from the podcast at their shop.
For customers that want to understand how their cars are serviced and the electronics, diagnostics, sensors etc in vehicle
Customers can watch service being done live, no charge for a customer to experience the service that is differentiation in the market.
Customers are fascinated by the diagnostic process and how the car works.
They had a BMW car club in the shop in on an evening with about 30 people.
Immigration policyUndergrad degree (have a trade), under 30 years old, no children or dependents- open immigration
Skills-based assessment and points system
Australian Aftermarket ShowSimilar to AAPEX
Held every 2 years
Key suppliers- oil, part supplies
Technical sessions to attend
Australia has the same land mass as the US with 25 Million peopleWill grow to 41 Million by 2040
It takes 24 hours air flight from New York to Australia
Resources Mentioned:
Thanks to Ken Christie and Mark Higgins for their contribution to the aftermarket's premier podcast.
DOWNLOAD: Spreadsheet 'BM Performance Cash Flow Spreadsheet HERE.
BM Performance Centre Website HERE.

Link to the '

BOOKS

' page highlighting all books discussed in the podcast library

HERE

.

Leaders are readers.

Leave me an honest review on iTunes. Your ratings and reviews really help and I read each one of them.


Be socially involved and in touch with the show:
Facebook Twitter Linked In Email Events Speaking
This episode is brought to you by Federal-Mogul

Motorparts and Garage Gurus. With brands like Moog, Felpro, Wagner Brake, Champion, Sealed Power, FP Diesel and more, they're the parts techs trust. For serious technical training and support – online, onsite and on-demand – Garage Gurus is everything you need to know. Find out more at fmmotorparts.com and fmgaragegurus.com