THA 093: How Not To Be a Micro Manager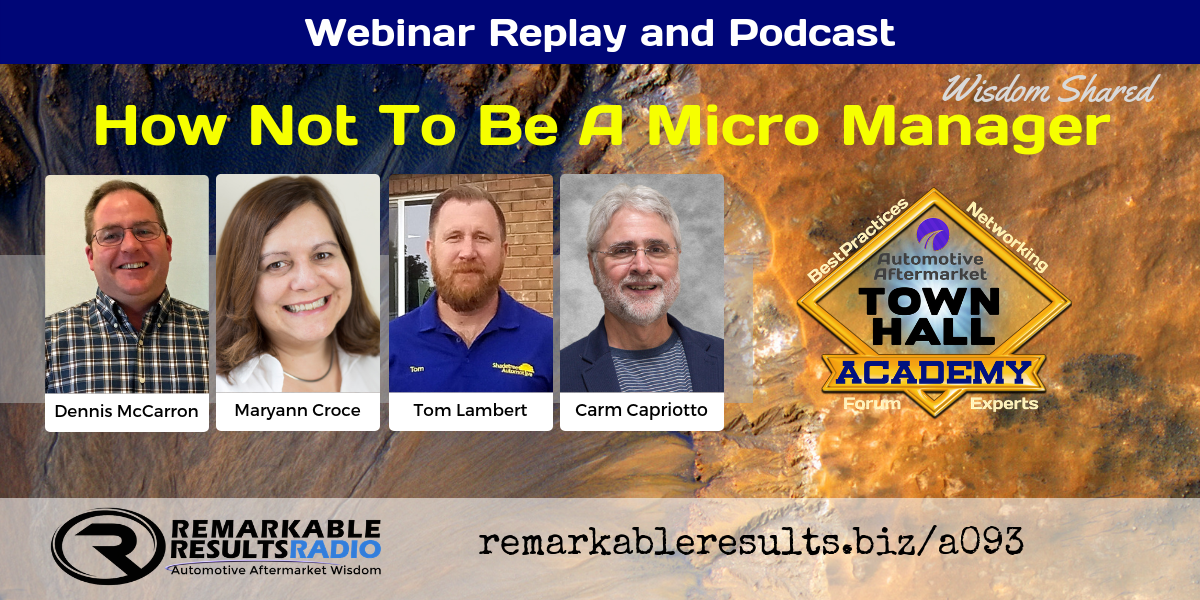 Your Learning Curve Never Sounded So Good
Dennis McCarron, formerly Bridgestone's National Management Instructor, joined Dealer Strategic Planning, Inc. (DSP) as a group facilitator and is now Executive Director.  This is Dennis's second appearance on the podcast.

He passionately studies behavior analysis and teaches sales. His experience includes 8 years managing retail stores for Bridgestone and 10 years designing, instructing and facilitating Bridgestone's management courses.  This development training covered the company's 2,200 retail locations.
I asked Dennis to come back in part two to share his sales philosophy. The talking points below will outline all the great wisdom that Dennis shared. He stresses technique over style.
At DSP, Dennis and his team help independent aftermarket dealers manage the financial, branding, and human resource aspects of running a business. Listen to Dennis's previous episodes HERE.
Maryann Croce of Croce Transmissions in Norwalk, CT was opened in 1999. Maryann was a banker turned business owner. Tony was technician turned shop owner.  A big transition on their parts and that extensive wisdom makes Maryann the perfect guest on the Academy series.
Their 4 bays, 4 techs, and one service advisor shop is successful because as husband and wife Maryanne and Tony work at their roles and have abundant trust in each other.
Maryann is also a member of Women in Auto Care and owns smallbizvantage.com. Hear Maryann in her previous episodes HERE.
Tom Lambert, Automotive Manager at Shadetree Automotive. Tom Lambert got his start right at home.  His dad and uncles always had projects going on in the home garage.  During the summer vacation, his dad would have Tom remove engines from the vehicles that were being sent to the local machine shop for rebuilding.
He signed up for business management at a local community college and attended night classes and sometimes would have to go back to the shop and finish up jobs.
The business continued to grow. By 2007, the operation was doing over 1 million in sales.  By 2013, they were doing over 2 million in sales. This was such fast growth but they never seemed to get ahead financially. Even the financial management classes helped a bit, but they never truly got a great grasp of their finances.  They were too busy working countless hours in the business to keep up with demand instead of taking a step back to figure the business out.
In the past three and a half years, Tom and his dad have made strategic adjustments in the business.  They are now a $2.5 million dollar a year shop with 10% annual growth and profitability. They continue to improve every day.  Tom says he has the best team and a strong culture. In January 2017 Tom bought his dad completely out of the business.
Tom struggled for many years because he had lost the passion for the auto industry.  After receiving all the guidance and coaching over the past few years, he is rejuvenated and has more passion than ever and is currently doing everything he can to pay it forward to other local shop owners. Tom's previous episodes HERE.
Key Talking Points:
Maryann Croce
Mindset – Micro Managing is the enemy of leadership. It's that simple. Leadership is about empowering others and micromanaging discourages them.
Why we micromanage – It's Fear-based.

Fear of not being viewed as an expert. There is a disconnect from the work. You're in new territory with new responsibilities. Many are not sure of their role and goal.

Fear of losing control- You now depend on others to complete tasks that you use to do. Others may be keeping up and you no longer are.

Fear believing no one will care as much as you or your brand is on the line. – This comes from not setting clear expectations and goals.

What micromanaging looks like

. (People don't intend to micromanage. It sneaks up slowly.)

Continued questioning of people and making suggestions after you gave them a task or assignment.

Blaming others when things go wrong. Accountability starts with leaders

Throwing people under the bus in front of others. Setting people up for failure.

How do we stop

– Build new skill sets. Focus on the items that will next level the business. Messaging, Relationships, and Financials.

Learn your role and goal as a leader owner/manager and focus on those areas. Mission Vision and Purpose. MVP Strategy is your new focus.

Set clear expectations and communicate with your team. Get their input and value it. Trust your team.

Support your team's decisions. Give them the resources and training needed to succeed.
Dennis McCarron
Learn that clones of you don't work for you.  As long as the end result is attained ethically, there are many ways to reach the finish line.  Different people look at the world in different ways and see different paths.

Be

unrelenting

on results and high standards.  But the employees solve the problems, not the manager.  This is often overlooked or ignored due to it's perceived "takes too long" aspect of discussing/testing/solving nature – but the catch is if there is a manager who has all the solutions and employees are never involved, the buy-in is zero, which means effort is zero, and EVERYTHING takes too long.

Failure is ok.  If it doesn't burn the shop down or cost a million dollars, making mistakes is ok.  The key is to analyze, learn, and not repeat. This is not contradictory to #2.

Mission and Vision Statement.  In emergencies/firefighting, where people have to act quickly and decisively, if there isn't a compelling M/V statement, employees will rely on gut instinct.  With a compelling M/V employees use that to shape decisions. In the aftermath, micromanagers will grill and interrogate employees and tell them everything they did wrong, and usually, it's the managers/owners fault for not having a great M/V.  If there was a great one, the post-incident conversation is easy. "Did you honor the M/V?" If you did, let's discuss how it could be better next time. If you didn't, ok, now we have a disciplinary conversation.

The woodpecker story. Remove them from your world, your business. They are saboteurs. Owners always regret they didn't make the decision against a woodpecker in their business.
Tom Lambert
Set clear goals and expectations.

Have clear systems and processes.   Clearly documented and discussed

Manage the results.  (numbers)

Don't sweat the small stuff.  Doesn't matter if someone does something different than you as long as they get the result.  
Bonus form Maryann Croce
Top reasons why people leave a job are at the hand of the owner/leader.
Relationship with the Boss. Their boss doesn't listen to their ideas.

Bored and Unchallenged by the Work Itself. No trust to take on new challenges/responsibilities or training.

Relationships with Coworkers​​. The lack of a good company culture and they don't believe the company is stable or secure.
Let go of the ego and put what is best for the company first.  – Team and customers.
Resources:
A special thanks to Dennis McCarron, Maryann Croce, and Tom Lambert, for their contribution to the aftermarket.
Books Page HERE
Leave me an honest review on iTunes. Your ratings and reviews really help and I read each one of them.
Facebook Twitter Linked In Email
---
This episode is brought to you by Jasper Engines & Transmissions. When a car's engine or transmission fails, it's

not the end of the road. A remanufactured drivetrain product from Jasper Engines & Transmissions will give your car a new lease on life. JASPER has over 2000 Associates, three manufacturing facilities, two distribution centers, and 45 branch offices across the country. They're all working to produce, transport and deliver the perfect product. That's what they do best… keep customers happy. Visit jasperengines.com
RepairPal. Many of our industry's high-quality shops have gone through an evaluation with an independent automotive team to ensure their techs are trained, they use the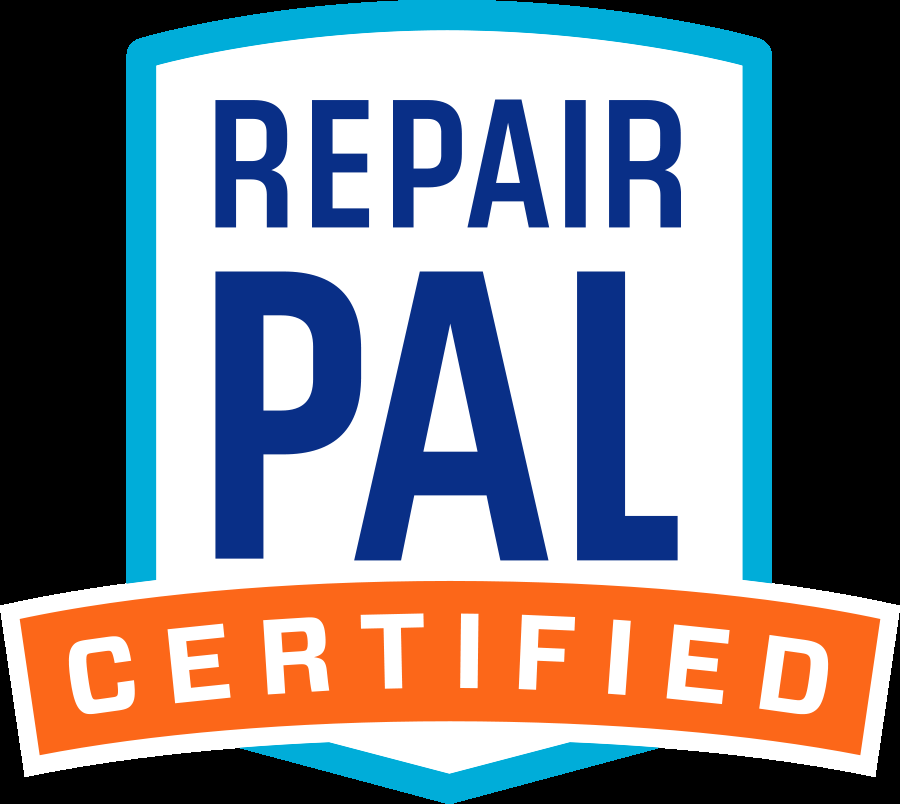 right tools, and their customers are happy. In fact, over 2,200 repair shops have met these requirements, have become RepairPal Certified and are getting new customers every month.
Why has the number of RepairPal Certified shops grown so much? These shops are proud to have passed the certification and value the new customers they're getting, both from the 5 million monthly visitors to RepairPal.com and their partnerships with CarMax and USAA. Certified shops can cancel at any time, so RepairPal works hard to produce value for them. Learn more at repairpal.com/shops to learn more.