Zero Dollar Customers – Tom Palermo [RR 511]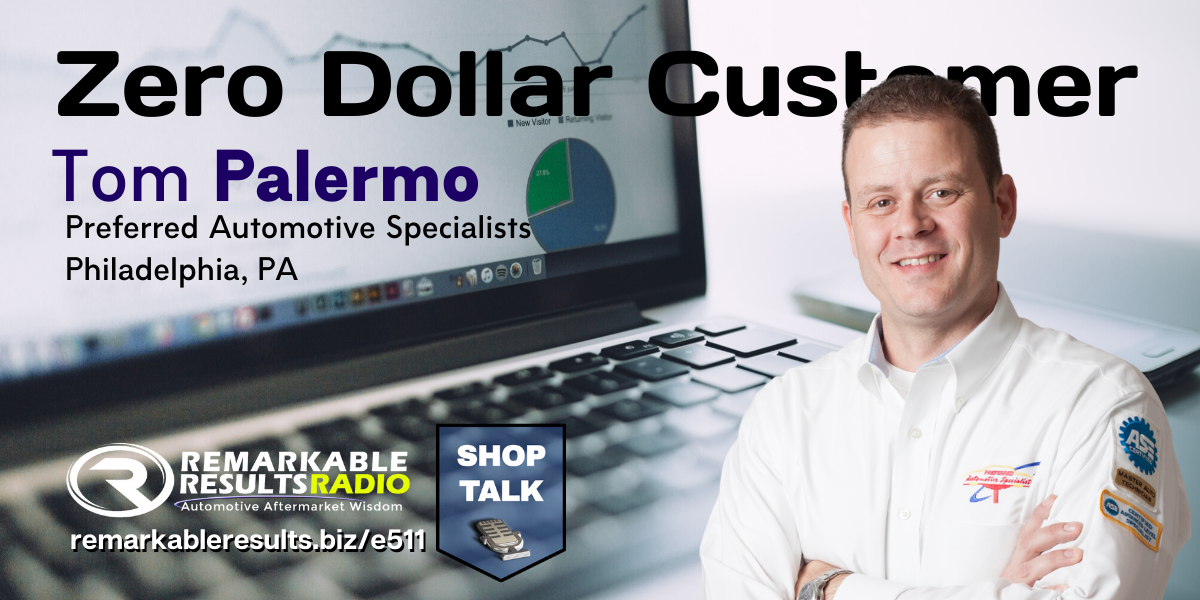 Tom Palermo is General Manager of Preferred Automotive Specialties in Jenkintown, PA. Tom is a world class Master Technician and a Certified ASE Advanced Level Technician, is certified from ASE including Master Auto, MasterTruck, Master Truck Equipment, Master School Bus, Master Collision, Master Transit Bus, L1, L2, C1, X1, P2, F1 Besides the 2015 NAPA/ASE Technician of the Year, Tom also earned the 2011 AAIA-ASE World Class Technician Award from the Automotive Aftermarket Industry Association, National Institute for Automotive Service Excellence, and the Best Tech of the Year award sponsored by WIX Filters. The majority of Tom's business is fleets. Listen to Tom's previous episodes HERE.
Key Talking Points:
Zero dollar customers
Moved to one location 2 miles down road
Specifically target marketing customers based on database information (how many cars they had, what their purchases were etc)
Noticed in first quarter they were getting a lot of zero dollar bills (car making noise, checking brakes, checking front end etc) then leaving without repair. Get repair and different shop or do repair themselves. Average RO started to drop. Started to understand behavior of customers when they come in and find out what they really want
Zero dollar customers can have huge effect on shop's productivity
Discount if work is done at shop or ask them if they want to leave their car
Resources:
Thanks to Tom Palermo for his contribution to the aftermarket's premier podcast.
Link to the 'BOOKS' page highlighting all books discussed in the podcast library HERE. Leaders are readers.
Listen for free on Apple Podcasts, Google Podcasts, Spreaker, iHeart Radio, Spotify, Podchaser and many more. Mobile Listening APP's HERE
Find every podcast episode HERE.
Every episode segmented by Series HERE.
Key Word Search HERE.
Love what we do? Buy Carm a cup of coffee HERE.
Be socially involved and in touch with the show:
Facebook Twitter Linked In Email
Join the Ecosystem – Subscribe to the INSIDER NEWSLETTER HERE.

Since 1989 TRACS has been the industry's leading shop management system. And in the last 30 years it's gotten better and better. Today TRACS Enterprise offers even more of the features AutoCare Center owners want—things like a powerful interactive scheduling calendar, faster and streamlined work flow, plus streamlined parts ordering and purchasing options. And there's more—Punch-out to Mitchell ProDemand, mobile VIN capture, and multi-shop capabilities. That means you can count on TRACS Enterprise to help drive your success today and well into the future.
Learn more about TRACS Enterprise and the hundreds of other benefits the NAPA family has to offer. Talk with your servicing NAPA store or visit www.NAPAAutoCare.com.