Service Advisor Role Play #4 [THA 159]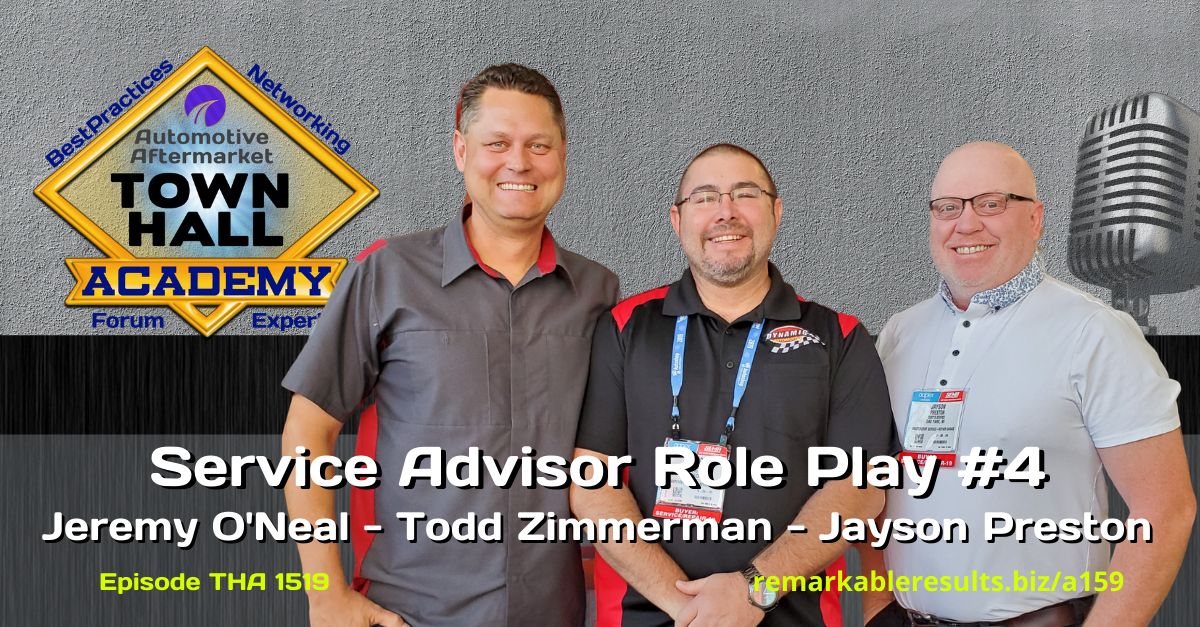 Jeremy O'Neal President and lead sales trainer for Advisorfix, began his career as a Service Advisor and moved into Service Management at the dealership level for VW, Audi, and Porsche. He consistently placed in the top 3% of Service Advisors across the nation.
With a passion for helping others, Jeremy started coaching Service Advisers in 2007. Jeremy also owns an independent auto repair shop Freedom Auto Repair in Hesperia, CA. Previous episodes HERE. Link to Advisorfix HERE.
Todd Zimmerman is Dynamic Automotive's Location leader. Previous episodes HERE.
Jayson Preston. Supervisor, Parts and Service, Curt's Service Inc., Oak Park, MI Previous episodes HERE.
Key Talking Points:
Role Play #1 – Incoming Lead: Calling for a price on a Timing Belt. 2012 Honda Odyssey Touring 3.5 122,500 Miles. Original Belt
Getting the car into the shop is a priority
No dead air on phone call- connect with customer and keep them talking, guide call and establish control of the conversation
When you answer the phone be fully present
Pricing is transparent, don't be afraid of it
Role Play #2 – Sales Presentation – Oil Change Customer. 2017 Honda CRV AWD 63,900 Miles.People deny work depending on price, trust, or no time
If you don't know why the customer is turning down work then you can't fix vehicle problem
Brake pads- safety issue
Give one total price instead of line by line price
Role Play #3 – Selling Diagnostic Services over the phone. The customer calls in and asks how much to diagnose my check engine light.
Asked for appointment multiple times
Need to ask the type of vehicle
Stand ground for a testing fee- able to accurately fix the vehicle with running proper testing, taking the guesswork out of the equation
Safe to drive? Yes can drive it to shop to get it fixed
RCA- root cause analysis
Resources:
Facebook Twitter Linked In Email
Join the Ecosystem – Subscribe to the INSIDER NEWSLETTER HERE.

This episode is brought to you by Shop-Ware Shop Management. It's time to run your business at its fullest potential with the industry's leading technology. Shop-Ware Shop Management will increase your efficiency with lightning-fast workflows, help your staff capture more sales every day, and create very happy customers who promote your business. Shops running Shop-Ware have More Time and generate More Profit—join them! Schedule a free live demonstration and find out how 30 minutes can transform your shop at shop-ware.com