From Technician to Service Advisor to Operations Manager – Phil Carpenter [RR 540 ]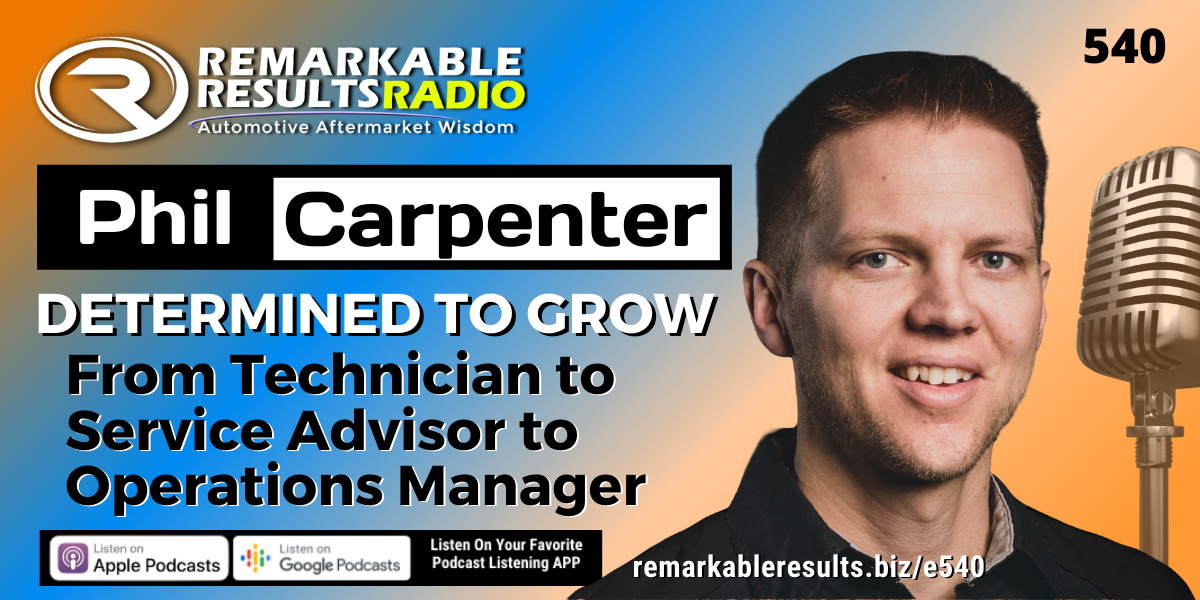 Phil Carpenter has been in the automotive industry since 2002 however his passion for Automotive started much earlier. He bought his first vehicle at 14 years old and still has it, a 1959 Chevy Pickup. He has spent time as an Audi Certified Technician, Service Advisor, Parts Specialist, Service Manager, General Manager and currently, is the Director of Operations at Urban Autocare and Avalon Motorsports in Denver, CO (four locations). His credentials include an ASE Master Certification as well as an Associates Degree in Automotive Technology. Phil was Brian Sump's first employee at Avalon Motorsports and since has led his team to win many industry awards as an independent shop manager including Motor Age Top 10, BBB Torch Award and other community awards. He is the President of the Mechanical Division for ASA Colorado. Phil's Previous Episodes HERE.
Key Talking Points:
Started as a technician in dealershipsTook 3 years of automotive classes in high school then went through Universal Technical Institute and AUDI Academy
Didn't feel fulfilled in the dealership
Referred to Brian Sump through mutual coworker- had online part sales business and wanted to start shop
Connected with Brian's passion and drive- took pay cut and went to work with him in 2007, humbled beginning, 4 shop business now, continue to counterbalance each other
Was stagnant for first 3 years, moved original shop to busier location, sink or swim
Went from technician to service advisor to general managerHad health issues early on and knew couldn't stay technician for long, worked as both technician and service advisor in early stages of business which became too difficult
Chose to stick with being a service advisor- enjoyed the challenge and being outside of his comfort zone, developed different skill set, had service advisor training and hired private coach
After a year and a half started looking to a manager position at a second location- growth as leader skyrocketed, Brian trusted and believed in Phil to lead
As technician- loved the sense of accomplishment and pride for fixing vehicles
As advisor- thrived by gaining customer's broken trust from previous shops
As manager/director of operations- continues to be motivated by seeing the potential of employees and helping them reach the next step of career. Employees can grow within the business instead of leaving the shop to grow
Brian and Phil continue to tell new employees about their story of early humbled days- come so far and still, places to grow, attract quality employees that want to be a part of the business and engaged
Have to be willing to dedicate yourself to training, encouragement, and criticism to move to the next level
Ways to continuing growing automotive industryConnect with local schools and community
Resources:
Thanks to Phil Carpenter for his contribution to the aftermarket's premier podcast.
Link to the 'BOOKS' page highlighting all books discussed in the podcast library HERE. Leaders are readers.
Love what we do, buy a cup of coffee HERE.
Be socially involved and in touch with the show:
Facebook Twitter Linked In Email
Listen for free on Apple Podcasts, Google Podcasts, Spreaker, iHeart Radio, Spotify, Podchaser and many more. Mobile Listening APP's HERE
Join the Ecosystem – Subscribe to the INSIDER NEWSLETTER HERE.
This episode is brought to you by AAPEX, the Automotive Aftermarket Products Expo. AAPEX represents the $740 billion global automotive aftermarket industry and has everything you need to stay ahead of the curve. With 2,500 exhibiting companies, you'll see the latest products, parts, and technologies for your business. As a result, the event also offers advanced training for shop owners, technicians, warehouse distributors (WDs) and auto parts retailers, as well as networking opportunities to grow your business. AAPEX 2020 will take place Tuesday, Nov. 3 through Thursday, Nov. 5, 2020 at the Sands Expo in Las Vegas. Therefore, more than 48,000 targeted buyers are expected to attend, and approximately 162,000 automotive aftermarket professionals. They will be from 135 countries which are projected to be in Las Vegas during AAPEX 2020. For information, visit aapexshow.com

This episode is brought to you by Shop-Ware Shop Management. It's time to run your business at its fullest potential with the industry's leading technology. Shop-Ware Shop Management will increase your efficiency with lightning-fast workflows, help your staff capture more sales every day, and create very happy customers who promote your business. Shops running Shop-Ware have More Time and generate More Profit—join them! Schedule a free live demonstration and find out how 30 minutes can transform your shop at shop-ware.com