Training 2020 and Beyond – Future Techniques and Strategies [THA 173]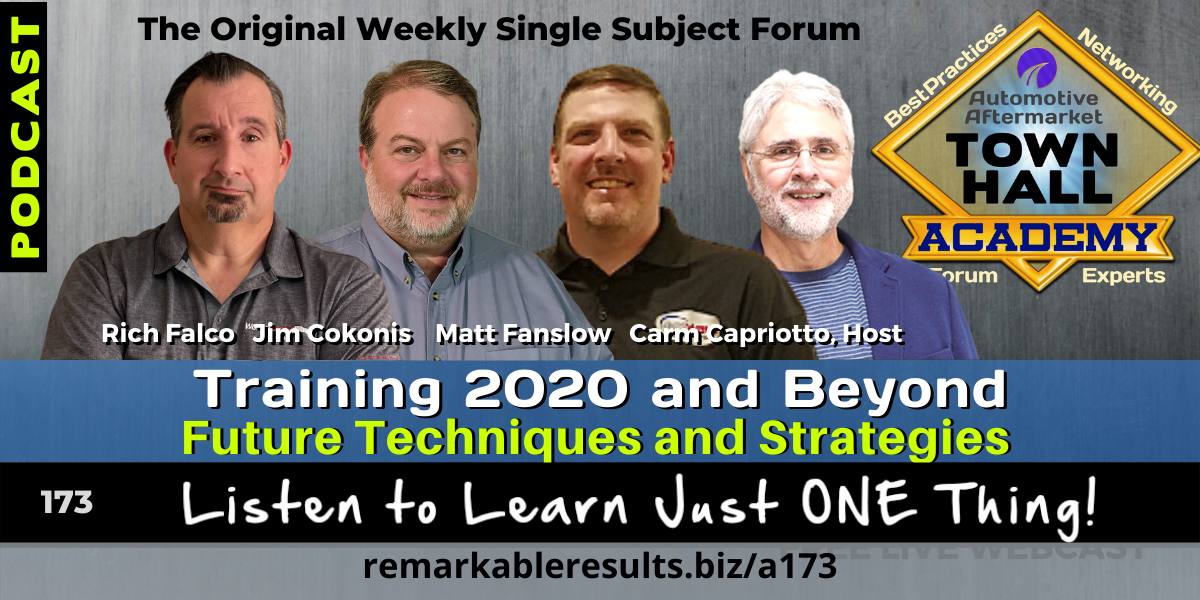 Richard Falco Jr. is an instructor for Carquest Technical Institute (CTI). He is an ASE Master Technician L1 with over 25 years in the auto repair industry. His technical experience includes Domestic, Asian, and European vehicles both at the dealership level and as a successful shop owner. He has instructed technicians and college students in all aspects of automotive repair and currently takes care of our customers, for CTI, throughout the southeastern U.S. Listen to Rich's previous episodes HERE.
Jim Cokonis
Matt Fanslow is the diagnostic tech/shop manager at Riverside Automotive in Red Wing, MN. His primary responsibilities are to diagnose driveability and electrical/electronic issues, and perform most all programming, coding, initializing, adaptions, etc. Basically, if it needs to be figured out or has wires, it goes to Matt. He's been a tech since 1996.
Matt is also a subject matter expert for ASE and has instructed at Vision Hi-Tech Training and Expo.
Matt has participated on 18 ASE technical committees for the ASE Practice Test, A6, A7, A8, and L1 tests. He's also done case studies for Standard Motor Products.
Fanslow's goal is to do everything in his power to improve the overall level of professionalism within the automotive and light truck repair trade and also raise the level of its public image. Hear Matt in these Remarkable Results Radio Episodes HERE.
Key Talking Points:
Future of trainingJust because of COVID-19 we should be re-thinking training
Virtual training is coming
For leader-led trainers, they have not been out for a few months and not sure when it will change
How do we validate and confirm that knowledge transfer has taken place?
Has our craft changed?Are we teaching old technology?
Is distance learning going to be a key to the future? There are huge conversations being held everywhereShelves were stripped of webcams, headsets, monitors
We need to learn Bluetooth, video switchers, cameras, streaming services.
The learning curve is there and the student uptake will need to be measured.
Do we need to let some of our old training ideas and techniques die?We are teaching old curriculums through NATEF guidelines that are not in play today. Rebuilding Master Cylinders and Wheel Cylinders as an example
Our advisors need to become more involved.
The generations learn differently
Do cell phones have a purpose in class or in shopsSome have not value
Some realize that they are tools
Career PathingConsidering the aircraft technician or FAA model to earn a certificate for an area of repairSchool, on-line, interaction, hands-on
Multiple Choice Test
Demonstrate to an accessory you know the skill
Let's get away from the sage on the stage (Anthony Williams) and downloading information to studentsThe teachers need to be sure the student is comfortable with the new knowledge.
Education today in silos. Electrical. Front End. Brakes. Physics is physics
Science unites thing
We need new blood and new ideas as trainers in the industry
Jim Cokonis: "I'm not here to herd cows, I'm here to make hamburger."
Using YouTube. Should we have a peer review team? "Google Scholar" to verify that the videos published have value to the industry with a review board that the repair and technique is safe and correct for vehicle owner
On line training get the interaction that may not come from a leader-led class. Ego's don't get in the way
Will boutique training catch on?Small, intimate, localized training. The trainer comes to the shop. Theory and hands-on
Theater-style training with an audience and multi-camera shots with picture in picture streamed to students all over the world.
Diag tools today have capabilities to get support, through the tool, to help techs find the solution.Will the tech learn with this 'extra' help?
Will some techs learn a lot about the diag and the features of the tool?
For quality training, there needs to be a supportive shop owner. It is harder for the tech
Resources:
Facebook Twitter Linked In Email
Join the Ecosystem – Subscribe to the INSIDER NEWSLETTER HERE.

This episode is brought to you by Shop-Ware Shop Management. It's time to run your business at its fullest potential with the industry's leading technology. Shop-Ware Shop Management will increase your efficiency with lightning-fast workflows, help your staff capture more sales every day, and create very happy customers who promote your business. Shops running Shop-Ware have More Time and generate More Profit—join them! Schedule a free live demonstration and find out how 30 minutes can transform your shop at shop-ware.com