The Difference: Dealership Tech Now Works for an Independent. Why? [RR 588]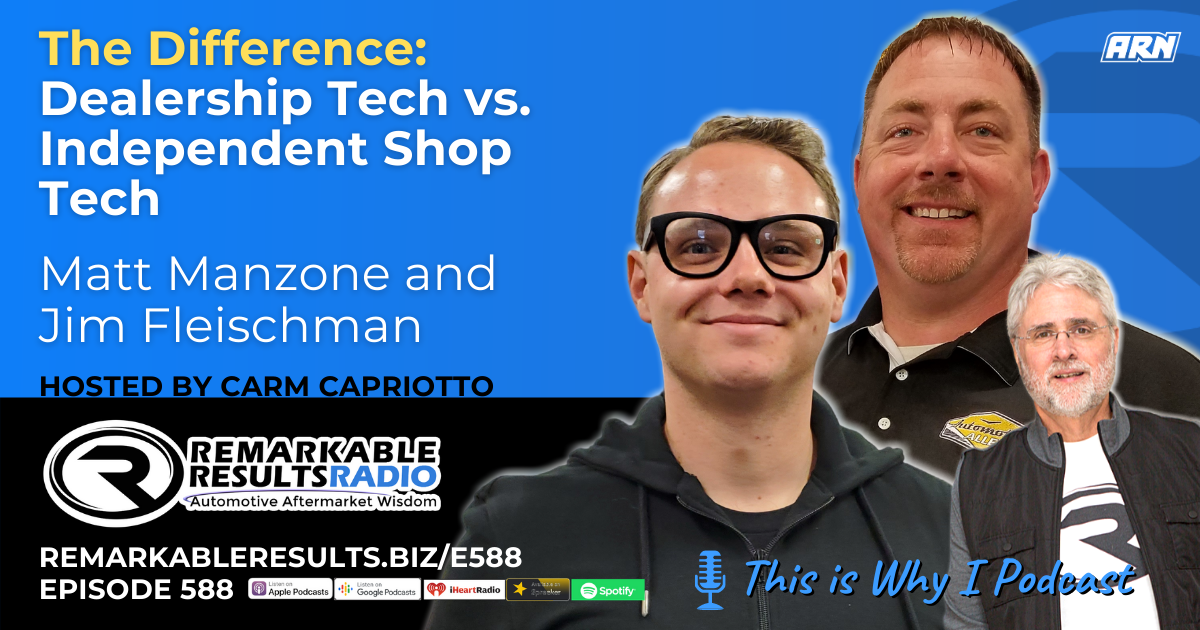 Jim Fleischman and his wife Shelly own Automotive Alley in Arcade, NY. Jim attended Alfred State College for Automotive Tech. He went to work for a Ford Dealership as a shop foreman. Jim's racing and organizational experience came by being part of a race team that ran Busch and NASCAR. He was recruited from his alma mater, Alfred State College, and became an instructor. Jim always wanted to teach and it was fate. He spent fourteen years as an instructor. He loved building relationships with his students.
He was balancing his teaching job and owning a shop while Shelly ran the business for him. Jim ultimately left his teaching job and went to work full-time in the business. Shelly's background was accounting which was good for the business overall.
Jim believes in a strong process-driven company. He is all about improving efficiency. Saving steps for productivity gains. Anyone can study their inefficiencies and make changes to improve productivity. He templated his systems against NASCAR. Immaculate, organized and tools quickly reached and found. Jim perpetually works on streamlining to increase his productivity.
Automotive Alley also specialized in street rod, hot rods, upgrades, and restorations. For Jim, the word "can't" is not in his vocabulary. Listen to Jim's previous episodes HERE.
Matt Manzone graduated from Wyotech trade school in Blairsville, Pa. Shortly after graduation, Matt started at a local Japanese import brand dealership. Eventually becoming Expert level brand certified and achieving ASE certified Master automotive technician status. After 14 years at the dealership, Matt left to take a position at an independent repair shop called Automotive Alley in Arcade, NY as a technician and service writer in the vintage/restoration shop. Listen to Matt's episodes HERE.
Key Talking Points:
Technicians at dealerships vs independent shopsDealerships have a specific type of vehicles and is flat rate- 70% of students from tech schools go directly to work in dealerships
Most technicians that leave the dealerships leave the industry completely
Independent shops have a broader spectrum
Hiring more techniciansJim used Facebook Ads and Indeed for hiring
Matt posted his resume on Indeed to see what other opportunities were available- was open-minded and wanted a challenge
Matt researched the shop prior to the interview- Facebook posts, reviews, and podcast interview
"Working interview"-Spent half a day interviewing and then worked with other technicians in the shop and with Jim
Culture of businessClean, sterile work environment instead of stereotypical "greasy fingerprints"
Take time to invest in the environment and properly working equipment
Everyone at Jim's shop says "goodbye" to one another, something Matt was not used to at first- creates positive attitudes and cohesive culture
Leaving after 14 years for the same but new jobEveryone is afraid of the unknown and what could happen
Matt didn't leave because of money, left because it was time and unhappy with the culture of the dealership- the dealership had a counter offer for him when he put in his 2 week notice which was more money. More money didn't change the issues of why he wanted to leave.
Be careful making choices based on money- often times it will not make you happier
If you are burned out from your job always remember there are other opportunities available
Resources:
Thanks to Matt Manzone and Jim Fleischman for their contribution to the aftermarket's premier podcast.
Link to the 'BOOKS' page highlighting all books discussed in the podcast library HERE. Leaders are readers.
Find every podcast episode HERE.
Every episode segmented by Series HERE.
Key Word Search HERE.
Be socially involved and in touch with the show:
Facebook Twitter Linked In Email
Listen for free on Apple Podcasts, Google Podcasts, Spreaker, iHeart Radio, Spotify, Podchaser and many more. Mobile Listening APP's HERE
Join the Ecosystem – Subscribe to the INSIDER NEWSLETTER HERE.
This episode is brought to you by AAPEX, the Automotive Aftermarket Products Expo. AAPEX represents the $740 billion global automotive aftermarket industry and has everything you need to stay ahead of the curve. The Virtual AAPEX Experience 2020 is in the record books. Virtual AAPEX lived up to presenting leading-technical and business management training from some of the industry's best and brightest. Now set your sights on the homecoming in Las Vegas in 2021. Mark your calendar now … November 2-4, 2021, AAPEX // Now more than ever.

This episode is brought to you by Shop-Ware Shop Management. It's time to run your business at its fullest potential with the industry's leading technology. Shop-Ware Shop Management will increase your efficiency with lightning-fast workflows, help your staff capture more sales every day, and create very happy customers who promote your business. Shops running Shop-Ware have More Time and generate More Profit—join them! Schedule a free live demonstration and find out how 30 minutes can transform your shop at getshopware.com/carm