Electric Vehicles – The Future Unfolds [THA 197]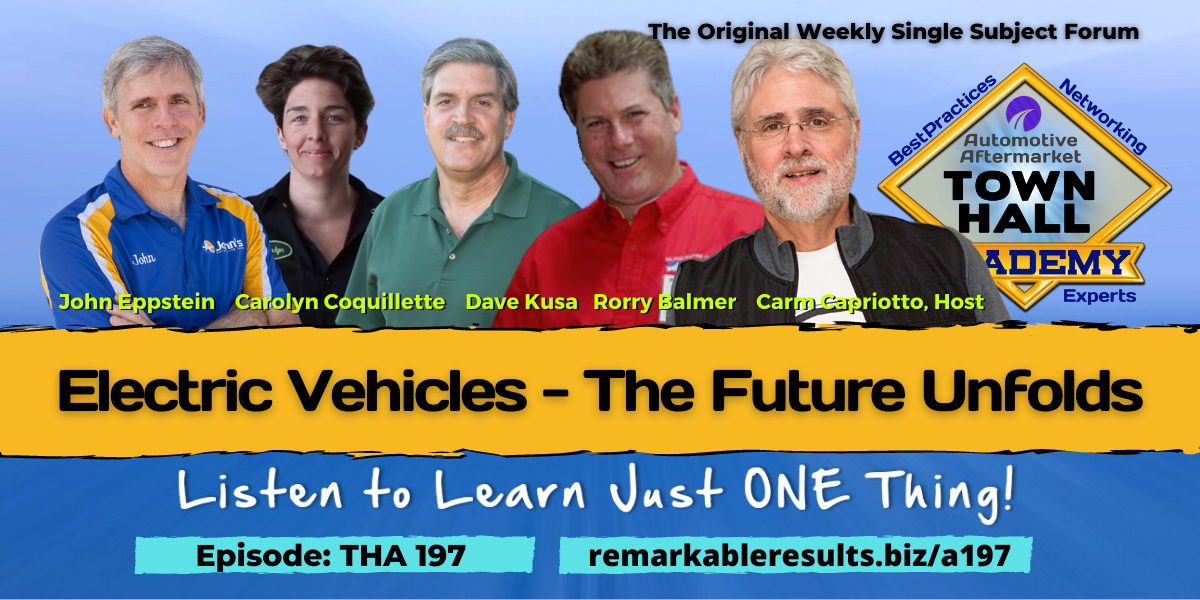 The Panel:
John Eppstein is the owner of John's Automotive Care in San Diego, CA. He is the incoming ASCCA President. One thing he credits for his success is making his customer his main focus. John was honored as the 2016 NAPA ASE Technician of the year. Hear John in our one on one interview in episode 119, 200 and Academy 003 on the Top Qualities of a Service Advisor. Look for John's other episodes HERE.
Carolyn Coquillette of Luscious Garage, San Francisco, CA chairs the ASCCA Connected Cars Committee, serves on the ASCCA Board of Directors and is active in her local San Francisco chapter. She's also the Founder and CEO of Shop-Ware. Look for Carolyn's other episodes HERE.
Dave Kusa is the owner of AutoTrend Diagnostics in Campbell, CA. Dave is very active in Chapter 42 and currently serves as a board member and chapter representative. He has also helped several new shops become ASCCA members. Dave advocates with local legislators on behalf of small businesses and their employees. He contributes to TeamTalk and is a huge resource for members. He was ASCCA's past president. Look for Dave's other episodes HERE.
Rory Balmer of Twin Peaks Auto Service in Twin Peaks is a past ASCCA Chapter 14 President and a past ASCCA Membership Committee Chair. He is the incoming ASCCA Vice-President. Rory is working full-time at his business. He attends De Vry University, where he is completing a BA degree in technical management. He will be attending Washington State University, entering into the Executive MBA program. ASCCA Past President Mary Kemnitz says Rory is "One of the most effective committee members I have ever had the pleasure to work with. He has won the "One Member Can Campaign" twice. He has had a significant impact on the growth and energy within Chapter 14. Look for Rorry's other episodes HERE.
Key Talking Points:
California Mandate to sell only new cars being Electric Vehicles in 2035
We have plenty of time to be trained, learn the technology and change your business plan.
Electric Vehicles (EV's) take longer to break.
EV Repair Orders ( R/O's) will be higher.
The industry will transition as EVs become a larger part of the car parc.
Electric fleets will be able to let vehicles rest and recharge.
ADAS and Autonomous Vehicles along with EVs are important trends that every shop owner and future shop owners need to pay attention to you
EV repair could be more modular.
Hybrids are a great place to start to embrace the future EVs
A recommendation is to buy a used Gen 2 Prius (2004 – 2009 ). Add it to your loaner fleet, learn all about it, get to training and put up your shingle that you repair the Toyota Prius. You should learn about battery, the inverter and motor. Get inside of it with your scan tool. Let it be your trainer vehicle. You'll need service information and OE scan tools.
Keeping the channels open for parts and tooling. ASCCA is fighting for that
Education for our entire staff with a continual education commitment on all new technology.We need to work with our colleges and high schools to move way from carburetors and into electric drive trains and ADAS
We will lose the smart bright young people to other industries if we don't start to introduce all-new technology into our educational system.
Every manufacturer is pushing Electric Vehicles.
Volkswagen is pushing toward an all model Electric Vehicle commitment. VW is the largest vehicle manufacturer in the world.
In repairing an EV, there is a layer of systems that don't exist on an internal combustion engine (ICE) vehicle.
There is worry that EV cars and the new EV manufacturers will stay at the dealership. It is very expensive to create a dealership network.It is not in the best interest for new manufacturers to set up a dealer network and the independents can be an important part of maintenance and repair for these manufacturers.
It may be too early to consider working on each manufacturer's EV models. Tooling up will be very expensive, and access to parts and training will make it too early to rush into this.
Fuel cell vehicles are also going to grow. More to repair on them.There will be segments of the country that will not see these cars for some time.
As the future unfolds, embrace the new technology. Learn all about it
Consumers want you to work on their cars. Embrace every opportunity
The California mandate for 2035 has manufacturer support and it must open the aftermarkets eyes to embrace EVs The success formula or business model is not there and is a moving target. Keep an open mind.
Adapt or become obsolete
Globally manufacturers are committed to EVs. You will not fight it, yet it will have time to prepare. Pay attention to the evolution of the marketplace, new technology and trends.
Resources:
Facebook Twitter Linked In Email
Join the Ecosystem – Subscribe to the INSIDER NEWSLETTER HERE.

This episode is brought to you by Shop-Ware Shop Management. It's time to run your business at its fullest potential with the industry's leading technology. Shop-Ware Shop Management will increase your efficiency with lightning-fast workflows, help your staff capture more sales every day, and create very happy customers who promote your business. Shops running Shop-Ware have More Time and generate More Profit—join them! Schedule a free live demonstration and find out how 30 minutes can transform your shop at getshopware.com

This episode is brought to you buy Shop Marketing Pros. Your guides are Kim and Brian Walker with a rich history as shop owners and industry veterans. When someone searches for a shop, who are they finding? Your competitors? It should be you! The good people over at Shop Marketing Pros know how to drive website traffic and make Google work for you! www.shopmarketingpros.com