Managing Holiday Stress Amid the Pandemic – Dr. Dave Weiman [RR 593]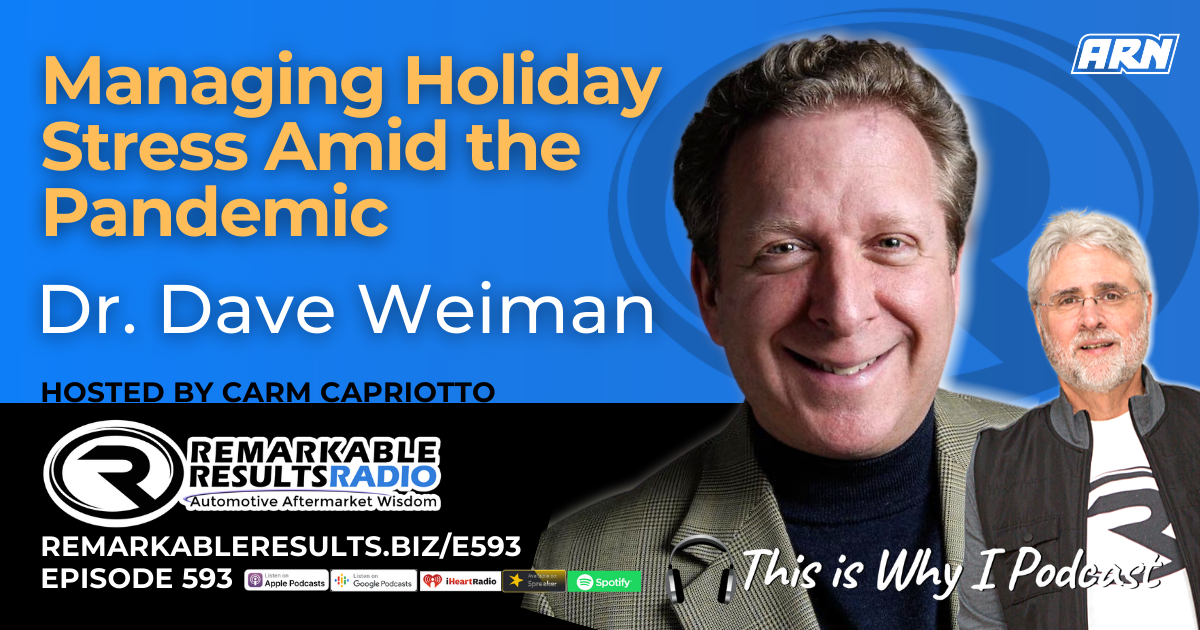 Dr. David Weiman is the president of Weiman Consulting, a leadership consulting firm in Philadelphia PA. He is also an adjunct Assistant Professor at Widener University's Institute for Graduate Clinical Psychology, and he is a Certified Performance Coach through Johnson & Johnson's Human Performance Institute.
Dr. Weiman has been quoted in BusinessWeek, the Los Angeles Times, Men's Health, Entrepreneur, and many other publications. He has also been a guest on Fox News Philadelphia, Money Matters TV, and numerous podcasts, where he shares insights about the psychology of success, motivation, and more. You can check David's other episodes HERE.
Key Talking Points
Continuing traditions should be kept up the best you can.Relive the memories
Some feel lonely at this time of the yearSome get their energy from other people
Some get their energy from being alone
Some issues of the pandemic are another layer of concern or worry to be safe that can cause stress or the blues.
Maintain routines especially during the holidays. It gives our lives a sense of structure and stability and helps provide continuity over time.
Things that spark joy. They are touchstones for you.
We choose what to think about in any given moment
We can turn off bad news. There is an on-off switch or mute button on our TVs and phones
Recognize what is the same to find stability
Some people love change, some don'tSome love change
The ones that don't, think about what is staying the same
In zoom meeting, you can see the environment that your friends and colleagues live in
Our time horizon for planning is shorter because of the pandemicThe cone of uncertainty is shorter for the time being
Consider your team and your customer as it comes to the stress they may carry because of the pandemic and at the holiday time
Be an optimist but a realist at the same time
We usually have more than one option to solve a problem
As a business owner, your values and purpose don't change as you go through stress and the tough time this holiday can create personal stress.That is the foundation of strength in your company, your people, and your life
Connections are key. Having trust in other people
Consider the impact on you. Reach out and touch someone Example praise someone for what they do for you
Write a card or letter is very powerful
Referencing is storytellingExample of competency or value that has made your business successful
If you are invited to a holiday party and you do not want to go, even though the people who invited you don't want you to get Covid-19, you can say I'm not available this year but can't wait to get together next year.You do not need to give a reason
Dave Ramsey says No.; is a complete sentence.
Focus on the little things and what delights you and makes you happyConnect with other people
Resources:
Thanks to Dave Weiman for his contribution to the aftermarket's premier podcast.
Link to the 'BOOKS' page, highlighting all books discussed in the podcast library HERE. Leaders are readers.
Listen for free on Apple Podcasts, Google Podcasts, Spreaker, iHeart Radio, Spotify, Podchaser, and many more. Mobile Listening APP's HERE
Find every podcast episode HERE.
Every episode is segmented by Series HERE.
Key Word Search HERE.
Be socially involved and in touch with the show:
Facebook   Twitter   Linked In   Email
Join the Ecosystem – Subscribe to the INSIDER NEWSLETTER HERE.

NAPA AutoCare's recent partnership with CarVantage gives your AutoCare Center an easy way to take advantage of telematics, increasing customer retention and boosting customer spend. You provide customers with a CarVantage sensor that plugs into their vehicle and connects via Bluetooth to their smartphone. Then you set up automated marketing campaigns that target customers based on their vehicle's next maintenance interval, for example, or whenever a check engine light is detected. That gives customers peace of mind and the best experience in the market. They also love CarVantage because it's free to them. A special offer only for NAPA AutoCare Centers lets you give CarVantage a try at a very affordable price. And it includes free sensors. Other plans and enhancements are also available.
Learn more about CarVantage and the hundreds of other benefits NAPA offers. Talk with your servicing NAPA store or visit www.NAPAAutoCare.com visit the NAPA Benefits Center, at www.napabenefitscenter.com or call the NAPA Benefits Center at 844-627-2123.