Reflections of My First Episode and Prudent Advice for the Ages [RR 600]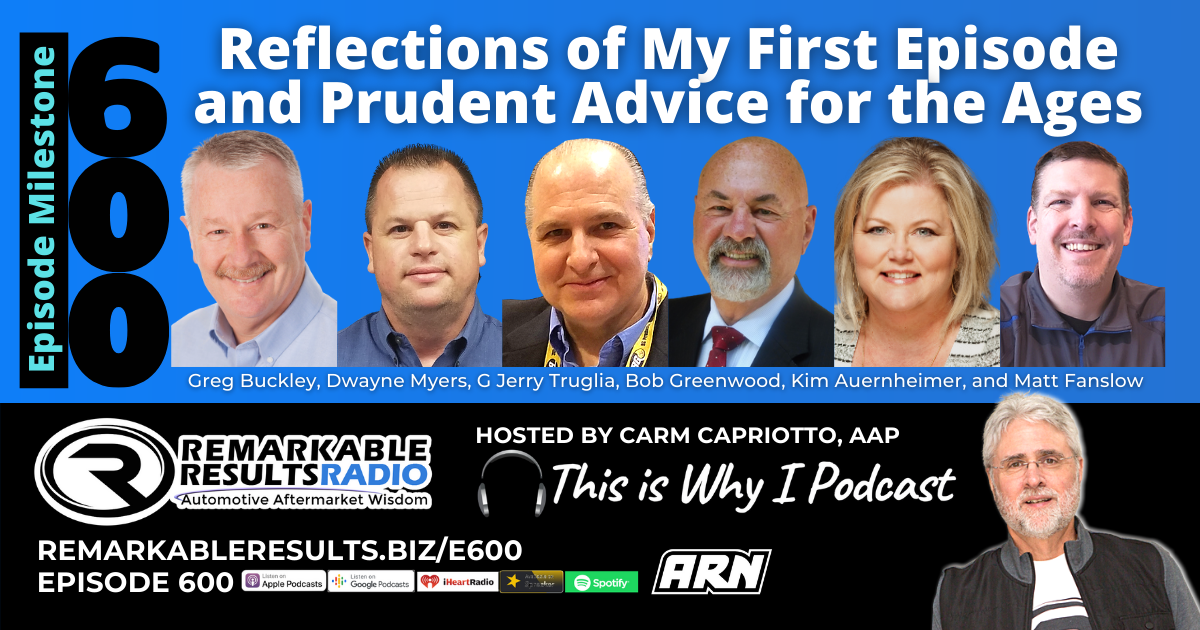 Welcome to the 600th Episode of Remarkable Results Radio. Enjoy some very candid talk and behind the scenes revelations from some of the very first episodes from my panel.
Along with the fun discussion, the panel dished out some great advice as the podcast continues to set the standard and the tone for aftermarket industry podcasts.
Our longevity is a testament to the leaders from every segment of the industry who have shared so that others have gained. We will continue to bring thought piercing issues and commentaries so that you grow your business acumen. As I said and I mean it from the bottom of my heart, this podcast is dedicated to you for "listening and learning" and for letting me know how much our content means to you. And a big shout out to the sponsors who make the podcast a reality. Please support them.
We've reached these milestones, besides the 600th RRR, the 200th Town Hall Academy and the start of Aftermarket Weekly this year only because you are there and use this resource
The Panel:
Greg Buckley is the CEO of the 50 + year young Buckley Personalized Auto Care in Wilmington, DE. He's a member of ASA, an ATI Coach, a member of the Delaware Automotive Service Professionals, past member of the NAPA advisory board council, is vice-president of NAPA business development groups, and is involved as an advisory board member of Kukui, along with AutoVitals. Hear Greg's previous episodes HERE.
Dwayne Myers is a partner in Dynamic Automotive in the greater Maryland area. Dwayne invests time in the industry with the Auto Care Association and serves on the education committee with CCPN (Car Care Professional Network). Dwayne was recently honored as one of only 17 outstanding individuals that qualified for the prestigious 2017 World Class Technician Award presented by The Auto Care Association and ASE. He is very passionate about hiring and sustaining a strong and engaged team. Listen to Dwayne's previous episodes HERE.
G Jerry Truglia is well known for his automotive training through his company ATTS: Automotive Technician Training Services, where he covers topics ranging from hybrid vehicles, electricity, to Heavy Duty Truck repair. G is also a very proud founding member of the non-for profit Technician Service Training group. G Jerry Truglia Previous Episodes HERE.
Bob Greenwood, AMAM (Accredited Master Automotive Manager) is President and C.E.O. of Automotive Aftermarket E-Learning Centre Ltd. (AAEC). AAEC is a company focused on providing Business Management Resources and Development for the Independent Sector of the aftermarket industry. Bob is one of 150 Worldwide AMI approved instructors. He has created Business Management development courses for aftermarket shop employers/managers, Jobbers and Jobber Sales representatives which are recognized as being the most comprehensive, industry-specific courses of their kind in North America. Bob's previous episodes are HERE.
Kim Auernheimer, AAM is the Co-Owner & Business Manager of CS Automotive in Brentwood, Tennessee. CS Automotive was opened in October of 2006 in the back of a warehouse and now they call a 6,400 square foot, 10-bay shop home. Prior to joining her husband Rob in the business on a full-time basis, Kim had a career in Commercial Real Estate and Property Management. In July of 2011, she stepped out from the background of the business and joined her husband in the venture of creating an industry-leading standout. Listen to Kim's Episodes HERE.
Matt Fanslow is the diagnostic tech/shop manager at Riverside Automotive in Red Wing, MN. His primary responsibilities are to diagnose drivability and electrical/electronic issues, and perform most all programming, coding, initializing, adoptions, etc. Basically, if it needs to be figured out or has wires, it goes to Matt. He's been a tech since 1996. Matt's goal is to do everything in his power to improve the overall level of professionalism within the automotive and light truck repair trade and also raise the level of its public image. Matt's Previous Episodes HERE.
Key Talking Points:
Collectively this group participated in over 138 episodes from one on one or in panels on either Remarkable Results Radio, the Town Hall Academy, or For The Record Podcasts
Thank you to all who have shared their wisdom, advice, insights who have made the podcast such a success
Matt Fanslow: "This podcast is here for people who are actively trying to improve themselves."
Carm discovered his confidence and style improved over the years.
G Jerry Truglia, TST, was a huge inspiration for the show For The Record. We recorded the first episode at Vision.
Dwyane Myers, Dynamic Automotive, was on episode two with his partners. They had three locations at the time.Funny story. I asked each to mention their name before they talk. Early jitters with the show to be perfect
The early days were very sophomoric.
"New Normal" will still be virtual- cut down on travel expenses and time, can listen to audio and training through headphones wherever they are, especially the younger generation. The downside is missing the people involved with going to training and networking.
Greg Buckley can connect many things in life to how we need to work in our daily lives. In his words, 'We are more than a head under the hood'He is a long thinker a visionary
Take time to think
Top players in the industry continue to grow. There is more work to do.We need to bring our neighbor competitor into the fold of learning, growing, and leading
Bob GreenwoodA profession, not a trade. No longer a grease monkey
Been very consistent in his message
Kim Auerheimer, CS Automotive, was honored as the Women In Auto Care Shop Owner of the Year 2020Her first interview was easy for her to do
Younger people appreciate podcasts. Many listen while at work.
The common theme is they felt comfortable being on the show which allowed them to share deeply
The big thing about the pandemic is how much we miss the people.
Look back to see how far you've gone, podcasts in 2015 vs now- an evolution of style and content. Searching for guests and now having people reach out to be on the podcast. Networking and guests becoming friends with other guests because of the podcast. It is also an outlet for people to be transparent, comfortable, and have fun.
Connection- breaking down problems and sharing how to solve them and move forward. Shop owners and technicians can connect and stop feeling alone with the problems they face. Camaraderie.
Tuning in for training- do they not want it bad enough vs they don't know how badly they need it. Communication starts with your team first then the client base.
Listen to Learn Just One Thing is not a slogan but a mantra for being a perpetual student
Resources:
Thanks to Greg Buckley, Dwayne Myers, G Jerry Truglia, Bob Greenwood, Kim Auernheimer, and Matt Fanslow for their contribution to the aftermarket's premier podcast.
Link to the 'BOOKS' page highlighting all books discussed in the podcast library HERE. Leaders are readers.
Find every podcast episode HERE.
Every episode segmented by Series HERE.
Key Word Search HERE.
Be socially involved and in touch with the show:
Facebook Twitter Linked In Email
Listen for free on Apple Podcasts, Google Podcasts, Spreaker, iHeart Radio, Spotify, Podchaser and many more. Mobile Listening APP's HERE
Join the Ecosystem – Subscribe to the INSIDER NEWSLETTER HERE.

This episode is brought to you by AAPEX, the Automotive Aftermarket Products Expo. AAPEX represents the $740 billion global automotive aftermarket industry and has everything you need to stay ahead of the curve. The Virtual AAPEX Experience 2020 is in the record books. Virtual AAPEX lived up to presenting leading-technical and business management training from some of the industry's best and brightest. Now set your sights on the homecoming in Las Vegas in 2021. Mark your calendar now … November 2-4, 2021, AAPEX // Now more than ever.

This episode is brought to you by Shop-Ware Shop Management. It's time to run your business at its fullest potential with the industry's leading technology. Shop-Ware Shop Management will increase your efficiency with lightning-fast workflows, help your staff capture more sales every day, and create very happy customers who promote your business. Shops running Shop-Ware have More Time and generate More Profit—join them! Schedule a free live demonstration and find out how 30 minutes can transform your shop at getshopware.com/carm