How My Business Changed as a Result of Covid-19 – A Look Back [THA 203]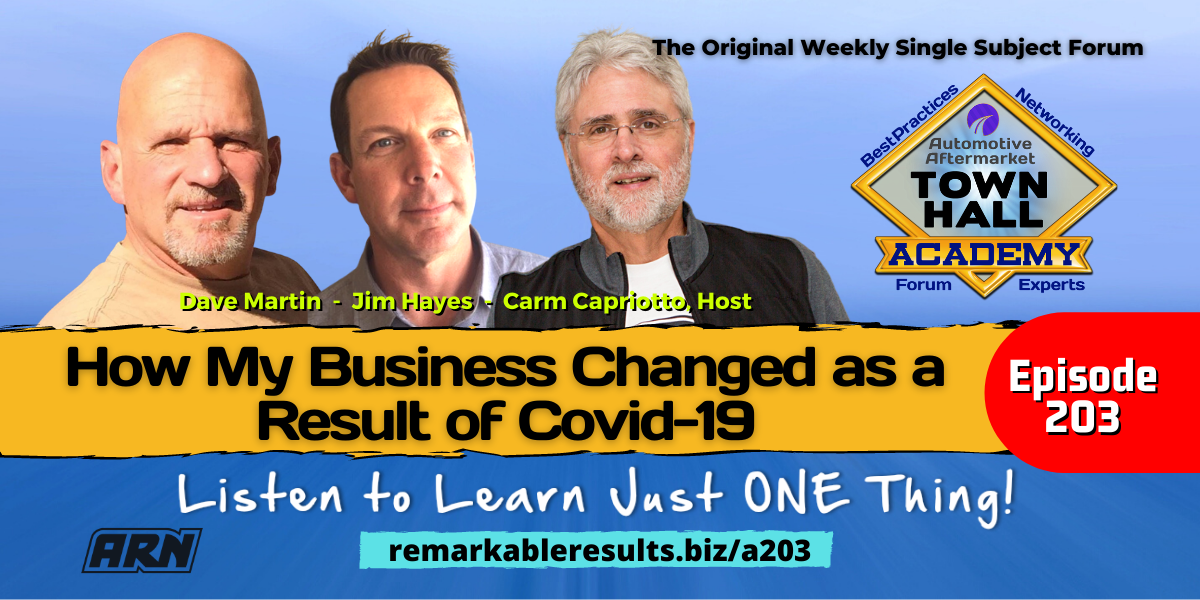 Jim Hayes is originally from North Carolina but spent time in various places growing up and has lived in the Monterey Bay area for the past 23 years. He grew up playing sports and spending as much time as possible in the outdoors; hunting and camping are among his favorite pastimes. After high school, Jim joined the United States Army where he served with elements of the Intelligence and Special Forces communities.
After completing his goals in the Army, he moved to the Monterey Peninsula, where he turned his focus toward becoming a golf professional. As a member of the PGA, Jim held the title of Manager of Instruction for the Pebble Beach Golf Academy, where he taught golf to individuals from around the world. True to form, after achieving what he set out to accomplish in the world of golf, Jim transitioned to the automotive industry, where he currently serves as General Manager of Pacific Motor Service.
His background keeps him dedicated to the building and development of the most important asset any company has: its team. With a strong desire to maximize the potential of those around him, Jim has created a leadership and personal development course that is attended on a volunteer basis by 90% of the company's staff. Jim's goal for the business is to optimize performance and maximize efficient profitability by using the fundamentals of business finance, strategic planning and by creating a culture built on a foundation of principle-centered leadership. Check out Jim's other episode HERE!
Dave Martin is the Owner and President of Martin's Auto Repair in Phoenix, AZ. His automotive career began pulling weeds on the shop property, then as he got older Dave moved into a station helper and gas attendant. Dave then became the shop manager before taking over the family business from his father in 2006.
Dave has worked to bring the business into the technology world, communicating with customers at their level with digital inspections, email, and texting. Dave also knows a key to a successful business has a team that has strengths he does not. Check out Dave's other episode HERE!
Key Talking Points:
Consider OSHA both Federal and State to have dealt with the correct protocols for the virus
In California, if you get Covid-19 it is assumed that you got it at work in order to have it covered under a work comp claim
Went to get customers cars, disinfected car both inbound and out-bound
Concierge service was very helpful.
Disinfection will continue, according to Dave Martin.
Shut down the waiting room and served customers at a table that was outside the business. In the Northern states that will not wok with winter
The world has never been cleaner. You get fewer colds.
Will we lose our resistance with our immune systems?There is a balance (Jim Hayes)
Via marketing, we told our customers it was OK to come into the shop
We drove convenience for the customer
Reached out for inspections especially if the car sat
Jim Hayes concentrated his marketing in a tighter distance from his shop. A mile and a half was his target.
PPP was helpful. It helped the confidence in the business alive for the team.
Jim Hayes. His business maintained about 70% of his business.
Fixed and maintained during downtime. Made improvements to the business
Kept the team informed to they participated and gained confidence in the future of the business
David Martin in Arizona did not have a second ware.
Jim Hayes did have a second wave of Covid-19 that is threatening many small businesses.
If you had bad business practices before PPP money and you did not change, you are going to come out with the same bad business practices
Dave made huge changes in 2008 when the last economic bust hit. He did not experience huge challenges during the pandemic because he had conditioned his business.
Jim is always re-evaluating and improving as part of their culture, so the pandemic did not affect the business as much as others.He is an adrenaline junkie.
Attrition if effective in business
Jim is losing clients because of the mass exodus from California, not from Copvid-19Some of Dave's clients were younger and they moved back with their parents
Dave stepped up his leadership to help his team know that they could get through any challenges. We will be fine.
Jim. The reason you study and learn leadership is for moments like the pandemic dished out.
We are tougher because of the pandemic
Being an essential part of the economy brought value to the industry
Resources:
Facebook Twitter Linked In Email
Join the Ecosystem – Subscribe to the INSIDER NEWSLETTER HERE.

This episode is brought to you by Shop-Ware Shop Management. It's time to run your business at its fullest potential with the industry's leading technology. Shop-Ware Shop Management will increase your efficiency with lightning-fast workflows, help your staff capture more sales every day, and create very happy customers who promote your business. Shops running Shop-Ware have More Time and generate More Profit—join them! Schedule a free live demonstration and find out how 30 minutes can transform your shop at getshopware.com

This episode is brought to you buy Shop Marketing Pros. Your guides are Kim and Brian Walker with a rich history as shop owners and industry veterans. When someone searches for a shop, who are they finding? Your competitors? It should be you! The good people over at Shop Marketing Pros know how to drive website traffic and make Google work for you! www.shopmarketingpros.com