How to Become a Thermostat Instead of a Thermometer- Dave Hobbs [RR 601]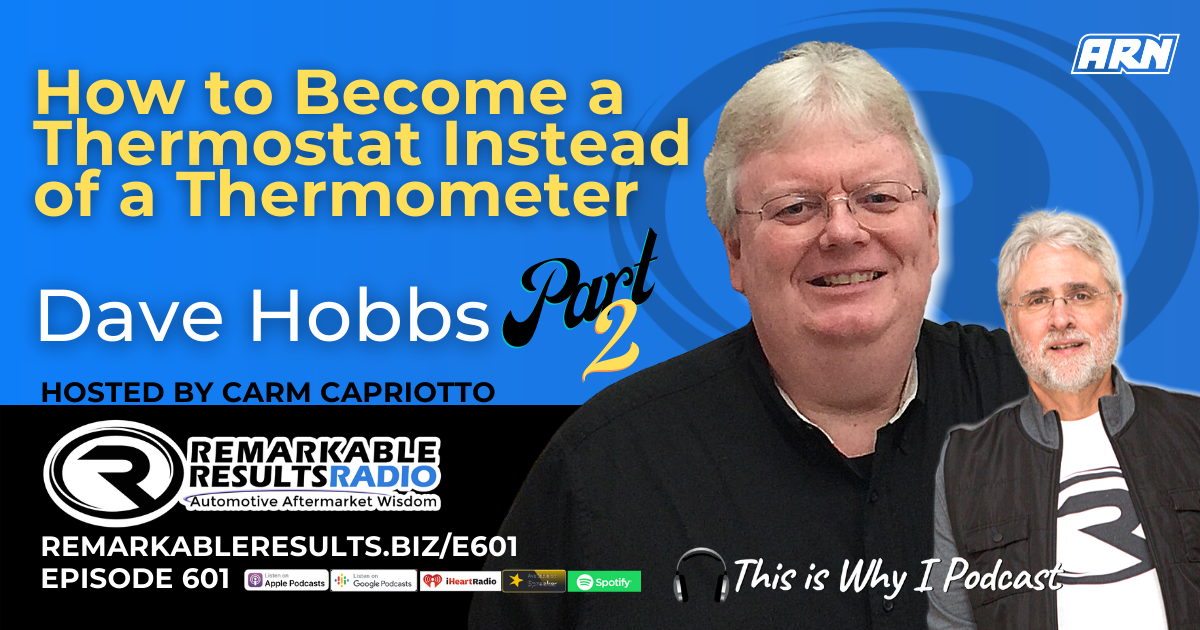 Dave Hobbs automotive service experience spans 40 plus years in the industry, starting out as a technician and then as a service manager working in his family's repair shop (Hobbs Auto Electric) in Kokomo, Indiana. After leaving Hobbs Auto Electric, Dave began working as a hotline advisor and field engineer at GM's Delco Electronics. Those roles eventually led to becoming an electronics systems instructor for thousands of Delco Electronics / Delphi engineers throughout North American and Asia.
Dave is currently the lead technical trainer and course developer for Delphi Product and Service Solutions. In addition, he serves part-time as a contributor to Motor Age Magazine and as a field correspondent for MACS Worldwide (Mobile AC Society). Dave's previous episodes HERE.
Key Talking Points:
Become a thermostat instead of a thermometer When things heat up with frustration thermometers react, thermostats do something (cool down or heat up)
Pertains to shop owners, managers, and lead technicians- it's in our control
Virtual classesDifficult to connect with distant learning- no interaction and often time camera for zoom calls are off
Missing the important feedback from in person classes
ADAS trainingMany cars don't require targets for radar or cameras that you can do yourself
Fuzzbuster, thermal imager etc are tools you can use ("MacGyver" tips)
Love of cars and the car industry- then vs nowDave's first car- '61 Chevy Station Wagon
Cars have more technology on them- can appeal to tech savvy students, but still needs to have aptitude of taking apart and putting back together, coding and computers
Encourage women to join industry as well
Selling it as "computer on wheels"
Resources:
Thanks to Dave Hobbs for his contribution to the aftermarket's premier podcast.
Link to the 'BOOKS' page, highlighting all books discussed in the podcast library HERE. Leaders are readers.
Listen for free on Apple Podcasts, Google Podcasts, Spreaker, iHeart Radio, Spotify, Podchaser, and many more. Mobile Listening APP's HERE
Find every podcast episode HERE.
Every episode is segmented by Series HERE.
Key Word Search HERE.
Be socially involved and in touch with the show:
Facebook Twitter Linked In Email
Join the Ecosystem – Subscribe to the INSIDER NEWSLETTER HERE.

Gold Certification recognizes top tier NAPA AutoCares with a high level of participation in the AutoCare program. The program was built by AutoCare Centers for AutoCare Centers to provide a consistent consumer experience, maximize technology leverage, and reward NAPA's most committed partners. In other words, Gold Certified AutoCare Centers are the standard bearers for the AutoCare brand nationwide. Simply put, the Gold Certified NAPA AutoCare program, powered by your local shop brand, will separate you from the rest helping you boost your bay counts and your average repair orders.
Learn more about NAPA AutoCare, Gold Certification, and the hundreds of other benefits NAPA offers. Talk with your servicing NAPA store or visit www.NAPAAutoCare.com visit the NAPA Benefits Center, at www.napabenefitscenter.com or call the NAPA Benefits Center at 844-627-2123.