What Will 2021 Be Like? [THA 204]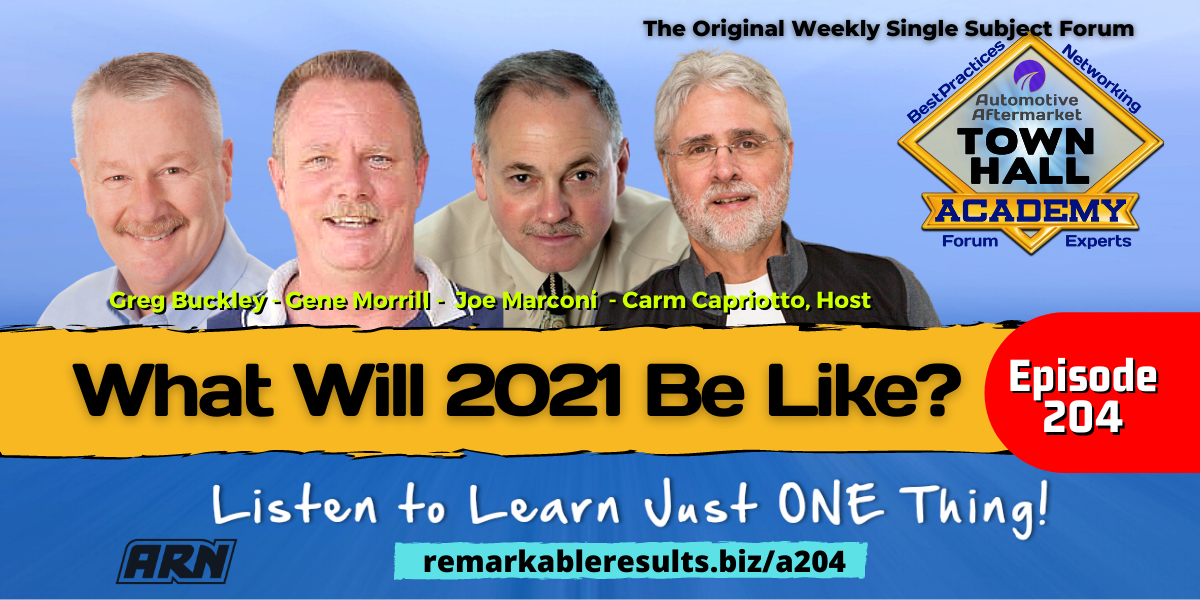 Greg Buckley is the CEO of the 50 + year young Buckley Personalized Auto Care in Wilmington, DE. He's a member of ASA, an ATI Coach, a member of the Delaware Automotive Service Professionals, past member of the NAPA advisory board council, is vice-president of NAPA business development groups, and is involved as an advisory board member of Kukui, along with AutoVitals. Hear Greg's previous episodes HERE.
Gene Morrill, owner of Certified Automotive in Glendora, CA. Hear Gene's previous episodes HERE.
Joe Marconi, Osceola Garage, Baldwin Place, NY (Coach with Elite Worldwide). Joe's Episodes HERE.
Key Talking Points:
You need a survival guide for 2021We've never been thru anything like this
It ain't over yet
Proactive about letting customers know we are open
"Move the Dang Couch" (do something different)
What should we maintain doing what we've been doing (in 2020)We're not immune to any kind of economic downturn
Look at what happened, see how well we were prepared for it
Move forward, learn from it, and put a plan in place
Fundamentals… Moving into 2021 you don't want to reinvent themFall back on what has worked in the past
Knowing your margins, knowing your KPI, knowing your team
Hone in on your fundamentals
Stop being reactive and be proactiveMoving the couch is being proactive
Join an organization
Talk to friends that own shops
Be forward thinking as much as possible
Getting burned sometimes is not a bad thing to learn a lesson
Is 2020 the year to admit that we don't know what we don't knowIt takes ego
Encourage to ask the questions
People are willing to teach
Maintain your marketing thru tough times
Maintain your resolve, maintain your resilience, maintain business as usual
Look back at 2021, learn from it and push forward
Walk with us down the 2021 mentalityLoaner cars for customers
Contactless operations such as payment
Refocus on client base that you already have
What service can we provide in a lower mile environment
Customer service and e-commerceA lot of things went wrong in December
A good thing is to go back to roots, quality of service
Technology cannot replace quality of service
Understand who the customer is
Is it time to incentive technicians for training?That's a loaded question based upon personality types
Build training into your culture
Alot of unknown going into 2021Marketing in 2021
Notify customer let them know we are open
Find out who the spenders are
Expensive marketing campaign, instead…
Phone call, email, text reminder – costs nothing
Educating your staff
Reach out and touch someone in 2021
Final WordsJoe MarconiWhat's your crisis continuity plan look like?
Employee development plan
Goal setting – what does 2021 look like in June?
Strive for a plan
Greg BuckleyMake sure you're fundamentals are good
Don't forget what got you there
Learn to hit a curveball
Learn to throw things at a wall to see what sticks
Make sure you take care of the people that are working for you
Be better a leader than you are now
Gene MorrillLet it go
Don't be the elephant, be the duck, let the water roll off your back
Move that couch and try something new
Get to know friends and owners
Build a war chest of knowledge with your friends and coaches
Resources:
Facebook Twitter Linked In Email
Join the Ecosystem – Subscribe to the INSIDER NEWSLETTER HERE.

This episode is brought to you by Shop-Ware Shop Management. It's time to run your business at its fullest potential with the industry's leading technology. Shop-Ware Shop Management will increase your efficiency with lightning-fast workflows, help your staff capture more sales every day, and create very happy customers who promote your business. Shops running Shop-Ware have More Time and generate More Profit—join them! Schedule a free live demonstration and find out how 30 minutes can transform your shop at getshopware.com

This episode is brought to you buy Shop Marketing Pros. Your guides are Kim and Brian Walker with a rich history as shop owners and industry veterans. When someone searches for a shop, who are they finding? Your competitors? It should be you! The good people over at Shop Marketing Pros know how to drive website traffic and make Google work for you! www.shopmarketingpros.com