The Benefits of Brainstorming Dr. John Passante and Phil Moore [RR 602]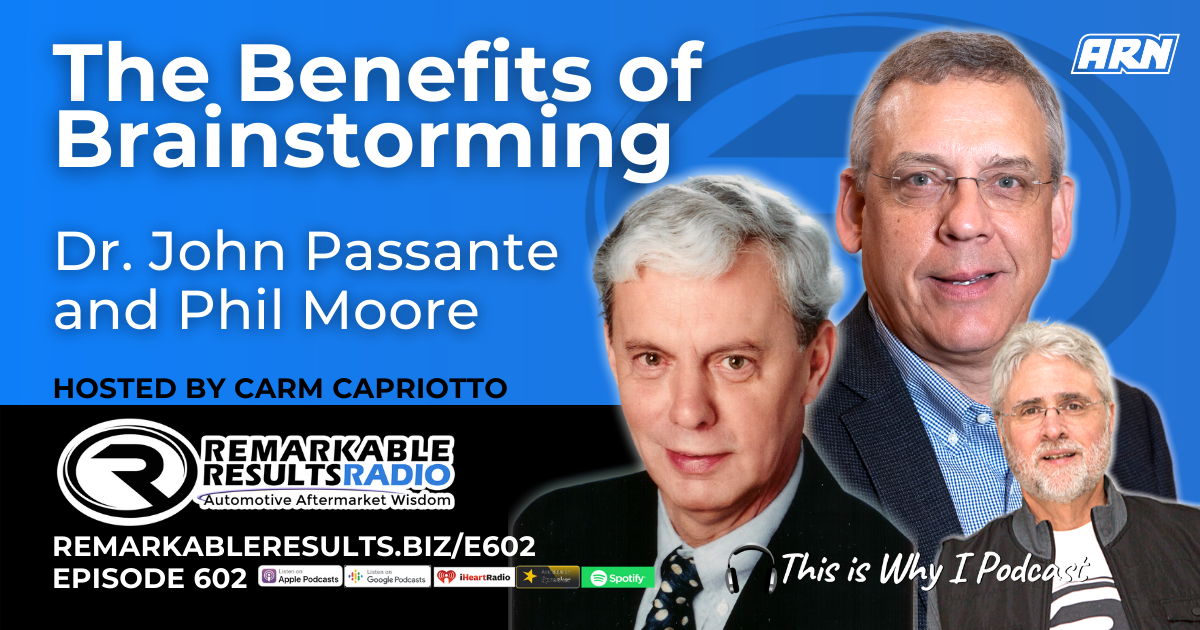 Dr. John Passante is a legacy automotive aftermarket Human Resource professional and the President and CEO of The Organizational Development Group. He's worked with and for some of the biggest names in our industry including Monroe/Tenneco, Delphi, Moog and Car Quest.
I've seen John speak at many events and he always ignites the spirit of self-development and leadership.
John works with many aftermarket organizations to increase its effectiveness by better utilizing their human capital to implement change initiatives including Management Development, Leadership Development, Personal Development, and Team Development among others. Find John's other episodes HERE.
Phil Moore is Vice President Sales and Marketing at Federated Auto Parts. Find Phil's other episodes HERE.
Key Talking Points:
Walt Disney- three stages of thinking: dreamer, realist, and critic
Learning and working- learn one thing every day, affects your whole body, attitude, and motivation
The US ranked 26th/27th in the world for the number of ideas we get from our employees- do employees know owners want their ideas?
Round robin brainstorming exercise- topic to discuss and each person has a chance to give ideas. Best ideas happened at the end once people can hear what others say and build on it
Check your ego and job title at the door when brainstorming as a group- no idea is a bad idea and there can't be criticism
SWOT- strengths, weaknesses, opportunities, and threats: don't wait to do SWOT when there is a serious issue. When you're desperate you will come up with desperate ideas
Brainstorming with a team builds loyalty and makes people want to contribute
Don't limit your base of knowledge to just the people you know- get outside input
Be observant when you're outside of work that could help your business
Resources:
Thanks to Dr. John Passante and Phil Moore for their contribution to the aftermarket's premier podcast.
Link to the 'BOOKS' page highlighting all books discussed in the podcast library HERE. Leaders are readers.
Find every podcast episode HERE.
Every episode segmented by Series HERE.
Key Word Search HERE.
Be socially involved and in touch with the show:
Facebook Twitter Linked In Email
Listen for free on Apple Podcasts, Google Podcasts, Spreaker, iHeart Radio, Spotify, Podchaser and many more. Mobile Listening APP's HERE
Join the Ecosystem – Subscribe to the INSIDER NEWSLETTER HERE.

This episode is brought to you by AAPEX, the Automotive Aftermarket Products Expo. AAPEX represents the $740 billion global automotive aftermarket industry and has everything you need to stay ahead of the curve. The Virtual AAPEX Experience 2020 is in the record books. Virtual AAPEX lived up to presenting leading-technical and business management training from some of the industry's best and brightest. Now set your sights on the homecoming in Las Vegas in 2021. Mark your calendar now … November 2-4, 2021, AAPEX // Now more than ever.

This episode is brought to you by Shop-Ware Shop Management. It's time to run your business at its fullest potential with the industry's leading technology. Shop-Ware Shop Management will increase your efficiency with lightning-fast workflows, help your staff capture more sales every day, and create very happy customers who promote your business. Shops running Shop-Ware have More Time and generate More Profit—join them! Schedule a free live demonstration and find out how 30 minutes can transform your shop at getshopware.com/carm