Millennials in High Gear with Sara Fraser – Part 1 [RR 603]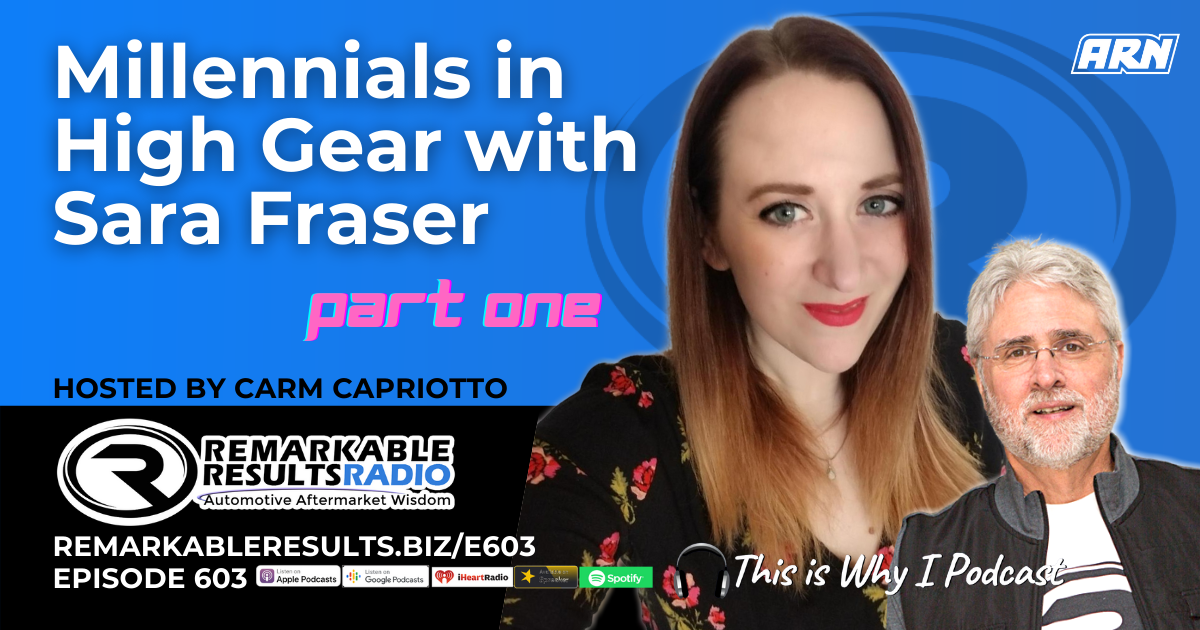 Sara Fraser is a millennial who has a love for life, travel, and connecting with other humans! She has over 15 years of retail management experience, the last 6 of them as an office manager for a used car sales and service center. To bring her customer service, marketing, and business knowledge to the automotive industry she has recently joined the team at Haas Performance Consulting.
Sara loves helping others grow and succeed and is excited to share her expertise on management and social media, her views on how and why the younger generations think and act, and how to work and manage a business within a multi-generational workforce. When she isn't working Sara spends her time traveling, attending theatrical productions, music festivals, concerts, advocating for human and animal rights, celebrating life in general and connecting with other people from all over the world. Look for Sara's previous episodes HERE.
Key Talking Points:
What millennials want from repair shopsMillennials aren't 20 somethings anymore- they range in '30s with careers
Communication- texting, Facebook messaging, and direct messaging
Want "Instagram" worthy experience- something while you're there that makes millennials want to take a picture and share it
Recommendations come from peers via online and social media- millennials love to contribute
FOMO- fear of missing out of an experience
Information overload- repair conversations can become very overwhelming very quickly. Use non-technician terminology to help millennials (and customers in general) understand. Send the repair sheet and invoice in an email for reference later on.
Apps for smartphones- fast and takes 'thinking' out, reminders, discounts
Let your customer decide what their preferred method of communication is and follow it
Millennial employees Safe space- comfortable in and respected, safe from stereotypes, racism and bullying
Want to feel like they're making a difference and contributing instead of being helicoptered by the boss- being directed but also having the freedom to complete tasks/job
Want to know what is expected ahead of time- love transparency
Recognition and check-ins- being appreciated
Resources:
Thanks to Sara Fraser for her contribution to the aftermarket's premier podcast.
Link to the 'BOOKS' page, highlighting all books discussed in the podcast library HERE. Leaders are readers.
Listen for free on Apple Podcasts, Google Podcasts, Spreaker, iHeart Radio, Spotify, Podchaser, and many more. Mobile Listening APP's HERE
Find every podcast episode HERE.
Every episode is segmented by Series HERE.
Key Word Search HERE.
Be socially involved and in touch with the show:
Facebook Twitter Linked In Email
Join the Ecosystem – Subscribe to the INSIDER NEWSLETTER HERE.

As a member of the NAPA family, AutoCare Center owners can take advantage of the NAPA National Health Program from the NAPA Insurance Center. This "NAPA only" program gives you and your employees access to national "large group" rates on medical insurance with premiums discounted up to 30 percent. These rates are based on the collective purchasing potential of 22,500 NAPA locations including both NAPA AUTO PARTS stores and NAPA AutoCare Centers.
The NAPA Insurance Center can help you with a variety of other insurance benefits too. For more information about The NAPA National Health Benefits program as well as all of the insurance benefits available to your AutoCare Center and your employees, visit the NAPA Benefits Center, at www.napabenefitscenter.com or call the NAPA Benefits Center at 844-627-2123.