Requirement for Growing a Branch Store [THA 205]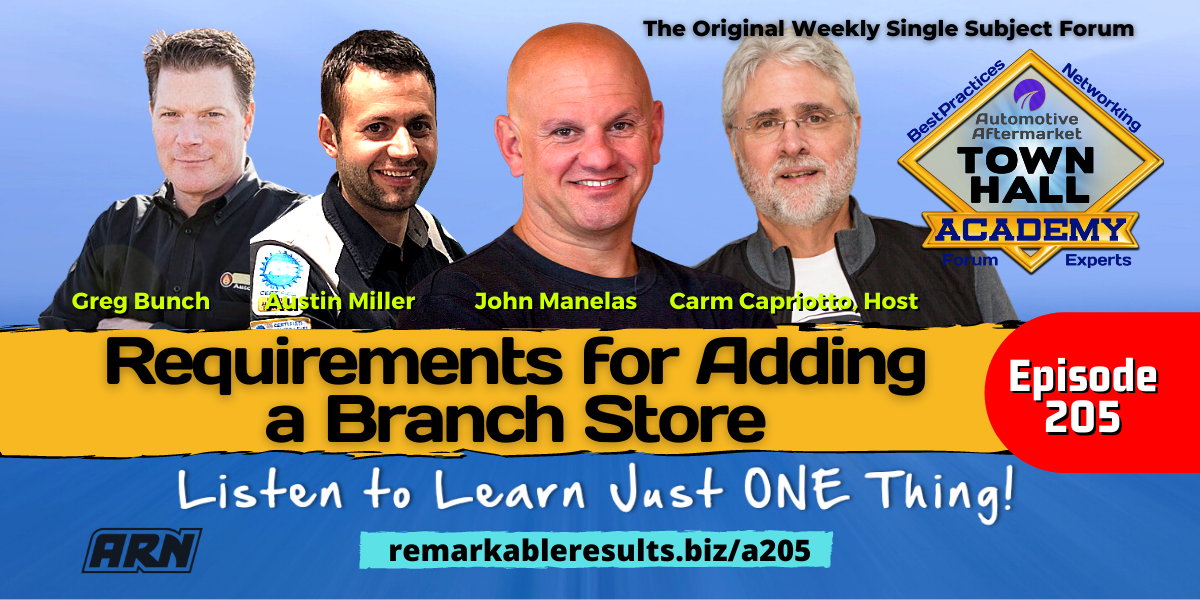 Greg Bunch is the owner of Aspen Auto Clinic, a five-location automotive and service business in Colorado. Greg started his passion for cars at 15 when he began rebuilding a 1966 Volkswagen Bug. Greg has moved from a Volkswagen mechanic to ASE Master Technician, to Management, to starting his shop 18 years ago in his garage, to an award-winning multi-location business.
Greg is currently a board member for the STEM-based charter school call "Automotive Institute of Science & Technology" and on the Advisory board of Ratchet and Wrench Magazine. Greg is also a board member of the Autocare organization and a certified instructor for the Worldpac Training Institute and Carquest Technical Institute. Greg's unwavering passion for the industry has also led him to form a company called Transformers Institute, a coaching and training company dedicated to transforming the automotive industry.
Listen to Greg's previous episodes HERE. Transformers Institute HERE.
Austin Miller. Tire Star opened the doors in 2011 in the back part of a grain elevator warehouse. Austin Miller started the business with the goal of providing trustworthy automotive repair at a fair price and timely manner. Since then Tire Star has grown to 3 locations and 40+ employees. This growth was made possible by employees willing to go the extra mile to provide a great customer experience. Austin is an ASE L1 Master Certified Technician and has received an ASE technician of the year award. Although he is not turning a wrench most days Austin is still very involved in learning about new technology and ensuring his staff gets the training they need to be successful. Listen to Austin's previous episodes HERE.
John Manelas and wife, Karen Manelas,purchased their first location in April 2004. They expanded into their 2nd location in 2011. They bought out a former 20 group member in Maine in 2013 as their 3rd location. They purchased a former Chevy/Chrysler 14 bay dealership in 2014. In 2016, they purchased an import auto service business and converted it to an Auto Care Plus (store #5). In 2017, they purchased a Volvo Specialty Repair Shop which they decided to then re-brand and create a new brand for us calling it Euro Care Plus. In 2019, we did our first non-acquisition "build to suit" venture erecting an 8 bay facility with upstairs offices for their Corporate headquarters. They also decided to lease the rest of that building where we are preparing to open a Hybrid/EV specialty division to be named Electrified Auto Care. They now have 7 locations (5 of which they own the dirt). 6 Locations in NH and one in ME. Listen to John's previous episodes HERE.
Key Talking Points:
I think I'm successful, I think I wanna grow, but am I ready for this?Not for money, not for ego, but for a challenge
Personal reasons for why
Some peoples why is to build wealthThe challenge of it
People are only happy when they are growing
Private equity
Add another location to justify the management teamGoing from 2 to 3 locations made you focus in on your process
Day you realized to lock your processes downEstablish SOPs
Use other people's money to expandBuild to suit
Pay it back in a lease arrangement
Lean towards acquisitions
Newer growing areas are better for build to suit
Own the dirt whenever possible
The creativity of doing a dealYou do need capital not just the paper
Leverage other people's money to make it happen
What Covid has done to our industryAbsorption is an option
If you're gonna grow and acquire, you have to have the right peopleNot everyone fits your model
Not every size fits your model
Anticipate losing 10% of customer base
Anticipate losing 90% of your employees
During an acquisitionBuild an avatar of what the perfect customer looks like
Build an avatar of what the perfect shop looks likeLean and mean 3 – 4 bay shops
Garage-Mahal
7 – 8 bay shop
Main street
Backstreet
Euroshop
General repair
Asian specialty
Austin explains his why I enjoy the challenge
The problem child car that no one could figure out at other shops
Bored with only one shop
The challenge of taking something that is not operating very well and making it profitable
Single shop owner with an itch to grow… what do you tell me?I would ask you why?
Passion has to be in there
It can't be all about money
It's a long road
Are there gonna be huge opportunities on the horizon?The potential this industry has in the future is tremendous
Also gonna be filled with challenges
Technology is changing
The industry is going to change
Recession proof business
The word is "Cautious"91% of shops were affected by Covid
Shop owners looking to expand, take advantage of opportunities
Baby boomers are gonna get out early to retire (bcs of Covid)
Take advantage but don't be a predator
Be prepared to lose 90% of your employeesLoyalty
Fixer Upper Shops
You don't have a broken shop, you have a broken manager
Assessment of BusinessNumbers don't lie, people lie
Look at car counts they are running
Number of rooftops for competitors
Location
Never advise someone to buy their second store that isn't going to be better than their first shop
I wanna grow as a shop owner, I've done a self assessment and I'm ready…If you're not profitable at your first business, you're not ready
Profitability is important
How much involvement is the owner in the current operations
You can't have a investor hat on and a technician hat on at the same time
Some people want a fixer upper, others want an established operation
How many shops is too many shops, is there a sweet spot?Depends on the business model you are running
Investing back into the business
We can't run a business if we can't fix the cars
Covid was a perfect opportunity to educate parents into the 'college scam'
There is alot to prepare for going into multiple locations
Final WordsAustin MillerThe 20 Group
Ratchet and Wrench
Attend conferences, sit at the lunch table and talk to people
Greg BunchThe longer you wait to get help, the more expensive it will be
Don't jump into the deep end alone
Need to have a passion for the industry
Information is not transformation
John ManelasMentors is #1
Get out and fight people that have been there done that
Wife and or significant other, you need to have their support
Attend seminars together
Henry Ford attributes 2 things to his successHis mastermind group
His wife
Resources:
Facebook Twitter Linked In Email
Join the Ecosystem – Subscribe to the INSIDER NEWSLETTER HERE.

This episode is brought to you by Shop-Ware Shop Management. It's time to run your business at its fullest potential with the industry's leading technology. Shop-Ware Shop Management will increase your efficiency with lightning-fast workflows, help your staff capture more sales every day, and create very happy customers who promote your business. Shops running Shop-Ware have More Time and generate More Profit—join them! Schedule a free live demonstration and find out how 30 minutes can transform your shop at getshopware.com

This episode is brought to you buy Shop Marketing Pros. Your guides are Kim and Brian Walker with a rich history as shop owners and industry veterans. When someone searches for a shop, who are they finding? Your competitors? It should be you! The good people over at Shop Marketing Pros know how to drive website traffic and make Google work for you! www.shopmarketingpros.com