Women in Auto Care Awards 2020 [RR 604]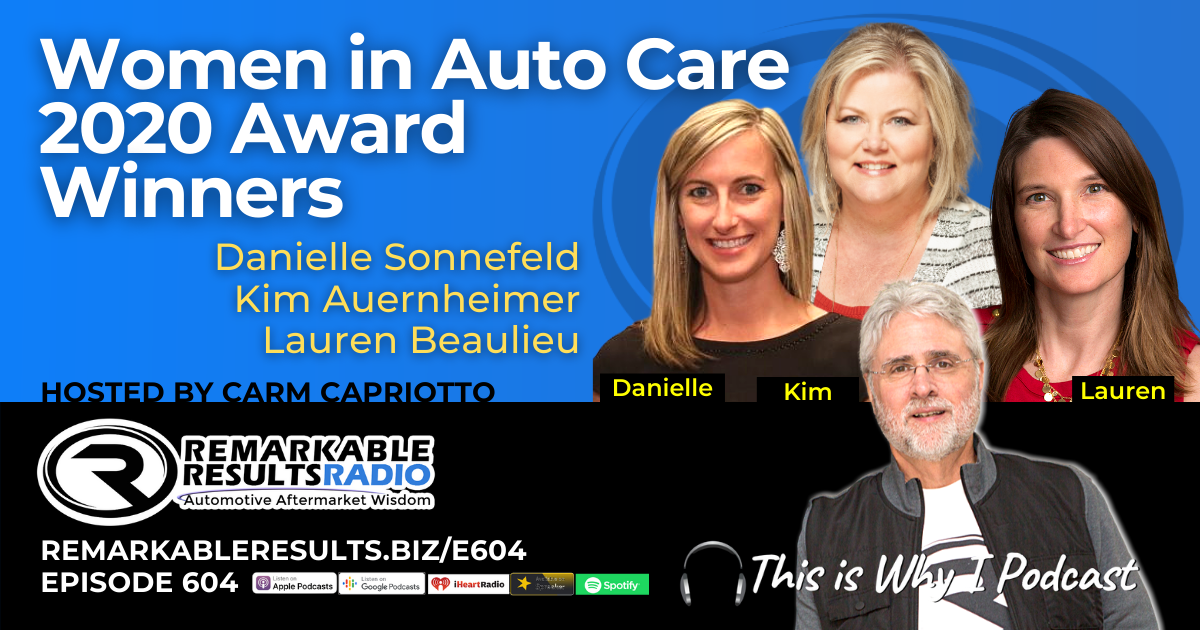 Women In Auto Care 2020 Award Honors
Auto Care Woman of the Year -This award is presented annually to a woman who is a leader, mentor, and role model who has made significant and outstanding contributions to the auto care industry.
2020 Winner: Lauren Beaulieu, vice president, professional marketing, Advance Auto Parts
Female Shop Owner of the Year – This award is presented annually to an outstanding female shop owner who demonstrates role model behaviors, leadership and commitment to the advancement of women.
2020 Winner: Kim Auernheimer, owner and business manager, Cool Springs Automotive, (dba CS Automotive)
Auto Care Woman of Excellence – This award is presented annually to a woman who is a Women in Auto Care member and who has provided recent outstanding contributions to the auto care industry while demonstrating role model behaviors, leadership and commitment to the advancement of women. She is considered a rising star in the industry.
2020 Winner: Danielle Sonnefeld, Vice President
Danielle Sonnefeld is the vice president of Business Development for NA Williams, which is a leading manufacturer representative agency in the auto care industry. Celebrating 10 years with the company, Sonnefeld served as the director of Marketing for the first seven years, moved into an account executive role handling a major retailer and was recently promoted to handle business development for the agency. She began her career as the marketing manager for Chicago Pneumatic Tool Company, which complemented her previous work experience at both a full-service marketing agency and an international public relations firm.
Sonnefeld is very passionate about the industry and volunteers her time to encourage, promote and support the next generation of leaders. She has been a member of Women in Auto Care since 2010 and served on their executive board from 2017-2020. During this time, she was an integral part of growing the scholarship program from less than $10K to over $100K annually. Sonnefeld serves on the Board of Trustees for The University of the Aftermarket Foundation and is the co-chairman of the scholarship program, which awards over $600K in scholarships from over 40 organizations. She currently serves on the Auto Care Association's Events Committee and Manufacturer's Rep Council.
Sonnefeld earned a Bachelor's degree in public relations and an MBA in global marketing. Listen to Danielle's Episodes HERE.
Kim Auernheimer, AAM is the Co-Owner & Business Manager of CS Automotive in Brentwood, Tennessee. CS Automotive was opened in October of 2006 in the back of a warehouse and now they call a 6,400 square foot, 10-bay shop home. Prior to joining her husband Rob in the business on a full-time basis, Kim had a career in Commercial Real Estate and Property Management. In July of 2011, she stepped out from the background of the business and joined her husband in the venture of creating an industry-leading standout
Kim continuously seeks out training for her and her entire team and put the teachings to use. Her belief in industry education has been a large influence on how much success and growth they have had over the last few years. She has a passion to improve the reputation of the Automotive Repair industry working alongside other shop owners and industry leaders to improve the overall experience of the customer from the moment they make that first call to the shop until they drive their car off the lot instilling transparency and developing trust during the entire process.
In 2017, she obtained her Accredited Automotive Manager (AAM) designation. This is a result of 120-credit hours of coursework in several core competencies including leadership, marketing, customer relations, accounting, and several other areas of automotive repair business management. Listen to Kim's Episodes HERE.
Lauren Beaulieu joined Advance Auto Parts in 2013 and has held her role as Vice President of Professional Marketing Since 2018 leading all Pro marketing as well as the TechNet program. Recently, Lauren was featured in Aftermarket Business News representing Advance and their 2020 Future-Focused agenda, She was also recognized as one of the industry's Women at the Wheel by AMN in May of 2020. Previously, Lauren served as Director of Commercial Marketing from 2013-2016 and Director of Professional and product Marketing from 2016-2018.
Previously, Lauren worked for Autopart International, in a variety of roles from 2005-2009, including Product Manager, Marketing Manager, and Director of Marketing. Prior to Autopart International, she worked in a variety of positions with General Motors from 1996-2005.
Lauren is a champion of diversity and launched the First team member network at Advance Auto Parts in 2018. The Women In Motion Network (WIMN) is that largest network at Advance. She is a collaborator and an active supporter of women at all levels of the industry. Listen to Lauren's Episodes HERE.
Key Talking Points:
MentoringHelp guide and lead development for others in industry
Promotes networking
Not always the most senior member
N.A. Williams Company- rep agency Outsource sales team
Partnerships with manufacturers to sell into retail
Link between supplier and customer communities
Husband and wife working together in businessEven when married to owner and not working in business, you're already a team member to the business
Need balance of co workers at work and being spouses at home
Women in motion network- opportunity for women to come together and support each other with their careers. Mentoring circles. Guest speakers.
Get involved and own your careerHave goals and pursue them
Make a difference in your community/join other networking groups- it will excite your passion for the industry beyond working your routine job
Seek out and learn from leaders you want to emulate
ScholarshipsFunded by partners within industry
Scholarships for aspiring technicians and business and engineering field
Also participates with the university of the aftermarket foundation- total with both gave out 650k in 2020
Resources:
Thanks to Danielle Sonnefeld, Kim Auernheimer and Lauren Beaulieu for their contribution to the aftermarket's premier podcast.
Link to the 'BOOKS' page highlighting all books discussed in the podcast library HERE. Leaders are readers.
Find every podcast episode HERE.
Every episode segmented by Series HERE.
Key Word Search HERE.
Be socially involved and in touch with the show:
Facebook Twitter Linked In Email
Listen for free on Apple Podcasts, Google Podcasts, Spreaker, iHeart Radio, Spotify, Podchaser and many more. Mobile Listening APP's HERE
Join the Ecosystem – Subscribe to the INSIDER NEWSLETTER HERE.

This episode is brought to you by AAPEX, the Automotive Aftermarket Products Expo. AAPEX represents the $740 billion global automotive aftermarket industry and has everything you need to stay ahead of the curve. The Virtual AAPEX Experience 2020 is in the record books. Virtual AAPEX lived up to presenting leading-technical and business management training from some of the industry's best and brightest. Now set your sights on the homecoming in Las Vegas in 2021. Mark your calendar now … November 2-4, 2021, AAPEX // Now more than ever.

This episode is brought to you by Shop-Ware Shop Management. It's time to run your business at its fullest potential with the industry's leading technology. Shop-Ware Shop Management will increase your efficiency with lightning-fast workflows, help your staff capture more sales every day, and create very happy customers who promote your business. Shops running Shop-Ware have More Time and generate More Profit—join them! Schedule a free live demonstration and find out how 30 minutes can transform your shop at getshopware.com/carm