How to Implement Your Own Apprentice Program [RR 605]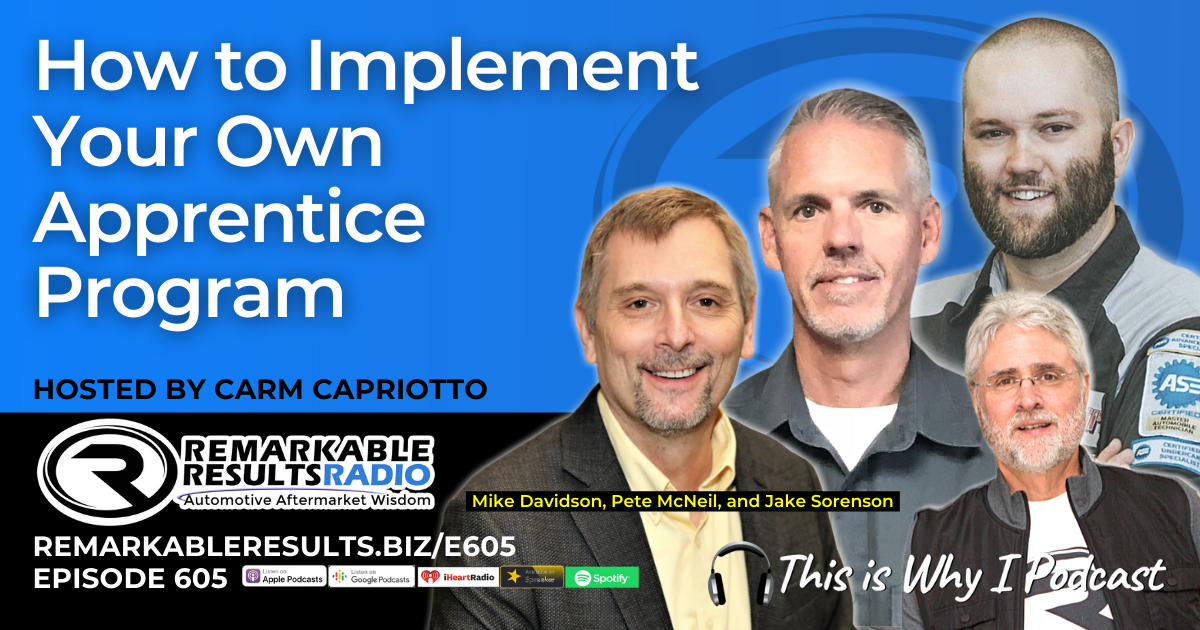 Pete McNeil is a second-generation family-owned business that started out as a Volkswagen specialist. They quickly recognized their potential for all makes and models and expanded their service offerings. During this time, they joined the NAPA AutoCare program, expanded their footprint in the Salt Lake valley and became a pillar in the automotive repair industry.
In 2018 alone, McNeil's expanded their Sandy location to 16 bays to help accommodate their growing business, training center and partnership with local schools for the continued growth of their apprenticeship program. During this time McNeil's also took advantage of the Interior ProImage program and remodeled their entire showroom! This included new counters for their 4 Service Advisors, new epoxy flooring, signage, and upgraded comfortable furniture and fixtures! This is truly a place where their customers can relax while having their vehicle repaired.
In addition, Pete opened a 2nd location in Riverton, Utah in May of 2019. Pete is very involved in the community both locally and abroad He is active in the local Church Youth Conference, Angel Hands, which assists people with disabilities.
Very active in youth soccer with contributions and cars washed to raise money for Sparta-United. He has donated time and resources to "Sandy Pride" which helps residents clean up and beautify the city. Look for Pete's other episode HERE.
Jake Sorensen is the 2019 NAPA ASE Technician of the Year and 2019 Ratchet + Wrench All Star technician of the year. He is an ASE Master technician with L1,2 and 3 advanced level certifications. He is the shop manager and diagnostic technician at McNeil's Auto Care in Sandy, UT where he helped develop an apprenticeship program that is registered with the U.S. Department of Labor. This program has graduated several high performing automotive technicians and was used by NAPA Auto Care as a template for their automotive apprenticeship program. Jake also developed the curriculum for an automotive course that he teaches at an adult education high school. Look for Jake's other episode HERE.
Mike Davidson is from Parkway Automotive in Little Rock, Arkansas, been in the industry for more than 30 years and a business owner for over 18. Mike is an AMI graduate, an ASE Master Technician, he belongs and contributes to Elite Worldwide and was recognized as the Arkansas NAPA/ASE tech of the year seven years in a row. He's been doing radio and TV over the last fifteen years talking 'service' in Little Rock. Mike helped start the Little Rock chapter of ASA and is currently an officer. Look for Mike's other episode HERE.
Key Talking Points:
Fact of life: You will either sell your shop or close your shopAn apprentice plan with a culture of learning will help you when selling your shop because you have a culture of learning
An apprentice program adds value to your shop especially a Department of Labor approved plan
There is no easy button to put a strong apprentice program into playYou must invest time, energy, and money
End result is well worth it
The Pandemic has brought changes to education and lab work
Having your own apprentice program puts the lab right inside your shop
Apprenticeships will seed your bench as the need for quality technician arises because the recruitment and competition for technicians rises
Mike Davidson created an apprentice program 10 years ago and created a company to support it. His program of DOL approved.
Pete McNeil and Jake Sorenson created their own apprentice program and it was picked up by NAPA nationally.
Motivating the new generation of technicians through an apprentice program should include incentives along the way. Rewards for the learning and the time invested.
The rewards are great when you pour your heart into growing talent
Mike, Pete, and Jake have learned a lot
75% of auto repair happens at the independents
The need for technicians has never been greater
There have been many shops that closed including dealers. The number of bays has reduced yet there is a large demand for technicians
Shops are becoming ruthless at finding techs which is the reason to grow your own with an apprentice program
There is a cost to do an apprentice program
Stat: One technician should be able to produce about $30,000 per month out of a bay
Mike goes through the math and how you can get your suppliers involved in your apprentice program
Autocare:: 81 Million auto's on the road 16 years and older (2021) and this number continues to grow
A technical college with four semesters equals 281 eight hour days. ASE requires 508 eight hour days on the job for a single certification can he issuesWith an apprentice program at the end of two years, you'll have your time and your ASE certifications
When sitting down with an apprentice and/or their family, you have to show a road map and viability for a job and certifications, a clear path
The apprentice18 years of age
High school or GED
Have a valid driver's license
Must submit to illegal use of drug test under the DOL program
Complete an application
Agree to follow guidelines
They must fit your culture
Look for the right skill sets and you will teach them attitude and fitting into your culture
Competency levels can bring different stages of compensation
Picking the right mentor is very criticalIt may not be the longest-tenured technician
Provides 'giving back' and a sense of belonging
Someone willing to change a life
At least 5 years experience in the field
At your shop for at least a year
Good communication skills
They must care about other people
They will teach how you want cars repaired and how to diagnose
Look at the pay program together and the ROI
You can build a smart program with an open mind and communication
The mentor should not feel like they are taking a step backward
The average time it takes to replace an employee is 42 days. It is costly
An apprentice program will create a culture of learningThe other staff members will elevate themselves
There are technical schools and many know about them, HOWEVER, not many know that there are apprentice programs.We must aggressively promote and create apprentice programs.
A great place to find apprentices is the home school industry.The parents would know if their student is mechanical.
Connect with them on Facebook
There is a cost and Mike has complete spreadsheets to show you how to justify the program.
You keep a spreadsheet on cost per hour to apply to your state for grants.Every state has a different amount of money available.
You must have a cost per hour to show them
Grants are reimbursement. They pay you behind not upfront
This is why the mentor cost per hour is critical
All grant programs will ask for cost per hour which is why you need a spreadsheet to produce the number
Share the cost of the mentor and apprentice with them to let them see your investment and your recovery.
Insutryessentials.netThe website has resources for mentors and apprentices.
Agreements
Cost per hour spreadsheets
You can run ads for apprentices Source: nextdoor.com
Home school community
There are people who want to get involved in our industry
Respect the wage and hour laws of your state
Link to Powerpoint used in this presentation: HERE
Link to Mike Davidson's Industry Essentials. Info on apprentice program: HERE
Email Mike Davidson HERE
Resources:
Thanks to Mike Davidson, Pete McNeil, and Jake Sorenson for their contribution to the aftermarket's premier podcast.
Link to the 'BOOKS' page, highlighting all books discussed in the podcast library HERE. Leaders are readers.
Listen for free on Apple Podcasts, Google Podcasts, Spreaker, iHeart Radio, Spotify, Podchaser, and many more. Mobile Listening APP's HERE
Find every podcast episode HERE.
Every episode is segmented by Series HERE.
Key Word Search HERE.
Link to other apprentice podcasts:
Be socially involved and in touch with the show:
Facebook Twitter Linked In Email
Join the Ecosystem – Subscribe to the INSIDER NEWSLETTER HERE.

As a member of the NAPA family, AutoCare Center owners can take advantage of the NAPA National Health Program from the NAPA Insurance Center. This "NAPA only" program gives you and your employees access to national "large group" rates on medical insurance with premiums discounted up to 30 percent. These rates are based on the collective purchasing potential of 22,500 NAPA locations including both NAPA AUTO PARTS stores and NAPA AutoCare Centers.
The NAPA Insurance Center can help you with a variety of other insurance benefits too. For more information about The NAPA National Health Benefits program as well as all of the insurance benefits available to your AutoCare Center and your employees, visit the NAPA Benefits Center, at www.napabenefitscenter.com or call the NAPA Benefits Center at 844-627-2123.