Never the Cheapest but the Best Value Shop – Travis Guy [RR 618]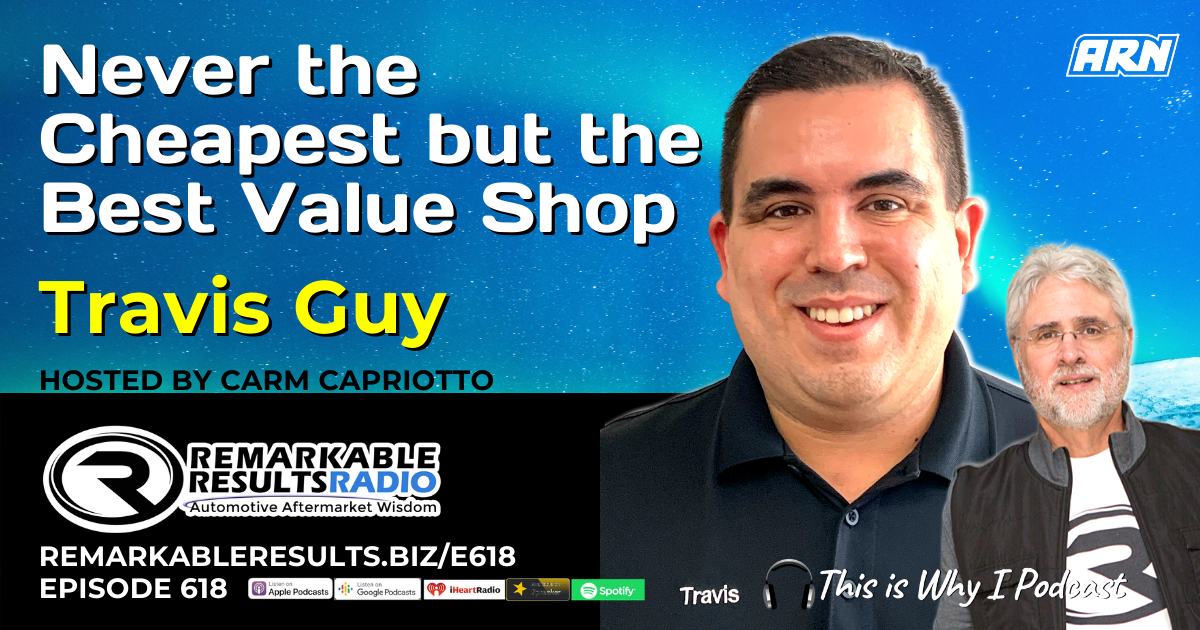 Travis Guy co-owner of Yourba Linda Auto Service in Placentia, CA.
Key Talking Points:
Both Travis and his brother Tim worked in hospitality business before joining family business- their dad never pressured them to come work for himStarted as bellman/front door at hotel at age 16, at 18 was valet
Went to job fair and started working for Disney- learned valuable customer service skills (using whole hand when gesturing or directing customers instead of 1 finger, answering phone within 3 rings, smiling at customers and while using phone and behind mask)
Travis, brother, mother and father all have ownership of business- grew up with very close family, family always comes first
Dad- overseer, behind the scenes bookkeeping tasks
Travis and brother run day to day operations of shop- Travis is "face" of company in front of shop, Tim is expert at the parts and directs back of shop
Hired new technician from CraigslistPut money into ads on Indeed and Facebook- had same applications come through that weren't the right fit for the business
ASCCA membershipTravis has become more involved in industry- more to industry than just his shop
Camaraderie- more comfortable in business and in association
"Don't need to have gray hair to be in ASCCA"
Self inflicting wounds industry wideDeserve to get paid for your knowledge and the services you offer
Technicians deserve to get paid what they're worth
Be the change- top technician at Travis' shop earns 6 figure income. Labor rate increased $50 when he came on board
Handling price shoppers- "We're not the cheapest. We will never be the cheapest. We are the best value."
Instead of being in competition with other shops consider supporting each other- joining networks and associations, share information, learn from each other and all be successful
Family employees and customers- what drives Travis to get up every morningFamily- helping family, working toward goals
Employees- proud to keep them employed so they can support themselves and their family
Customers- they rely on shop and most importantly, they trust them
Resources:
Thanks to Travis Guy for his contribution to the aftermarket's premier podcast.
Link to the 'BOOKS' page highlighting all books discussed in the podcast library HERE. Leaders are readers.
Find every podcast episode HERE.
Every episode segmented by Series HERE.
Key Word Search HERE.
Be socially involved and in touch with the show:
Facebook Twitter Linked In Email
Listen for free on Apple Podcasts, Google Podcasts, Spreaker, iHeart Radio, Spotify, Podchaser and many more. Mobile Listening APP's HERE
Join the Ecosystem – Subscribe to the INSIDER NEWSLETTER HERE.

This episode is brought to you by AAPEX, the Automotive Aftermarket Products Expo. AAPEX represents the $740 billion global automotive aftermarket industry and has everything you need to stay ahead of the curve. The Virtual AAPEX Experience 2020 is in the record books. Virtual AAPEX lived up to presenting leading-technical and business management training from some of the industry's best and brightest. Now set your sights on the homecoming in Las Vegas in 2021. Mark your calendar now … November 2-4, 2021, AAPEX // Now more than ever.

This episode is brought to you by Shop-Ware Shop Management. It's time to run your business at its fullest potential with the industry's leading technology. Shop-Ware Shop Management will increase your efficiency with lightning-fast workflows, help your staff capture more sales every day, and create very happy customers who promote your business. Shops running Shop-Ware have More Time and generate More Profit—join them! Schedule a free live demonstration and find out how 30 minutes can transform your shop at getshopware.com/carm