Charging What We are Worth [THA 212]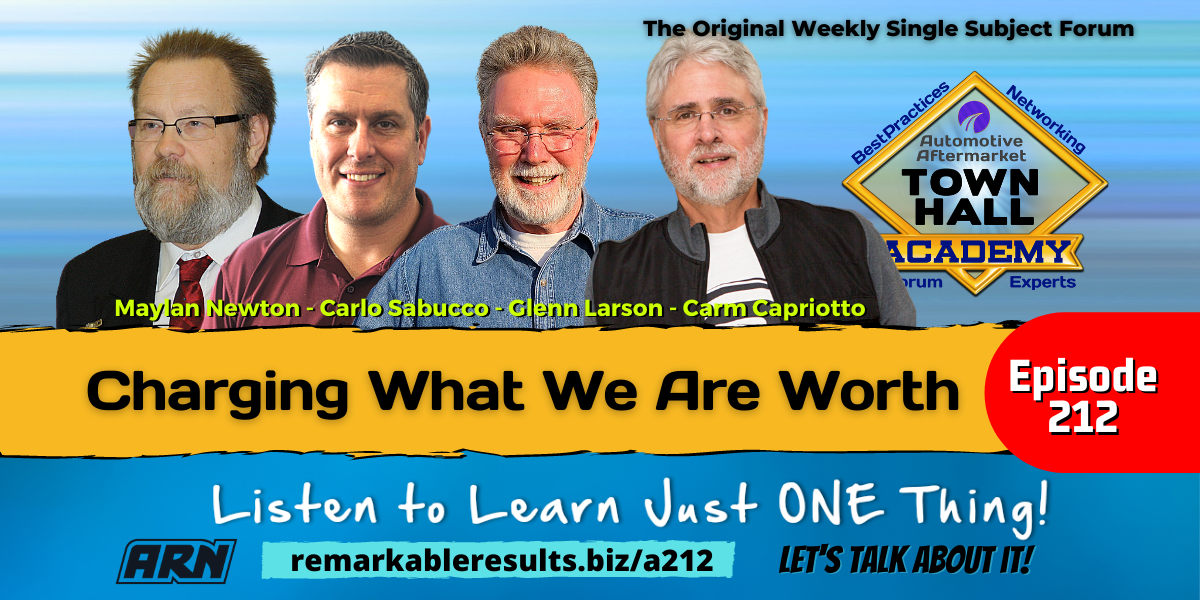 Maylan Newton from ESI – Educational Seminars Institute is a business coach, trainer and industry speaker. Maylan is no stranger to the podcast having paid it forward many times. He is a much sought our speaker at industry events in the US. Find Maylan's previous episodes HERE.
"He is 'just a car guy' with lots of knowledge and is brave enough to talk about it". Maylan's purpose is to educate leaders to be a better owner or service writer.
Carlo Sabucco, 2nd generation owner of Sil's Complete Auto Care Centre. My father started the company September 1976, I joined in 1994 and succession of ownership in 2009. Company is now a 7000 square foot facility with 8 bays and 6 wonderful team members. I would never be here today without the team, the help of some amazing coaches, my peer group for the last 16 years, and lastly my wife Melanie. The last 2 years has been a steep learning curve of C Suite coaching, personal development, learning to be a better leader and focusing on where the industry will be in 5-10 years and preparing for it. Listen to Carlo's other Episodes HERE.
Glenn Larson, Foothill Autoservice, Lake Forest, CA
Key Talking Points
 Defining "what is worth"The value equivalent to that of someone or something under consideration
The level at which someone or something deserves to be valued or rated
We are here to push you to rethink your labor ratesBuild your customer base to people that want to pay your price to have you maintain their vehicles
Weed out customers who don't want to pay the rates
80/20 Rule – 80% of your profits come from 20% of your customers
Successful yearReputation
Word of mouth advertising
Focus on your peopleCustomers
Employees
Emotion is a big driver in worth and what we charge
3 angles of worthWorth of the businessThe right tools
The right technicians
Do you believe in your employees
Worth of the mathematicsFormulas
Calculations
Are you the owner-worthy?
Does your facility warrant what you charge?Can you walk thru your place and say "I actually should be charging more?"
Do I need to clean house here and change things around to make it look a little better?
Do I need better tools?
If you don't look like you belong, no one will pay your ratesUse good parts
Have certified technicians
We get paid for our knowledge, not what we do
The business is meant to work for us, we're not there meant to work for it
Every shop in every area is differentRaise labor rates 2% every quarter
How to's and why's of figuring out what to chargeKnow that you have to charge more
Know the value of your business
The cost of doing business
Running the business on "jingle factor" is not P&LFocus on net profit
What net do you need?
Why do you need net?
Paralysis by Analysis
 Final thoughtsGlennIf you have more self respect for yourself and realize what you've put into the industry and what your value is to this industry, this will help you charge what you're worth
Your customers want you and your team to take care of their car and they will pay what you charge
CarloYou gotta make money because no one will be at your retirement party because you didn't know how to run a business. If you don't make money, they're not gonna be there to write you the check to take care of you in retirement.
If your business goes under, it's your fault
MaylanWe have to understand our business
Profit is not a bad word
If something happens to you right now, how is this business gonna support your family with day to day expenses
Your employees depend on you to make a profit so you can stay in business
The value to your customer
Resources:
Facebook   Twitter   Linked In   Email
Join the Ecosystem – Subscribe to the INSIDER NEWSLETTER HERE.

This episode is brought to you by Shop-Ware Shop Management. It's time to run your business at its fullest potential with the industry's leading technology. Shop-Ware Shop Management will increase your efficiency with lightning-fast workflows, help your staff capture more sales every day, and create very happy customers who promote your business. Shops running Shop-Ware have More Time and generate More Profit—join them! Schedule a free live demonstration and find out how 30 minutes can transform your shop at getshopware.com

This episode is brought to you buy Shop Marketing Pros. Your guides are Kim and Brian Walker with a rich history as shop owners and industry veterans. When someone searches for a shop, who are they finding? Your competitors? It should be you! The good people over at Shop Marketing Pros know how to drive website traffic and make Google work for you! www.shopmarketingpros.com