A Shop Fire. What Happened? Resolution. Aftermath. Prevention. Matt Fanslow [RR 617]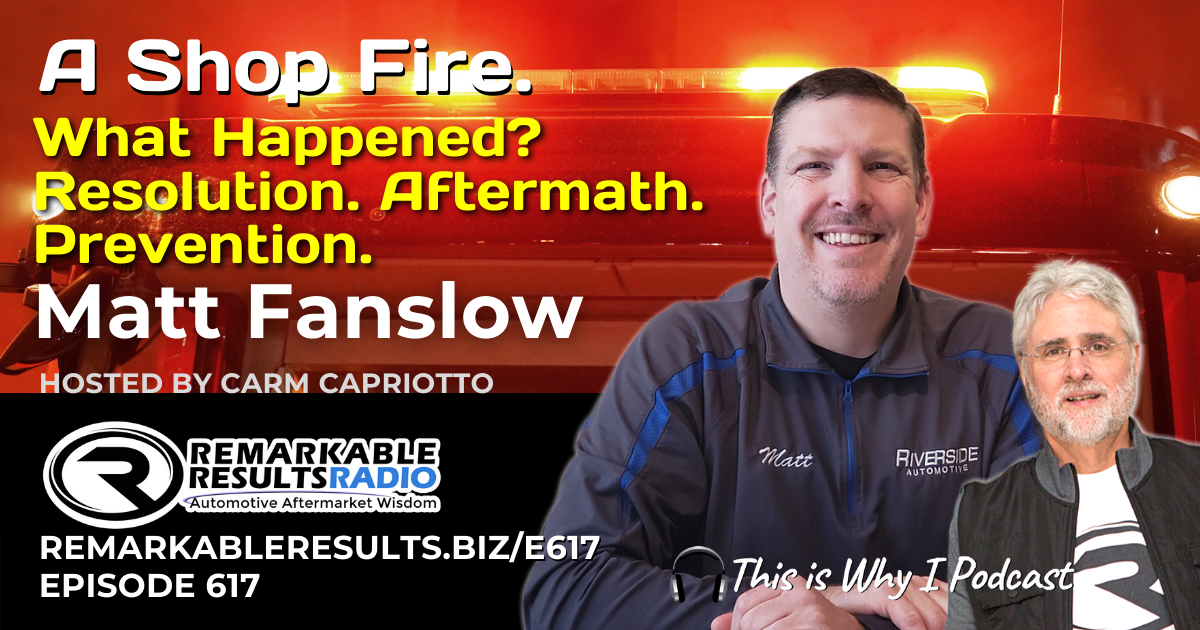 Matt Fanslow is the diagnostic tech/shop manager at Riverside Automotive in Red Wing, MN. His primary responsibilities are to diagnose driveability and electrical/electronic issues, and perform most all programming, coding, initializing, adoptions, etc. Basically, if it needs to be figured out or has wires, it goes to Matt. He's been a tech since 1996.
Matt is also a subject matter expert for ASE and has instructed at Vision Hi-Tech Training and Expo.
Matt has participated on 18 ASE technical committees for the ASE Practice Test, A6, A7, A8, and L1 tests. He's also done case studies for Standard Motor Products.
Fanslow's goal is to do everything in his power to improve the overall level of professionalism within the automotive and light truck repair trade and also raise the level of its public image. Matt Fanslow's Previous Episodes HERE.
Key Talking Points:
Fire in business- January 15thThe vehicle came into the shop in the evening to be serviced the following day
Everyone left before 6 pm, by 6:25 pm the fire department was called by passerby pedestrian
The shop had security cameras but no smoke detectors.
Engine compartment towards 12volt battery of vehicle was where fire had started
The building doesn't have to be rebuilt but the rafters and trusses are damaged- heat tempers wood and it loses its "binding' properties
Was newer vehicle- depending on cause this is how recalls are createdAn insurance investigator and manufacturer investigator- the vehicle will often be taken off-site to have a thorough forensic investigation to find out the cause
Luckily there weren't significant damages to the tools/equipment/diagnostic machine, inventory and employee tools/equipment – you're facing fire/smoke and water damage from fire department
Expected to be fully operational again by mid-late Fall 2021
Business interruption insurance Looks at what your business was producing prior to the interruption
A fixed amount of money to be pulled for paychecks etc
2 bays- tech works 40 hours a week, bill out 20 hours working in the bay (shop pays from own checkbook from funding) the other 20 hours they are cleaning/inventorying the shop and 'working for insurance'
What you can do ahead of time- be proactive Invite fire marshall to come to shop- document shop layout/entrances
Fire trucks have tablets in them- when they get called to a location any information about the building can be used
Purchase from fire department safe for outside of building with keycodes to avoid damage from entering during emergency
Map out your disconnects- gas/water/electricity
30-45 seconds can make the difference between going from bad to really bad in a fire
Research and become familiar with your insurance coverage plan and educate your employees on it- can they get homeowners insurance on their equipment?
Inventory what you have in the shop- what is the cost of replacement?
Consider 'cleanup' investments after a disaster
Also, consider fire doors
Link fire detectors to EMS
Resources:
Thanks to Matt Fanslow for his contribution to the aftermarket's premier podcast.
Link to the 'BOOKS' page, highlighting all books discussed in the podcast library HERE. Leaders are readers.
Listen for free on Apple Podcasts, Google Podcasts, Spreaker, iHeart Radio, Spotify, Podchaser, and many more. Mobile Listening APP's HERE
Find every podcast episode HERE.
Every episode is segmented by Series HERE.
Key Word Search HERE.
Be socially involved and in touch with the show:
Facebook Twitter Linked In Email
Join the Ecosystem – Subscribe to the INSIDER NEWSLETTER HERE.

As a member of the NAPA family, AutoCare Center owners can take advantage of the NAPA National Health Program from the NAPA Insurance Center. This "NAPA only" program gives you and your employees access to national "large group" rates on medical insurance with premiums discounted up to 30 percent. These rates are based on the collective purchasing potential of 22,500 NAPA locations including both NAPA AUTO PARTS stores and NAPA AutoCare Centers.
The NAPA Insurance Center can help you with a variety of other insurance benefits too. For more information about The NAPA National Health Benefits program as well as all of the insurance benefits available to your AutoCare Center and your employees, visit the NAPA Benefits Center, at www.napabenefitscenter.com or call the NAPA Benefits Center at 844-627-2123.