EOS Part 1: How EOS helps Owners Get More Out of Their Business – Barry Barrett [RR 616]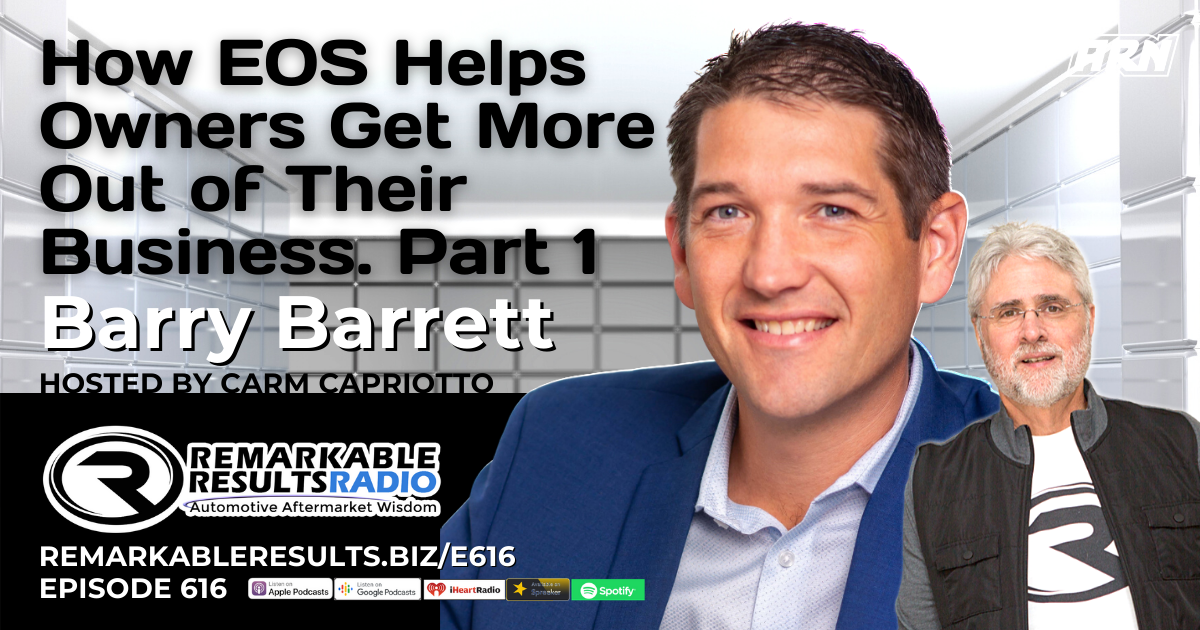 Part one of a 7 part series.
Barry Barrett, a Certified EOS Implementer
As an EOS Implementor in his company, Business With Purpose brings dedicated support to Leadership and Sales teams in all types of organizations, helping them structure the six key components of their business to make it operate with the best processes for their specific industry, using the EOS Model.
Barry's energy is contagious no matter if he is in a session with a client, giving a keynote address, or rolling up his sleeves in a workshop. Barry is a business coach with his positive mental attitude, incredible work ethic, and determination for excellence, his results-oriented approach is matchless.
Barry is driven, caring, and passionate; traits that he uses to help his clients grow their businesses in a positive way. Find Barry's other episodes HERE.
Key Talking Points:
EOS (entrepreneurial operating system)- helps entrepreneurs get what they want from their businessVision
People
Data
Issues
Process
Traction
Vision traction healthyGet your leaders on the same page- where you are, where you're going, and how you will get there
Traction- helping leaders become more disciplined and accountable. Executing well to achieve the vision
Healthy- healthy and functioning leadership team
Turning people into leaders
LeadershipNot born to do- people decide to become leaders
Research great leaders and implement step by step processes
Function chartStart with writing the function, list the 5 roles and responsibilities, and add the name to the seat
Roles shouldn't always be based on seniority- instead, who is the most capable?
Getting started90-minute meeting- EOS history, introduce ourselves to you, learn about you, about the EOS tools and processes
Focus day after that- if it's not a right fit or you don't get value you don't pay
"Traction" "Get a grip" "What the heck is EOS" all by Gino Wickman
Resources:
Thanks to Barry Barrett for his contribution to the aftermarket's premier podcast.
Link to the 'BOOKS' page highlighting all books discussed in the podcast library HERE. Leaders are readers.
Find every podcast episode HERE.
Every episode segmented by Series HERE.
Key Word Search HERE.
Be socially involved and in touch with the show:
Facebook Twitter Linked In Email
Listen for free on Apple Podcasts, Google Podcasts, Spreaker, iHeart Radio, Spotify, Podchaser and many more. Mobile Listening APP's HERE
Join the Ecosystem – Subscribe to the INSIDER NEWSLETTER HERE.

This episode is brought to you by AAPEX, the Automotive Aftermarket Products Expo. AAPEX represents the $740 billion global automotive aftermarket industry and has everything you need to stay ahead of the curve. The Virtual AAPEX Experience 2020 is in the record books. Virtual AAPEX lived up to presenting leading-technical and business management training from some of the industry's best and brightest. Now set your sights on the homecoming in Las Vegas in 2021. Mark your calendar now … November 2-4, 2021, AAPEX // Now more than ever.

This episode is brought to you by Shop-Ware Shop Management. It's time to run your business at its fullest potential with the industry's leading technology. Shop-Ware Shop Management will increase your efficiency with lightning-fast workflows, help your staff capture more sales every day, and create very happy customers who promote your business. Shops running Shop-Ware have More Time and generate More Profit—join them! Schedule a free live demonstration and find out how 30 minutes can transform your shop at getshopware.com/carm