ASE Update: Approaching 50 Years of Certification Excellence [RR 619]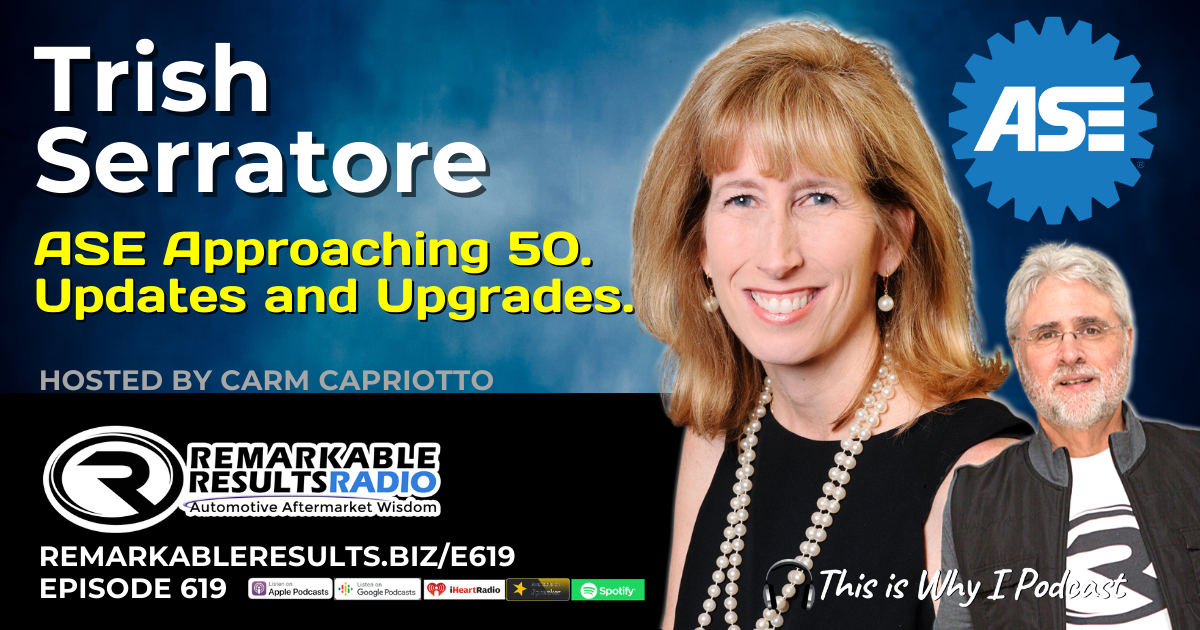 Trish Serratore is the Senior Vice President of Communication at ASE
She works closely with all of the organizations within the ASE Industry/Education initiative, which also includes ASE and the Automotive Training Managers Council (ATMC), to help provide the qualified automotive professionals the industry needs today and tomorrow. Links to Trish's episodes HERE.
Key Talking Points:
ASE update from 2020-2021Test centers were initially closed- extended certifications.
IT-enabled 40 people to be able to work remotely- most important was customer service employees.
Test centers opened with COVID regulations and restrictions in June
New website launch My ASE account on the homepage
Test prep for free
Remote proctoring for future- take recertification test at home
All auto tests are now translated to Spanish
New certification program for army tactical wheeled vehicles3 levels of testing
You don't have to be in armed service to take the test
Gives the army its own credential for internal use
ASE will be 50 years old next year- oldest occupational credential programs in-country, and one of the first
Studies show technicians who are ASE certified are more productive.
Developed task list and created ADAS composite vehicle- 2022 launch
ASE renewal appSoft launch early 2020 with 1000 subscribers, now has over 8,500
ASE certifications within businessHang signs, put a patch on, display ASE certificates to your customer- share you have invested in your employees, so your customers have the best possible service.
Differentiate yourself from other businesses
Resources:
Thanks to Trish Serratore for her contribution to the aftermarket's premier podcast.
Link to the 'BOOKS' page, highlighting all books discussed in the podcast library HERE. Leaders are readers.
Listen for free on Apple Podcasts, Google Podcasts, Spreaker, iHeart Radio, Spotify, Podchaser, and many more. Mobile Listening APP's HERE
Find every podcast episode HERE.
Every episode is segmented by Series HERE.
Key Word Search HERE.
Be socially involved and in touch with the show:
Facebook Twitter Linked In Email
Join the Ecosystem – Subscribe to the INSIDER NEWSLETTER HERE.

NAPA AutoCare's PROimage program makes it easy for you to make the most of the NAPA brand. A PROimage upgrade lets you maintain your shop's identity as a reliable, locally-owned business while letting your customers and potential customers know you're partnering with NAPA, the most recognized and trusted name in the automotive aftermarket. AutoCare Centers that have completed a PROimage exterior upgrade enjoy an average 23 percent sales increase during the first year.
You can also choose to go PROimage on the interior and transform your customer waiting area from merely utilitarian to warm and welcoming. You can even get a free look by visting www.NAPAAutoCare.com and clicking on the NAPA PROimage link under the NAPA PROimage tab. Of course, the AutoCare site is also the place to go to find out about all the advantages being part of the NAPA family has to offer.