Chris Cloutier – 20 Questions in 30 Minutes [RR 622]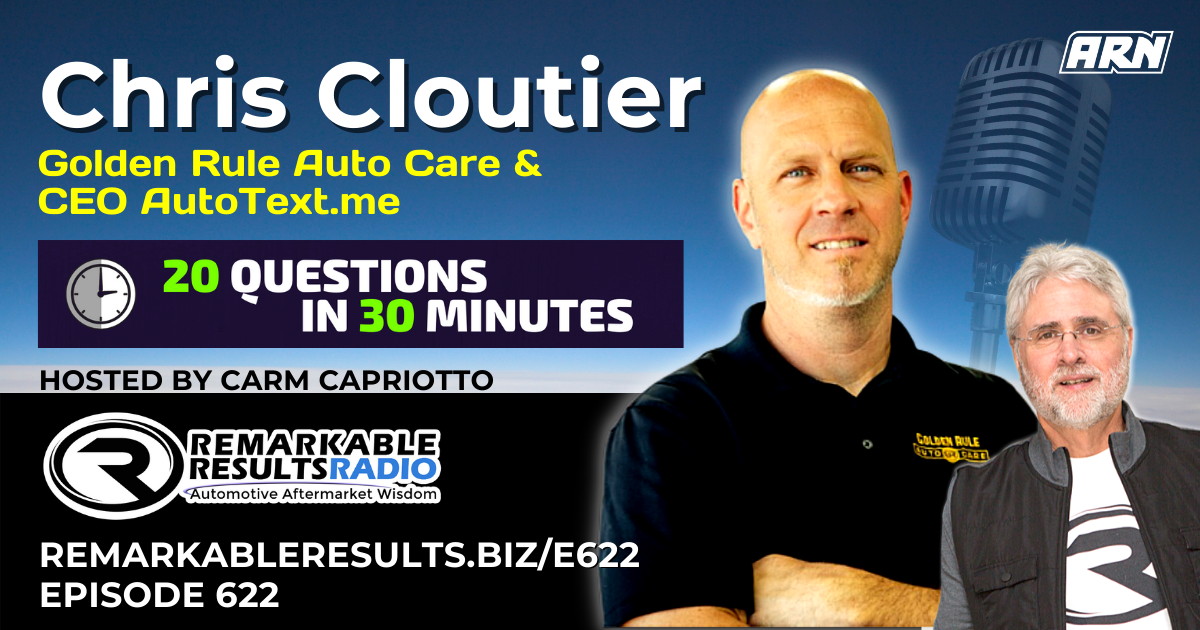 Chris Cloutier is co-owner of Golden Rule Auto Care in Dallas Texas and CEO of Auto Tex Me. He spent many years in the software industry developing solutions for companies like Southwest Airlines, and Wyndham Intl. He's worked for companies that understood the marriage of service and software, and have applied it in an effective way. Chris has his ASE C1: Automobile Service Consultant Certification Test (C1). He brings the business side to the business and his brother Pat brings the Braun. Chris is also a musician. Hear Chris's previous episodes HERE. Autotex.me website HERE.
Key Talking Points:
What drives you?Passion for technology and change- Once Christ became free from "Corporate America" he saw the endless potential to be anything you want to be. Freedom to jump to conclusions and do what you want to do.
What did you want to grow up and be?Entrepreneur- make and build things
What impact will technology have on your business?Massive impact- constantly adding and changing in order to maintain successful customer experience and a productive and effective shop. If using technology is confuses and doesn't work for them they are using the wrong technology
What new technology are you going to add to your business in the next 6 months?"Baywatch" watching vehicles in real time ALPR (advanced license plate reader) and object recognition- measuring efficiency and productivity in the bays
What are you afraid of?Failure- "Failure is a part of success" but failure is still hard to handle. Sometimes you are afraid to make a choice because you're afraid of what could happen as an outcome. Failure can happen due to factors you're not in control of (COVID-19).
What do you do for fun?Spending time with family (2 daughters and wife). Activities together like ice skating, kicking soccer balls, skiing etc.
What is a big concern or threat to your business?Consolidation- driving and driverless fleets. Who will be repairing those vehicles? Who has nationwide coverage?
How do you manage work/life harmony?Discipline to "turn it off" certain evenings and on Sunday's- limited phone and computer use
What did you sacrifice in the early days to get where you are today? Regret it?Sacrificed friendships and relationships- it's easy to pour yourself into work and neglect certain friendships. Chris doesn't have regret because they were tradeoffs to pursue what he wanted to do.
Do you have a strong intuition? Do you listen to it? Has always followed his gut while knowing "the numbers." Trusts his intuition and listens to it. During COVID his gut told him to inform his employees what was going on- potential layoffs, potential salary cuts etc. Employees were grateful he was honest and upfront.
Get any great advice that you still follow today?Advice from his father:"If you're going to lie with the dogs you're going to get fleas." It serves as a reminder to surround yourself with good people.
How does one start to build a strong business culture?Starts with the leader- What are your strengths? What are you good at? What do you like? Find things you care about and your employees will see it. Don't force "fun," be genuine with your interests and the interests of your employees.
We learn from mistakes. What was one of your biggest mistakes?Not realizing his path early on in life- we often fight our paths but that's when you have to listen to your intuition.
Wanted to make it big in music and failed but learned how to manage people/business during that time.
Ever had a mentor?Dad was first mentor
Read "How to win friends and influence people" and it changed the course of his life.
Continues to have mentors, 20 groups and advisors "Feedback is a gift like on Christmas morning. Receive it, take it in, open it up, be thankful. Don't throw it back in their face."
How much training per year do you get?Minimum of 40 hours (1 hour every week) but often has over 120 hours per year- being apart of 20 groups 3-4 times a year, attends conferences and sits in the classrooms
A secret to a good job interview?Behavior interviewing skills- instead of asking "Have you ever done an oil change before?" ask "Walk me through the last oil change you did." Also ask questions about conflicts and how they were resolved. Ask about behavioral scenarios.
Would your organization crumble if you stepped aside?No- investing time training leaders to be leaders. Leadership is all about soft skills
Do you share your financial statements with your team? If Yes, why?Yes both the shop and software companies- your employees know your financials already and if you don't share it they often think you are pocketing. Educate them on expenses and overhead.
Do you see obstacles not as roadblocks but as opportunities?Gap analysis- where are the gaps and how do I fill them in? Find out what people aren't doing and tumble through them. Obstacles are opportunities.
Who is someone you really admire?Jesus- true servant leader instead of jumping to conclusions. Good people get in bad habits- look through that and offer grace.
Resources:
Thanks to Chris Cloutier for his contribution to the aftermarket's premier podcast.
Link to the 'BOOKS' page highlighting all books discussed in the podcast library HERE. Leaders are readers.
Find every podcast episode HERE.
Every episode segmented by Series HERE.
Key Word Search HERE.
Be socially involved and in touch with the show:
Facebook Twitter Linked In Email
Listen for free on Apple Podcasts, Google Podcasts, Spreaker, iHeart Radio, Spotify, Podchaser and many more. Mobile Listening APP's HERE
Join the Ecosystem – Subscribe to the INSIDER NEWSLETTER HERE.

This episode is brought to you by AAPEX, the Automotive Aftermarket Products Expo. AAPEX represents the $740 billion global automotive aftermarket industry and has everything you need to stay ahead of the curve. The Virtual AAPEX Experience 2020 is in the record books. Virtual AAPEX lived up to presenting leading-technical and business management training from some of the industry's best and brightest. Now set your sights on the homecoming in Las Vegas in 2021. Mark your calendar now … November 2-4, 2021, AAPEX // Now more than ever.

This episode is brought to you by Shop-Ware Shop Management. It's time to run your business at its fullest potential with the industry's leading technology. Shop-Ware Shop Management will increase your efficiency with lightning-fast workflows, help your staff capture more sales every day, and create very happy customers who promote your business. Shops running Shop-Ware have More Time and generate More Profit—join them! Schedule a free live demonstration and find out how 30 minutes can transform your shop at getshopware.com/carm