Preventing Zoom Burnout [THA 214]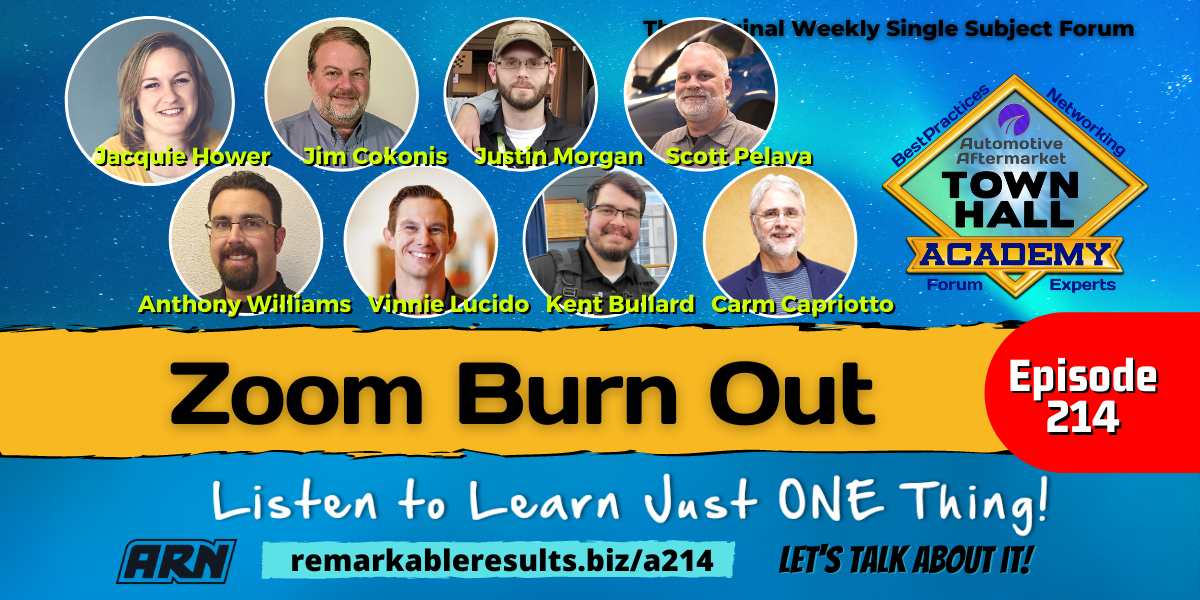 Jacquie Walter Hower is the Director of Operations and 3rd generation at her family's business, Zimmerman's Automotive, in Mechanicsburg, PA. During high school and into college, Jacquie worked part-time for the company working in the Quick Lube department as a technician changing oil and maintaining customer vehicles. After her sophomore year of college, she was given the chance to become a manager for a new Quick Lube location for the company. Since then Jacquie's love for the industry grew into a passion. As director of operations, she handles a number of different jobs such as customer service, service auditing, daily accounting, training, and community involvement/events. In the summer of 2016, Jacquie began the Aftermarket Management program at Northwood University where she hopes to complete her bachelor's degree in two years. Jacquie is involved with the Car Care Women's Board and sits on the board of directors at the Mechanicsburg Chamber of Commerce. She resides in Mechanicsburg, PA with her husband, Dan, and their two young boys, Brantley (4) and Mason (2). Hear Jacquie's Previous Episode HERE.
Scott Pelava is a Certified Master Auto Technician, L-1 Advanced Engine Performance Specialist and ASE-Certified Service Consultant. In 2015 Scott created the Auto Shop Owners Group (ASOG) on Facebook which today has nearly 5,000 members. ASOG has developed into a 501c3 Educational Foundation whose mission is to enable & empower shop owners to learn and grow to provide the best business environment for their customers, employees and themselves. Scott is also very active in his community. He is currently a third term Lonsdale City Council Member, has held numerous leadership positions with Scouts BSA, and is a director of the Lonsdale Chamber of Commerce. Hear Scott's Previous Episode HERE.
Justin Morgan is the tech support for LMV Bavarian and tech ambassador for AES Wave. Hear Justin's Previous Episode HERE.
Anthony Williams is a Special Projects Manager at Advance Auto Parts, Colorado Springs, Colorado. Anthony's Previous Episode HERE.
Vinnie Lucido has had his hands in the automotive industry since 1996, starting in High school as a CSR at one of the last 76 Full-Service Gas stations in Reno. He found a passion for helping people through their most prized possessions, their automobile. Vinnie and his brother Anthony partnered together & opened CoAuto in 2014 and have been nothing but success in their new undertaking. Vinnie is ASE certified and has operated in every capacity of the automotive repair field. Throughout his career, he has been a customer service representative, a service writer, a technician, a manager and now an owner. Ultimately, he finds he is happiest when he is in communication with his clients and gets the opportunity to get to know his guests. Vinnie spends his time building relationships and networking and in turn, the shop continues to grow. Listen to Vinnie's previous episodes HERE.
Kent Bullard. Find Kent's other episodes HERE.
Jim Cokonis. Find Jim's other episodes HERE.
Key Talking Points:
Virtual trainingWhat doesn't work in live class doesn't work virtually either
The audience is more willing to ask questions when they aren't in a full classroom- questions in the chat or during live
Producer-moderator on the side that can look for chat questions for interruption and interaction
Opportunity for more trainers that wouldn't want to stand in front of large class due to social anxiety and cost-effectiveness But also removes the opportunity for trainers to earn living with the redistribution of video content
Zoom burnout happened during in-person classes as well but phone screen/Netflix burnout Burnout from poor practices- work on practices instead of platform
Presentations, training, and teaching- Information, engagement, and transformation they will experienceMust be reformatted- text and PowerPoint
Don't have to be the "star" of the screen- the audience is the star of the show
Engage the person watching – movement with different camera shots
Content- fluid with room for questions and engagement
Build-in breakpoints between topics/segments
Talk less and facilitate growth otherwise you are giving a presentation that is recorded-telling isn't teaching, showing isn't teaching
"EDGE Method"- explain, demonstrate, guide, and enable
ChallengesTraining- no faces, internet delays, going through content faster than in person
Microphone- not muted/talking over each other
Not prepared with audio connections and lighting prior
Too casual- PJs, background location (hot tub)
No boundaries when you're at home- School, training, cocktail hour, graduations etc. is all virtual
Mental stimulant burnout with looking at the different screens, watching multiple people, answering chats
"Solitary confinement" on screen and miss being with people in person
"Being watched" -you have to constantly perform on screen
SolutionsProduction- invest in good equipment (camera and audio) and have backups
Continue the same personal routine that you would when you left the house to help with burnout
Create a home office
Mobility- take a break as a viewer and get up to stretch
Resources:
Facebook Twitter Linked In Email
Join the Ecosystem – Subscribe to the INSIDER NEWSLETTER HERE.

This episode is brought to you by Shop-Ware Shop Management. It's time to run your business at its fullest potential with the industry's leading technology. Shop-Ware Shop Management will increase your efficiency with lightning-fast workflows, help your staff capture more sales every day, and create very happy customers who promote your business. Shops running Shop-Ware have More Time and generate More Profit—join them! Schedule a free live demonstration and find out how 30 minutes can transform your shop at getshopware.com

This episode is brought to you buy Shop Marketing Pros. Your guides are Kim and Brian Walker with a rich history as shop owners and industry veterans. When someone searches for a shop, who are they finding? Your competitors? It should be you! The good people over at Shop Marketing Pros know how to drive website traffic and make Google work for you! www.shopmarketingpros.com