Lessons on 3rd Generation Family, Networking and the Front Counter- Steve Mancinelli [RR 623]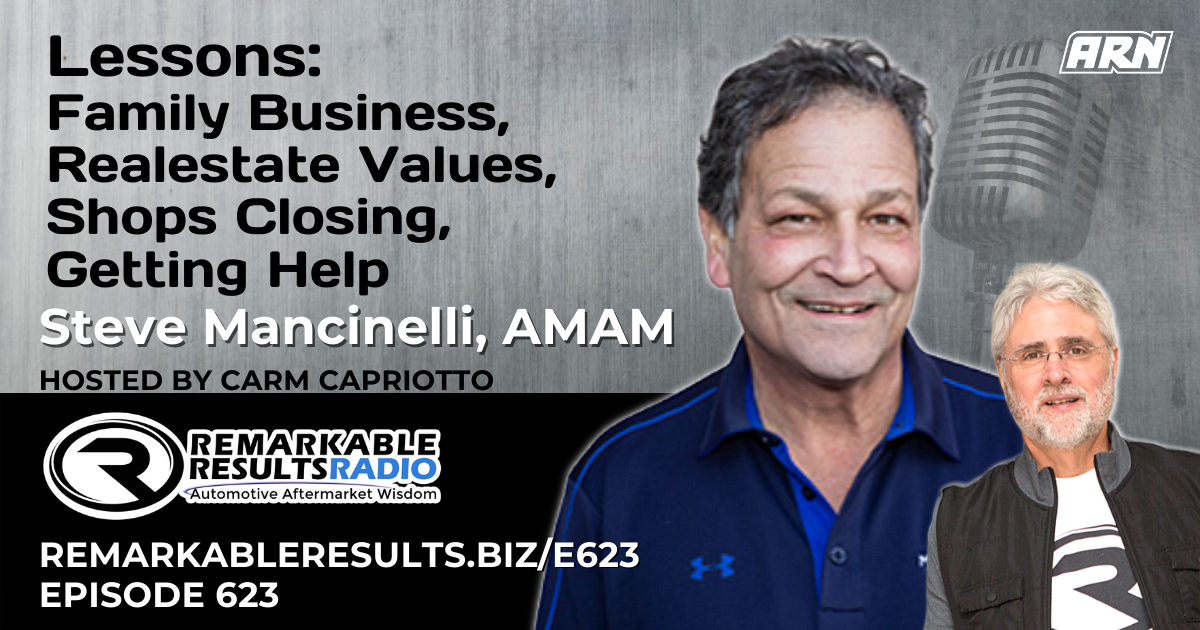 Steve Mancinelli Owner | AMI Accredited Automotive Manager | ASE Certified Master Technician (Advanced Level Specialist, L1, and Service Consultant)
Steve has over 48 years of experience in the automotive field here in Downtown Denver. After graduating from Creighton University in 1983, with a Bachelor of Arts Degree, he chose to continue the family business. Among the above certifications he holds, he is also a registered Colorado Emissions Technician, he has earned his Accredited Master Automotive Manager (AMAM) degree through the Automotive Management Institute and served on the Automotive Service Association (ASA) board of directors for 6 years. Steve finds the field of vehicle service and auto repair to be the most challenging ever. Because of this, he ensures his employees are updated regularly through training and have access to the latest high tech tools and equipment in order to solve the toughest car problems. Ongoing training in communication skills is equally important to Steve, in order to maintain that "Old Fashioned Service" his customers have grown accustomed to since his grandfather opened the business back in 1950. With roots that deep, Steve and his staff of service advisors and auto mechanics are continually involved with community events and causes.
Key Talking Points:
COVID 196 shops and 23 service bays have closed in Denver- liquidated, retired, moved due to high rent in the downtown area
Dynamics of the family business
Been in the automotive industry for over 45 years- grew up sweeping floors and pumping gas for his dad's business
Challenges- expectations, leaning on each other, failed partnerships, not knowing each other's roles, not having processes and systems in place
Asking for help and getting training- networking
Started with 1-day seminar with NAPA and lead to a series with Dale Carnegie Institute, and involvement with ASA as the board of directors for 7 years
Napa training by Bob O'Connor- started 20 groups in the Denver area
Credited master automotive manager
Advice- listen to others
Pressed with space with 3 service bays and 2000 square feet- pump oil service tanks. Went to a meeting and another shop owner shared he had eco boxes in his inventory storage room on racks- hold 9 different boxes. Tripled the number of SKUs
Community service
Fundraiser for "Max Fund"- a woman in the community (1 mile from the shop) started putting a coffee can on her porch as a "donation fund" because her dog Max needed surgery that she couldn't afford. Community and neighborhood banded together and Max was able to receive his surgery. The woman continued "Max Fund" and ran it as a no-kill shelter for dogs and cats. Steve will hold fundraisers at certain times during the year and proceeds from every job ticket goes to "Max Fund." Steve has raised over $11,000
Front counter
Training is critical- sales techniques and different approaches
Must also have natural ability to read customers and enjoys interacting with them
Customer's vehicles are very personal to them- need to hire someone who is empathetic
Steve has always had a woman on the front counter- more women customers than before. Women tend to want to know the "why" behind repairs, and having a woman on the front counter is a bonus to help educate them and feel more comfortable.
Resources:
Thanks to Steve Mancinelli for his contribution to the aftermarket's premier podcast.
Link to the 'BOOKS' page, highlighting all books discussed in the podcast library HERE. Leaders are readers.
Listen for free on Apple Podcasts, Google Podcasts, Spreaker, iHeart Radio, Spotify, Podchaser, and many more. Mobile Listening APP's HERE
Find every podcast episode HERE.
Every episode is segmented by Series HERE.
Key Word Search HERE.
Be socially involved and in touch with the show:
Facebook Twitter Linked In Email
Join the Ecosystem – Subscribe to the INSIDER NEWSLETTER HERE.

Since 1989 TRACS has been the industry's leading shop management system. And in the last 30 years, it's gotten better and better. Today TRACS Enterprise offers even more of the features AutoCare Center owners want—things like a powerful interactive scheduling calendar, faster and streamlined workflow, plus streamlined parts ordering and purchasing options. And there's more—Punch-out to Mitchell ProDemand, mobile VIN capture, and multi-shop capabilities. That means you can count on TRACS Enterprise to help drive your success today and well into the future.
Learn more about TRACS Enterprise and the hundreds of other benefits the NAPA family has to offer. Talk with your servicing NAPA store or visit www.NAPAAutoCare.com