Cut through the Fog on the Future of Electric Vehicles – Derek Kaufman [RR 661]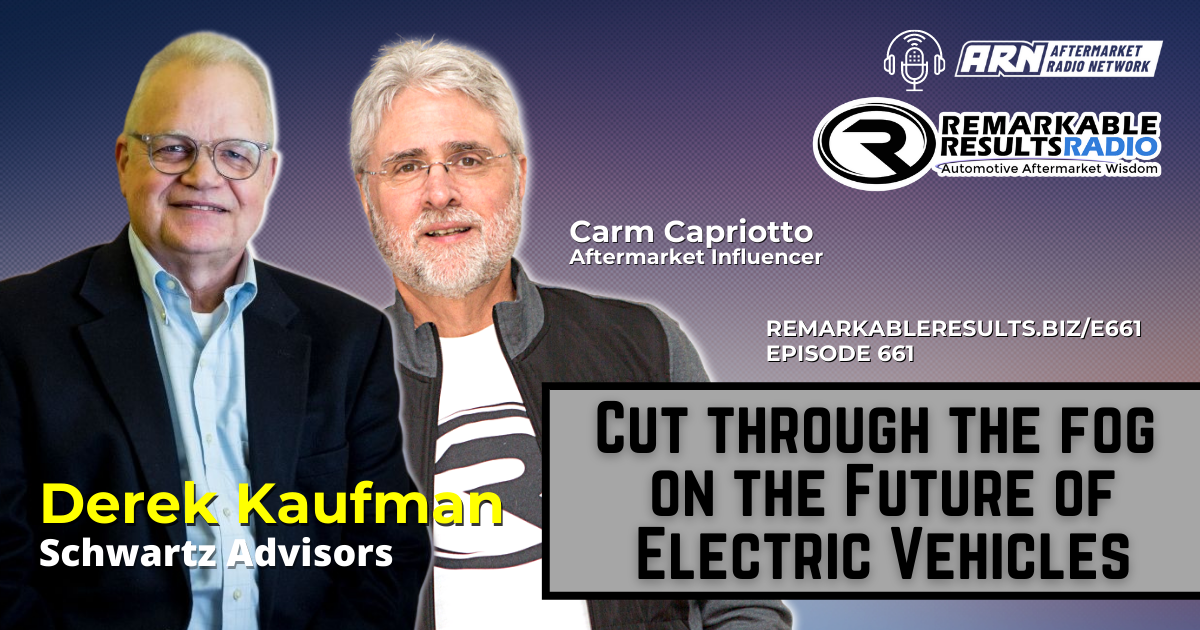 Derek Kaufman has worked for over 40 years in the Transportation Industry with positions ranging from VP Marketing and Product Planning for Freightliner Trucks, SR VP of Sales, Marketing and Customer Support for Hino Trucks, President of Diesel Technology Co, a subsidiary of Penske Corporation, VP of Fixed Operations for Smart USA and CEO of Mission Motors Company.
Derek is also an entrepreneur. He founded C3 Network, LLC in 1997 to help clients launch new products in the transportation industry.
Today, Derek is a Managing Partner at Schwartz Advisors, LLC doing Mergers & Acquisition support and company growth work in the auto and heavy-duty aftermarket. He continues his role as President of C3 Network.
Derek serves on the boards of several companies and is a regular conference speaker at auto aftermarket and trucking conferences. Listen to Derek's previous episodes HERE.
Key Talking Points
Electric vehicles- HEV- hybrid/mild hybrid/plug-in hybrid, BEV Battery Electric Vehicles. ICE- internal  combustion engine, VIO- vehicles in operation, VMT- vehicle miles traveled 

Forecasting EV sales- stay in touch with the Tier 1 and Tier 2 suppliers to the automotive OEMs to keep current on new product development and that has made a continually increase the estimates over the last 3 years. 

Hybrids have been growing in share but see them peaking and being replaced by mild hybrids – 48-volt vehicles with electric motors that can propel the car for a short amount of range

A small number of plug-in hybrids will get you even more range, but they quickly peak and are replaced by BEVs – overall, BEVs eventually replace the various types of hybrid powertrains over a longer period of time than 2030. 

Consumer demand- including governmental incentives.

2X Scenario- based on governments around the world, including the USA, mandating the sales of BEVs or bans on ICEs.

OEMs- globally there are about 500 BEV models either in production or due for launch in the next 2 years. 3% to 9% BEV market share 

In 2020 there were 1.3 million BEV cars sold in China and they are forecasting 1.8M for 2021- there were about 300,000 BEVs sold in the USA last year. 142 battery plants under construction globally- 107 of them are in China

Senate bill to increase the $7500 BEV incentive to $12,000 but only for BEVs made in the USA by union labor(like a Ford 150 Lightning), if the car is made in the USA but with non-union labor (like a BMW i3) it is $10,000 and if it is made outside the USA it remains at $7500 and they took off the 200,000 vehicles per year cap and replaced it with a 50% share of the market for all BEVs cap

If the US federal government mandates BEV sales, the numbers move to 38% by 2030, 57% by 2045 then on up to 67% in 2040, and 0ver 90% by 2050

The baseline forecast shows BEVs representing about 5% of the VIO in 2030, 11% by 2035, 18% in 2040, and 34% in 2050

 The 2X Scenario0 BEV VIO numbers of 8% in 2030, 18% in 2035 then up to 30% of the VIO in 2040, and 48% in 2050

26% of the vehicles in the VIO have some form of brake job each year. BEV will change that 26% with regenerative braking, 50% reduction and apply it to the ratio of BEVs in the VIO and you get that overall, brake jobs will decrease about 2.5% in 2030, 9% in 2040, and 22% in 2050

Engine tune-ups- BEVs decrease engine tune-ups by 100% but when the model takes into account the number of ICE vehicles still in the VIO even in 2050 you will see tune-ups reduce about 5% in 2030, 18% in 40, and 36% in 2050.
Thanks to Derek Kaufman for his contribution to the aftermarket's premier podcast.
Link to the 'BOOKS' page, highlighting all books discussed in the podcast library HERE. Leaders are readers.
Listen for free on Apple Podcasts, Google Podcasts, Spreaker, iHeart Radio, Spotify, Podchaser, and many more. Mobile Listening APP's HERE
Find every podcast episode HERE.
Every episode is segmented by Series HERE.
Key Word Search HERE.
Be socially involved and in touch with the show:
Facebook   Twitter  LinkedIn   Instagram  Youtube   Email  
Join the Ecosystem – Subscribe to the INSIDER NEWSLETTER HERE.

Gold Certification recognizes top tier NAPA AutoCares with a high level of participation in the AutoCare program. The program was built by AutoCare Centers for AutoCare Centers to provide a consistent consumer experience, maximize technology leverage, and reward NAPA's most committed partners. In other words, Gold Certified AutoCare Centers are the standard bearers for the AutoCare brand nationwide. Simply put, the Gold Certified NAPA AutoCare program, powered by your local shop brand, will separate you from the rest helping you boost your bay counts and your average repair orders.
Learn more about NAPA AutoCare, Gold Certification, and the hundreds of other benefits the NAPA family has to offer by talking with your servicing NAPA store or visiting www.NAPAAutoCare.com.