Service Advisor Must-Have Qualities [THA 234]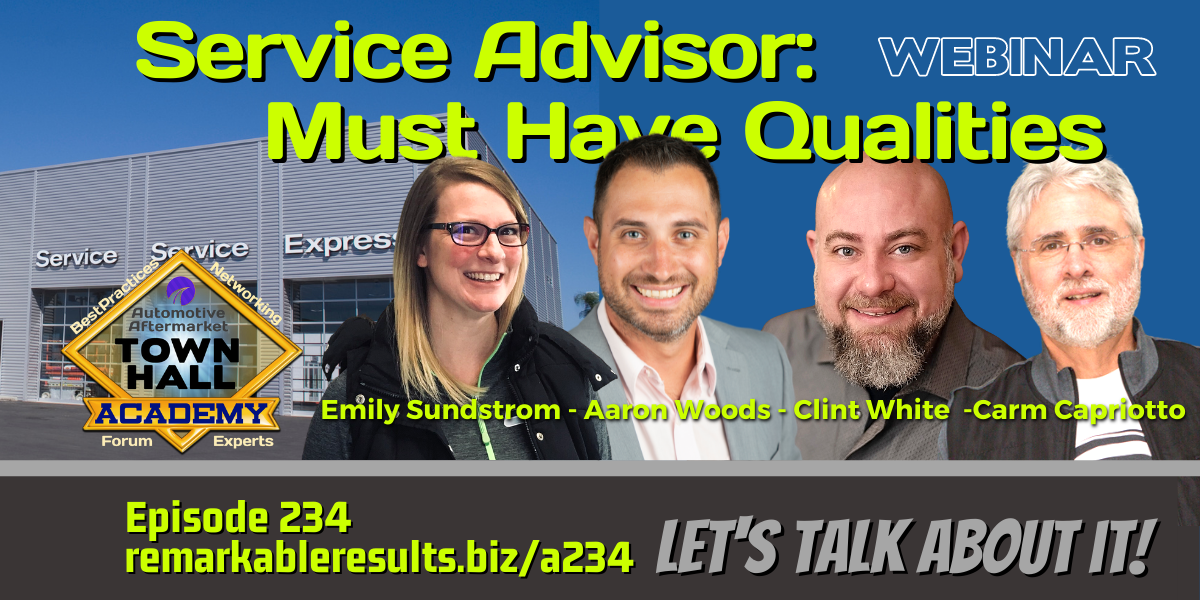 Emily Sundstrom– Service Advisor, Valley Auto Electric, Covington, WA. Her career in the automotive field started about 13 years.   She was hired to "just" answer phones. It quickly turned into something for which she had a passion for.  She enjoys doing it every day. The passion comes from taking a stressful, unexpected situation and turning it into an experience that leaves the customer feeling confident, educated, empowered, and respected. She has acquired multiple certifications from ASE, ATI, Wa. State Emissions, Elite Master's Program, and Ami.  
Aaron Woods– Extra Mile Auto Care, Stillwater, OK. Since opening X-tra Mile Auto Care in 2018, Aaron Woods has proven himself as a rising star in the automotive aftermarket service industry. His professional values of integrity, continuous improvement, help first, and maintaining "above the bar" service, contributes to X-tra Mile Auto Care becoming the highest regarded automotive repair service in Stillwater, Oklahoma.
Clint White has been passionately immersed in the Automotive Industry for over 25 years. He is a Service Advisor Coach & Shop Consultant with CWI and currently holds multiple ASE certifications. He began his career as a Technician at a local two bay shop in 1995 and over the course of the next two and a half decades honed his sales, technical, and management skills while living in Washington & S.E. Idaho. During his journey, he has never stopped learning and has been blessed to work for and with those who value education, training, and coaching. In everything he does, Clint is focused on people and excellence! Whether it be coaching & training Service Advisors to sell with passion & integrity or working directly with Shop Owners to improve team accountability and streamline process implementation, Clint's passion is to elevate the Automotive Industry across the nation to ensure every customer consistently receives the highest level of service. Previous episodes HERE
Key Talking Points
Qualities- driven, goal-oriented, inner drive, help first mentality, ambitions in life "build own company within the company." How would you treat your customers if this was your company? Building relationships and memorable experiences. Do customers remember their names? Sale is an end result of the transaction, focus on things leading up to the sale- establishing trust, presenting value in services, educating. Taking uncomfortable situations/panicked customers and reassure them so they let their guard down. Always want to grow. 

The Ideal Team Player by Patrick Lencioni- humble- the absence of ego, acknowledge weaknesses and address it, hungry- what are you doing to improve yourself? and smart- Shows empathy to others, demonstrates intuition when interacting with others

Power of Vulnerability

book by Dr. Brene Brown – understanding the difference between sympathy and empathy 
7 habits of Highly Effective People book by Stephen Covey- seek first to understand then to be understood 

Read the room- socially and interpersonal awareness

Listener qualities- hear and understand customers, giving solutions, empathy

Face to face relationships- body language, tone of voice, picking up key cues

Service advisors and technician relationship- ask questions, know what you're selling and why, pressure regulator-bring it down to common knowledge, demonstrate the need for service- language customer understands, what will happen when left neglected  

DVI and service advisor- a new way to present information, builds value but doesn't take human interaction away. Sell with confidence. It's a tool, not the only tool. 

Holding onto service advisors too long- face of company and when the wrong person is in that seat it can be detrimental to the company. One unhappy customer can lose 10K in sales per year. Trust is the hardest to gain and the easiest to lose. Be proactive, not reactive to toxic situations. 

Finding service advisors and developing them- professional groups, customer service based sales industry, hospitality industry, restaurants 
A special thanks to Emily Sundstrom, Aaron Woods and Clint White for their contribution to the aftermarket.
Facebook   Twitter  LinkedIn   Instagram  Youtube   Email  
Join the Ecosystem – Subscribe to the INSIDER NEWSLETTER HERE.

This episode is brought to you by Shop-Ware Shop Management. It's time to run your business at its fullest potential with the industry's leading technology. Shop-Ware Shop Management will increase your efficiency with lightning-fast workflows, help your staff capture more sales every day, and create very happy customers who promote your business. Shops running Shop-Ware have More Time and generate More Profit—join them! Schedule a free live demonstration and find out how 30 minutes can transform your shop at getshopware.com

This episode is brought to you by Shop Marketing Pros. Your guides are Kim and Brian Walker with a rich history as shop owners and industry veterans. When someone searches for a shop, who are they finding? Your competitors? It should be you! The good people over at Shop Marketing Pros know how to drive website traffic and make Google work for you! www.shopmarketingpros.com