Dynamic Automotive: 6 Years Later [RR 662]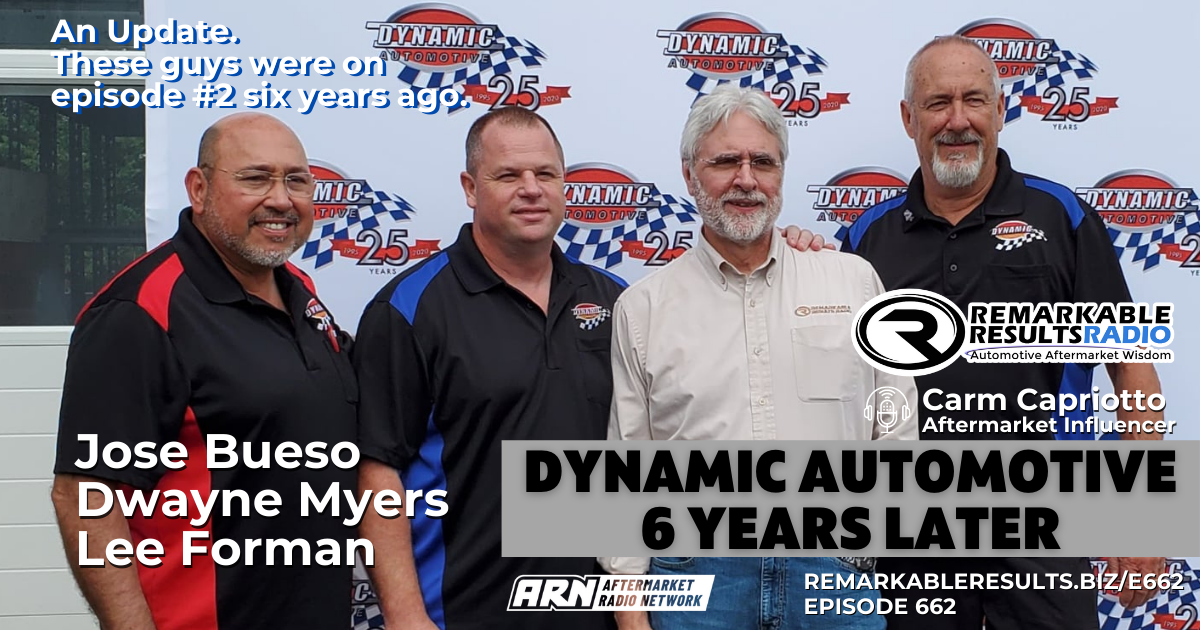 José Bueso is one of the founding partners of Dynamic Automotive. He has been the CEO at Dynamic for 25 years and has a total of 50 years in the industry. He has been a certified ASE Master Automotive Technician since 1982 and is an ASE L1 Advanced Level Specialist, as well as a VEIP Master Certified Emission Technician. José enjoys volunteering at different local committees including Frederick County Public Schools, Career & Technology Center, Trades Foundations, Toastmasters and the Auto Care Association. Listen to José's previous episodes HERE
Lee Forman is one of the founding partners of Dynamic Automotive, spending the last 26 years as our Vice President and a total of 46 years in the industry. He is a certified ASE Master Automotive Technician, ASE L1 Advanced Level Specialist Automotive Engine Performance, VEIP Master Certified Emission Technician, and a Maryland State Inspector. Lee's family is his whole life. He has a beautiful wife, Molly, three children, ten grandchildren, and last but certainly not least is Lee's faithful pooch, Misty. Lee also enjoys boating and woodworking in his shop when he has spare time. Listen to Lee's previous episodes HERE
Dwayne Myers is a partner in Dynamic Automotive in the greater Maryland area. Dwayne invests time in the industry with the Auto Care Association and serves on the education committee with CCPN (Car Care Professional Network). Dwayne was recently honored as one of only 17 outstanding individuals that qualified for the prestigious 2017 World Class Technician Award presented by The Auto Care Association and ASE. He is very passionate about hiring and sustaining a strong and engaged team. Listen to Dwayne's previous episodes HERE.
Dynamic Automotive is an MSO (Multi Shop Operation). They have stores in Frederick, Libertytown, Urbana and New Market. Webiste: https://dynamicautomotive.net/
Key Talking Points
The business started in a garage 

2015- 3 locations, now 5 total in 6 years

"Clone ourselves" as owners- becoming mentors and teaching and facilitating growth in business. Leadership team being involved in opening stores and growing it instead of it solely being owners responsibility.  

Expansions- fulfilling team's goals and dreams, running over capacity, demand was there with a growing population 

Being involved in mentor coaching groups for multi-shop owners- you don't know what you don't know, receive information, and be more efficient. Missed opportunities are very expensive. 

Banking relationships- important to choose the right type of bank for business, discuss the future and where you're heading,  if they have the buy-in for your dreams then they become your cheerleader

Next on way- working with the leadership team and continue to create high-level processes, looking for next opportunity within 6 months to 1 year. 

AAPEX 2021- taking 8 employees. Essential education, it is eye-opening to see the industry isn't just in a small area, networking  

Finding talent for business- often times talent finds you when they see an opportunity 
Link mentioned for AAPEX Award Nominations

HERE

.
Thanks to Jose Bueso, Dwayne Myers and Lee Forman for their contribution to the aftermarket's premier podcast.
Link to the 'BOOKS' page, highlighting all books discussed in the podcast library HERE. Leaders are readers.
Listen for free on Apple Podcasts, Google Podcasts, Spreaker, iHeart Radio, Spotify, Podchaser, and many more. Mobile Listening APP's HERE
Find every podcast episode HERE.
Every episode is segmented by Series HERE.
Key Word Search HERE.
Be socially involved and in touch with the show:
Facebook   Twitter   Linked In   Email
Join the Ecosystem – Subscribe to the INSIDER NEWSLETTER HERE.

This episode is brought to you by AAPEX, the Automotive Aftermarket Products Expo. AAPEX represents the $740 billion global automotive aftermarket industry and has everything you need to stay ahead of the curve.  The Virtual AAPEX Experience 2020 is in the record books. Virtual AAPEX lived up to presenting leading-technical and business management training from some of the industry's best and brightest. Now set your sights on the homecoming in Las Vegas in 2021. Mark your calendar now … November 2-4, 2021, AAPEX // Now more than ever.

This episode is brought to you by Shop-Ware Shop Management. It's time to run your business at its fullest potential with the industry's leading technology. Shop-Ware Shop Management will increase your efficiency with lightning-fast workflows, help your staff capture more sales every day, and create very happy customers who promote your business. Shops running Shop-Ware have More Time and generate More Profit—join them! Schedule a free live demonstration and find out how 30 minutes can transform your shop at getshopware.com/carm