"Give Me 10" Internship Program – Sue Dickson [RR 689]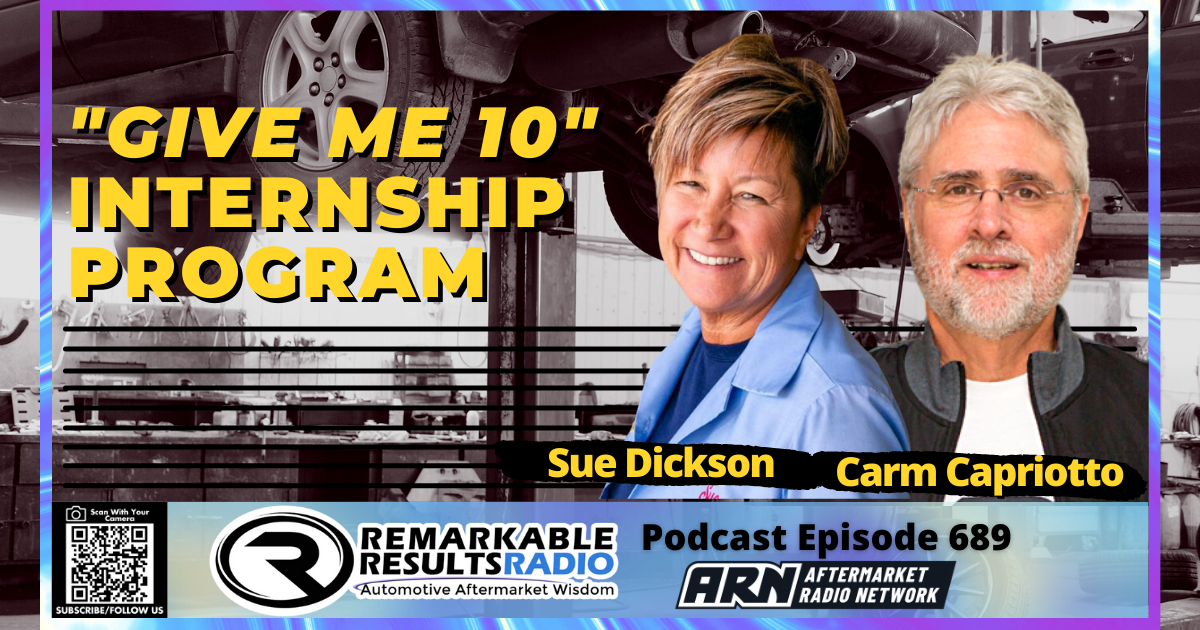 Sue Dickson, Owner of Closs Tire & Auto Inc, Waukegan, IL. Sue is trying to change the face of the industry to empower woman to be a part of the automotive industry. Sue has 37 years of experience in retail automotive market and has partnered with her community to grow her business. She is directly responsible for overall profitability, sales and service for this independent auto repair facility. She continues to work with the Lake County Tech Campus, College of Lake County, to bridge the gap between school based work and hands-on work experience. Sue has written and implemented a Lake County Tech Campus internship which has been in place since 2019 and served over 50 students.  She also has partnered with Lake County Workforce Development to take her internship program to the next level. This relationship has given students the opportunity to gain work base employment and grant opportunities for education at the local community college.
Key Talking Points
"Give Me 10" Internship Program- 10 hours broken up 2 hours for 5 days. Job shadowing 2 hours the first day, after that they will be working for the remaining 8 hours. Oil changes, brake work, tires, etc.

Insurance is covered by the school because it is work-based learning

Break the stereotype that young adults can only be successful if they have a 4-year degree

What is the biggest competition with independent repair shops? Dealerships. Local shops started coming together for networking meetings, they also visit each other's shops to critique

Sue volunteers at the local car show and she registers classic cars. They wanted the tech campus to be involved and see the older cars. She went to the independent group and asked to donate a car to the tech campus. Tech 1 kids do steering and suspension. Tech 2 kids rebuild the motor. Collision painted it. Will be showcased at the advisory meeting. The car will travel to locations that have an internship program. Raffle tickets to win the car. Donate money to a non-profit

Grant opportunities through the workforce development- over 4 years the networking group has received almost 200K 

University of the Aftermarket Leadership 2.0 Class- AAP
Connect with the show:
Check out today's partner:

As a member of the NAPA family, AutoCare Center owners can take advantage of the NAPA National Health Program from the NAPA Insurance Center. This "NAPA only" program gives you and your employees access to national "large group" rates on medical insurance with premiums discounted up to 30 percent. These rates are based on the collective purchasing potential of 22,500 NAPA locations including both NAPA AUTO PARTS stores and NAPA AutoCare Centers.
The NAPA Insurance Center can help you with a variety of other insurance benefits too. For more information about The NAPA National Health Benefits program as well as all of the insurance benefits available to your AutoCare Center and your employees, visit the NAPA Benefits Center, at www.napabenefitscenter.com or call the NAPA Benefits Center at 844-627-2123.