Marketing: Never Take Your Foot Off the Gas Pedal [RR 701]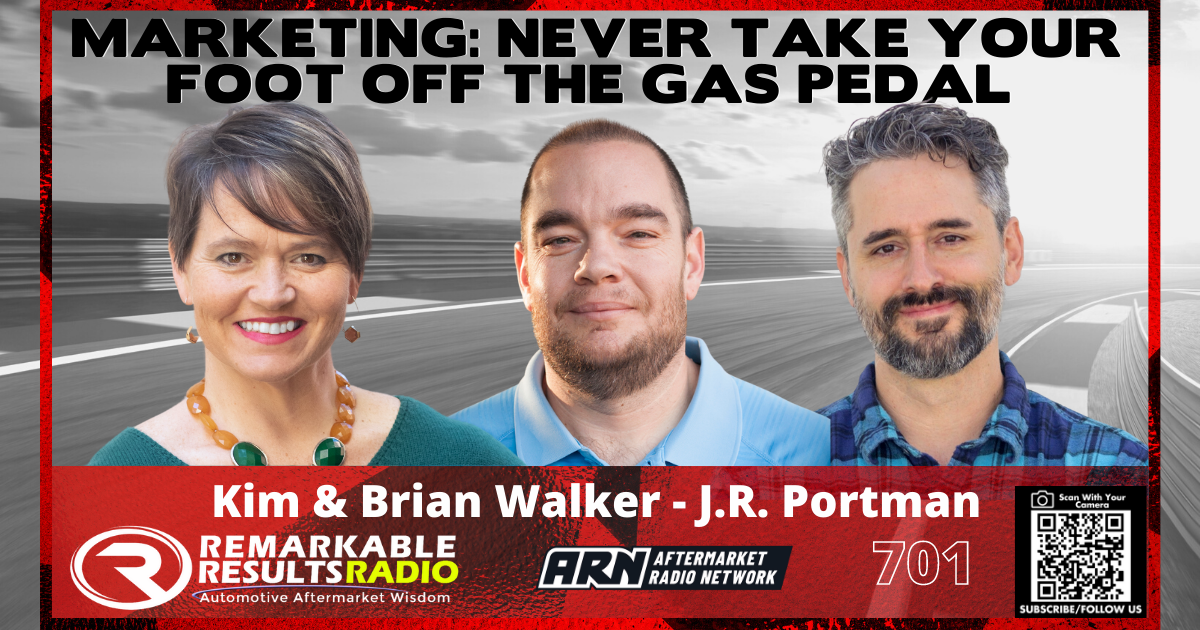 Key Talking Points
"Using Integration to Supercharge Your Existing Marketing"

The residual value of previous content- getting the most out of every picture/video

What should you talk about? Listen to your customer's questions, answer in the form of a picture/video. Answer 1 question and have 1 month of marketing content. 

When business is good, don't take your foot off the marketing pedal- stop stopping. Your business is the average of the highs and lows. Priorities may change but continue to do what works. Instead of slowing down, take a turn instead. Always talk about the culture of your business. 

Email marketing- seeing the email in the inbox without opening it is still successful as a reminder you're there. People will forget about you. 

Marketing vs advertising- marketing develops relationships with customers and turns them into friends. Making connections with customers to the shop employees.   

Commitment to community involvement 

Facebook Ads- don't put all your eggs in one basket.

"Turn your authentic message into a constant message" Darrin Barney

Don't wait until the bottom falls out to set your business for success 

Continue to move your goals
Connect with the show:
Check out today's partner:

As a member of the NAPA family, AutoCare Center owners can take advantage of the NAPA National Health Program from the NAPA Insurance Center. This "NAPA only" program gives you and your employees access to national "large group" rates on medical insurance with premiums discounted up to 30 percent. These rates are based on the collective purchasing potential of 22,500 NAPA locations including both NAPA AUTO PARTS stores and NAPA AutoCare Centers.
The NAPA Insurance Center can help you with a variety of other insurance benefits too. For more information about The NAPA National Health Benefits program as well as all of the insurance benefits available to your AutoCare Center and your employees, visit the NAPA Benefits Center, at www.napabenefitscenter.com or call the NAPA Benefits Center at 844-627-2123.
The Panel
Kim Walker from Shop Marketing Pros is a social media expert. Kim's experience includes a school counselor and teacher. Her 
husband Brian, started his own shop while he was a Mercedes technician in North Carolina. Then asked Kim to leave her school job and join his service business. Then for specific reasons left to go back home to Louisiana. It was almost destiny that they launched Shop Marketing Pros. As a former shop owner, Kim's advice and expertise on social media is perfectly matched because she's been there and done that. Kim is a member of Women in Auto Care, an ATI and Management Success Graduate, and their shop was a Motor Age Top Shop winner two years in a row. Their shop experience is without question, so when she talks about social media as it relates to the automotive service professional, she has the experience that matters. Look for Kim's other episodes HERE. Shop Marketing Pros Website HERE.
Brian Walker was a Mercedes Benz Master dealer technician and was ASE Master Certified. He owned Peak Automotive in Apex, NC and was recognized by Motor Age Magazine as a Top Ten Shops twice. Brian was also the ASA North Carolina Mechanical Division Director. Brian is co-owner of Shop Marketing Pros. He does "Done for you" marketing services for auto repair shops. Brian believes that most people overcomplicate their marketing in an effort to make it easier. Look for Brian's other episodes HERE.
J.R. Portman is the Chief Operating Officer and Vice President of Shop Marketing Pros. Originally hailing from Laredo, Texas, the Tulane University alumnus earned a B.A. in English and Studio Art while focusing on photography and creative writing. In his 20-year photography career, Portman has racked up many accolades, including being a Google Trusted Photographer and Local Search Strategist. As COO of Shop Marketing Pros, J.R. oversees all departments of the marketing agency and workflow. He also spends a lot of his time conversing with both present and prospective clients to ensure marketing goals are being discovered, defined and delivered."
Look for J.R's other episodes HERE