Start Monday Positive and Celebrate Friday [RR 711]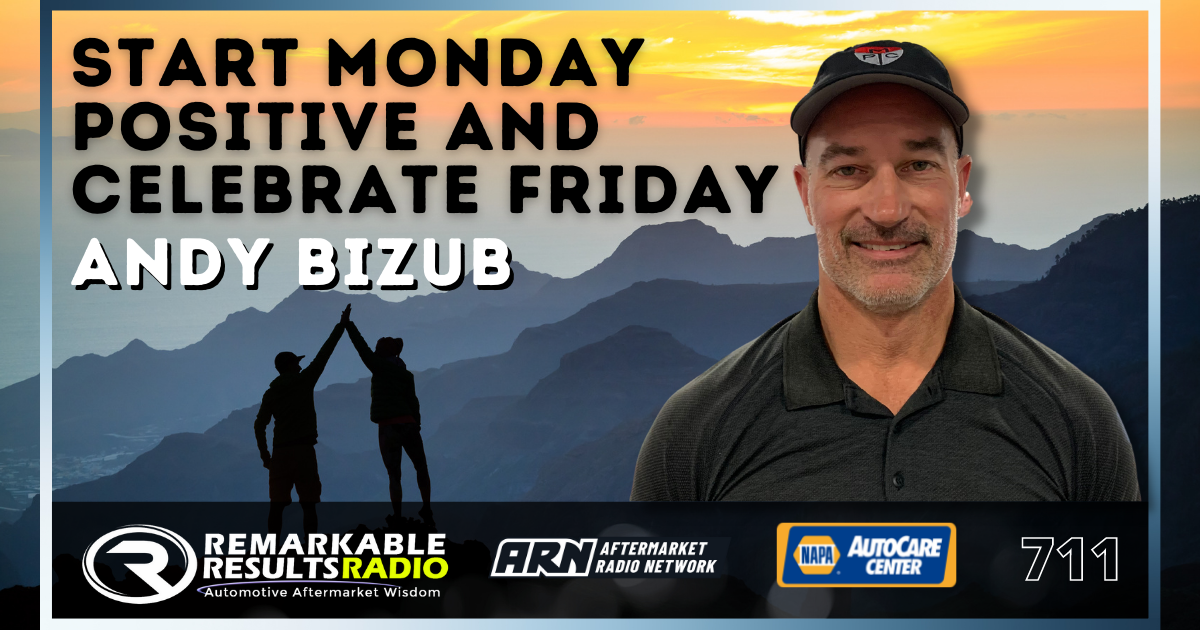 Key Talking Points
The top technician in the shop had a motorcycle accident- probably won't be able to turn a wrench again due to injuries but his career won't end in the industry. 

UPDATE: Gofundme campaign has ended and raised $4,415 for Jimmy Gerontzos- he has returned to a full-time position with Andy's business

Foreman position- increased productivity 

Pricing correctly- if you're not increasing your pricing you are in danger to stay in business. 

Labor rate- set on what you need to charge to pay employees accordingly. 

Margin- set margin target and hold it

Building your ultimate team- mission statement "price our services so we can make a profit and our people can work at a sustainable business"

Tesla needs the aftermarket to service vehicles- cars are aging out and need repairs and parts

Changing environment- you must have an enjoyable and compelling place to work for, start Monday positive, and celebrate Friday 

Gravity- younger people raised in a zero gravity environment due to parents. Everyone received trophies. You must introduce gravity a little at a time.
Connect with the show:
Check out today's partner:

NAPA Autotech Training helps your technicians keep their skills sharp and their NAPA Know How up to date. It's the highest quality technical training that covers almost every vehicle system and every make and model. NAPA Autotech is presented by experienced instructors who are ASE master certified technicians. Even after a class is over, techs can access course information online with ClassPass. So when questions come up later they can get the answers. AutoCare Center owners who have taken advantage of Autotech Training say that well-trained technicians are helping to increase their shop's repair capability and raise bay productivity. That results in fewer comebacks, more satisfied shop customers, and reduced technician turnover. Learn more about NAPA AutoCare and the benefits of being part of the NAPA family by visiting www.NAPAAutoCare.com
Andy Bizub, Midwest Performance Cars in Chicago is also a native of Chicago. His first career was 25 years as a commodity trader. He entered the professional auto industry in 2014 by acquiring a failing shop in downtown Chicago that he was a customer of and started a turnaround. Andy now has two locations. He bought his first car at age 19, a 1972 Triumph Spitfire, which was the start of his gas, oil, and automobile obsession. Listen to Andy's previous episodes HERE.