Father Daughter Teams [THA 259]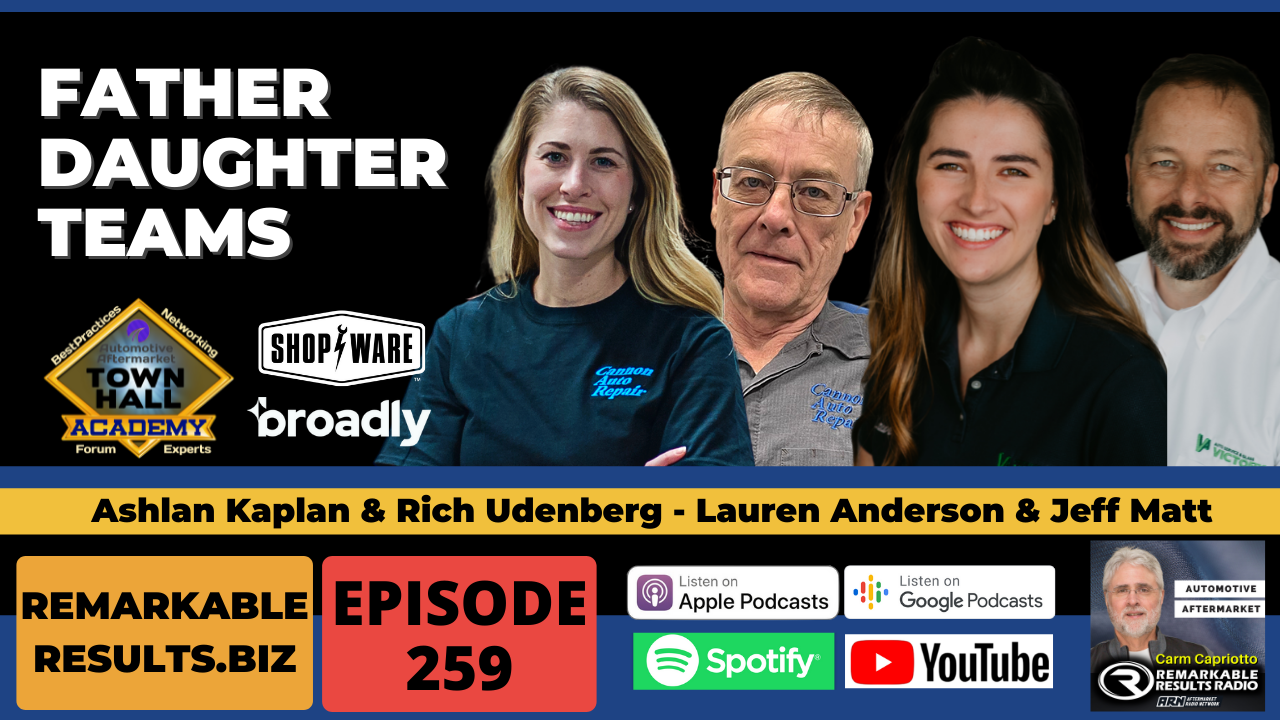 Key Talking Points
Thoughts that daughters bring to the table- being an employee, not a 'favorite,' earn respect from peers (testing period), don't be reactionary
Learning to keep the status quo of the business and community while continuing to make improvements and grow
Pop By Marketing- popcorn and coupon to local businesses
Role definition prior to transition
Transitional period and length- be prepared
Encouraging respect
Making the business your own- bringing a different perspective
Transitioning daughter to be the face of the business- 60% of repairs are purchased by females
Fluid trust- with customers and between father/daughter team, trusting employees to decide
Be open to asking questions and have thick skin
Lauren attended peer group meeting with her father which opened her perspective and realized she wanted to join the industry
Be a learner. Everything is figure-out-able!
Connect with the show:
Check out today's partners:

This episode is brought to you by Shop-Ware Shop Management. It's time to run your business at its fullest potential with the industry's leading technology. Shop-Ware Shop Management will increase your efficiency with lightning-fast workflows, help your staff capture more sales every day, and create very happy customers who promote your business. Shops running Shop-Ware have More Time and generate More Profit—join them! Schedule a free live demonstration and find out how 30 minutes can transform your shop at getshopware.com

Are you seeing auto shops in your area get hundreds of 5-star Google reviews and are you feeling left behind because your shop only has a few?
Hey look, Broadly is your answer to getting more online reviews. With more reviews, your business will rank higher in search results — and that means more customers coming into your shop every day.
Broadly helps you automatically request reviews so that your customers can promote your business with just one click. When you immediately ask for a review after service, when the experience is still fresh in their mind, you're more likely to get a 5-star positive review. Plus, asking for feedback makes your customer feel valued and more connected to your business. Isn't that what you want a connected customer? See how Broadly can help grow your auto shop.  Visit www.getbroadly.com/chat to learn more.
The Panel
Ashlan Kaplan, General Manager, Cannon Auto Repair, Cannon Falls, MN. Ashlan is Rich's daughter and has been around the shop since she was a kid. She enjoys continuing to learn all about the automotive business and looks forward to helping it grow and serve our local community for years to come! Outside of work she enjoys spending time with her husband, two kids: Lincoln and Sophie and two fur babies Simba and Nala. Listen to Ashlan's previous episodes HERE
Rich Udenberg, Owner, Cannon Auto Repair, Cannon Falls, MN.  Rich Udenberg brings 45 years of experience to the trade and our service personnel has over 45 years of experience in the industry.
Lauren Anderson, Executive Assistant, Victory Auto Service, 9 Locations, MN. Listen to Lauren's previous episodes HERE
Jeff Matt, Owner, Victory Auto Service, 9 Locations, MN. Jeff founded Victory Auto Service & Glass with a commitment to providing exceptional service to those in need of automotive repair and maintenance. Growing up in Minnesota, Jeff worked as an automotive technician before opening Victory Auto Service & Glass. Jeff had always dreamed of opening a shop where the customer always felt cared for, never felt taken advantage of, and always received the highest quality service at the best price. Victory Auto Service & Glass first opened our doors in 1997 with a small, one-bay shop in Spring Lake Park. We have been growing ever since, thanks to our loyal and supportive customers like you. Listen to Jeff's previous episodes HERE