What Is The Best Thing You Can Do As An Owner? Leave! [RR 712]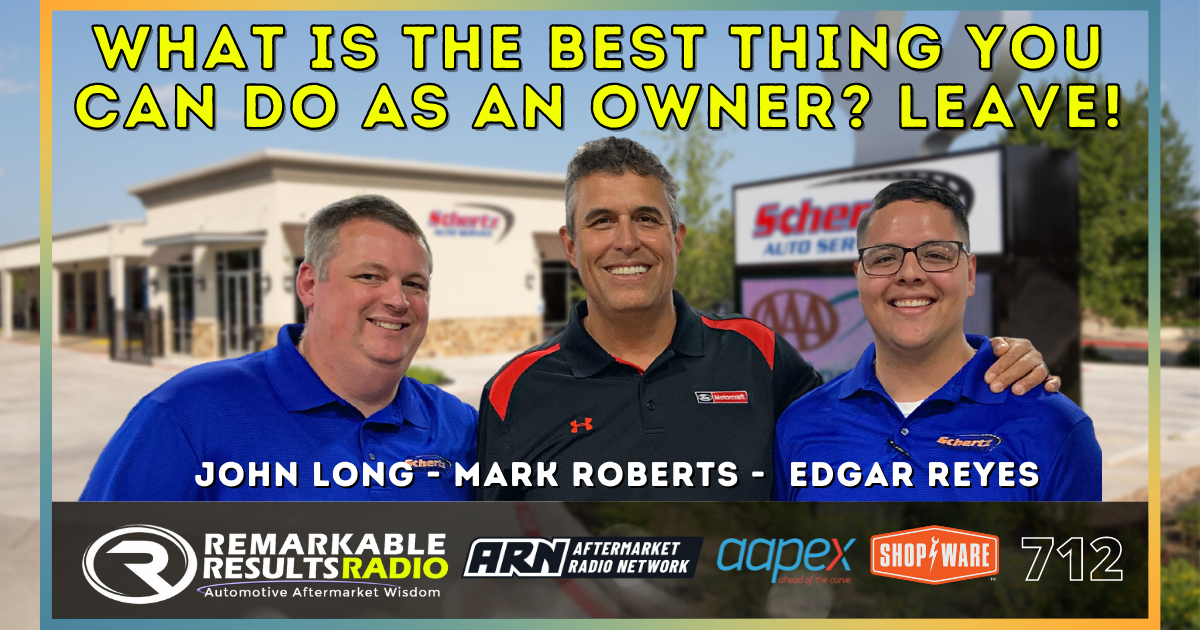 Key Talking Points
The best thing you can do as an owner is leaving

Edgar (26 years old) joined a coaching group- going to the next level, providing solutions and networking. Started as a technician, dove into training, and had the goal to be the shop foreman. If you don't have a plan of action to achieve the goal it will continue to just be a goal without reaching it. 

Structure- store director- oversee the entire shop, lead service advisor, production director- shop workflow, and shop foreman.

Moving from in training to store director- 

Interviewing Edgar- he was moving from corporate to independent, John saw desire and passion. 

Leaders continuing their own training and education- leaders are readers. You can't expect your employees to pursue training for themselves if you don't do the same. 

Disagreements need to be honest and transparent- blind spots happen 

Opening the second location- brand recognition from store 1, involved in community events and chamber meetings, placed new business where existing customers were living. Challenges- not knowing what you don't know even with a successful first shop. Documented the challenges for store 2 to remember for store 3. 

Brainstorming for the future- the next 'big thing' is making what you have work better and more efficient. Training center facility for other shops in the area. 
Connect with the show:
Check out today's partners:

This episode is brought to you by AAPEX, the Automotive Aftermarket Products Expo. AAPEX represents the $740 billion global automotive aftermarket industry and has everything you need to stay ahead of the curve.  AAPEX 2021 is in the record books and lived up to presenting leading-technical and business management training from some of the industry's best and brightest. Now set your sights on Las Vegas in 2022. Mark your calendar now … November 1-3, 2022, AAPEX – Now more than ever.

This episode is brought to you by Shop-Ware Shop Management. It's time to run your business at its fullest potential with the industry's leading technology. Shop-Ware Shop Management will increase your efficiency with lightning-fast workflows, help your staff capture more sales every day, and create very happy customers who promote your business. Shops running Shop-Ware have More Time and generate More Profit—join them! Schedule a free live demonstration and find out how 30 minutes can transform your shop at getshopware.com/carm
John Long started to gain more interest in vehicles and just after his 21stbirthday he accepted a position working at National Tire & Battery as a service advisor. He knew nothing about tires or vehicle systems and how they worked, but he learned as much as he could. In 2005, John and his wife decided it was time for a move. He arrived in San Antonio late on a Friday night after driving 24 hours straight and interviewed with Mark Roberts on Saturday morning. Mark hired John, and for the next several years he helped grow the new mechanical repair shop business. Listen to John's previous episodes HERE.
Mark Roberts is the owner of Schertz Auto Service,  Mark also serves on the Board at Shertz Community Bank, is a Board of Director of Guadalupe Valley Electric Cooperative, Guadalupe Valley Home Services Corporation, and the Guadalupe Valley Economic Development Corporation. Listen to Mark's previous episodes HERE.
Edgar Reyes, Service Director, Schertz Auto Service, Schertz, TX.  Listen to Edgar's previous Episodes HERE