Are You Dreaming Big Enough? [RR 721]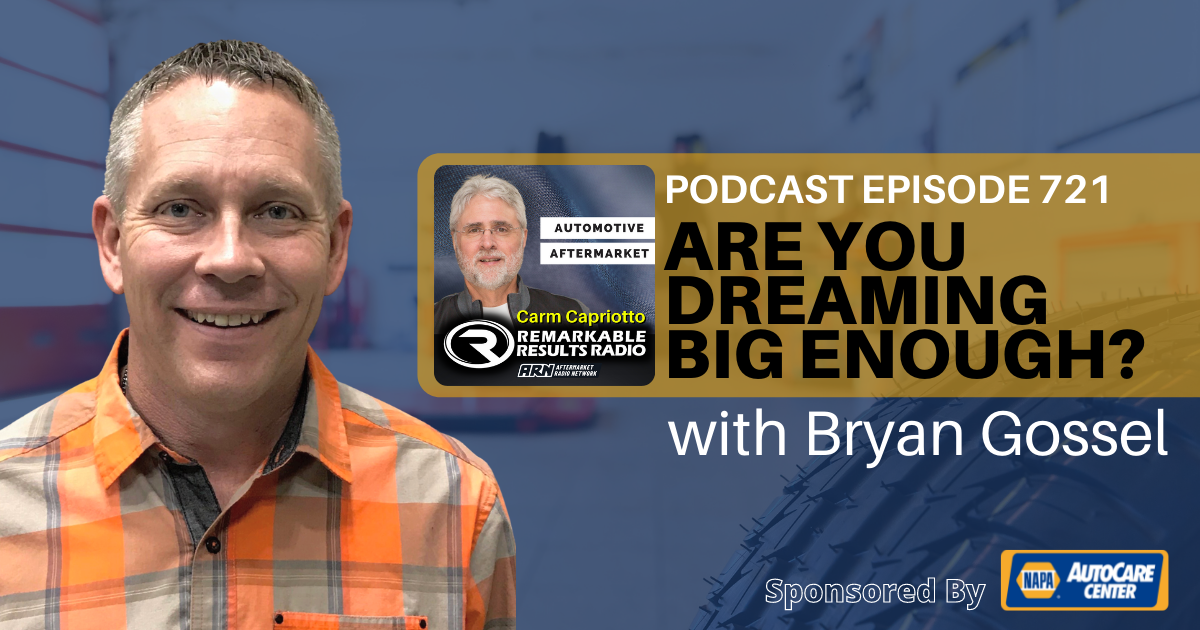 Are you dreaming big enough for yourself and your business? Imagine what next year could look like if you take action today. Don't let past failures cloud your vision and passion. My guest Bryan Gossel shares his humble beginnings going through bankruptcy with his first business, to his successful 3 store operation today. Listen closely to his journey and story. .
Bryan Gossel, BG Automotive, Fort Collins, CO. Bryan's Previous Episodes HERE.
The two Phil's interview as mentioned on the show- HERE.
Key Talking Points
Went bankrupt with first business with a partner in motorcycle parts and accessories

BG Automotive- has GM/COO named Phill, Bryan remains the visionary

Expand your world with networking groups

Learning to say yes and learning to say no

Bryan's 4 pillars- faith family, work, and racing

Has 37 employees- a total of 68 people (spouses, kids, etc) count on you to not fail 

Learning curve- being at the home office and allowing his employees to run the business. Know your role and stay in your lane. 

Are you dreaming big enough? What do you want your salary to be? 

Everything you do should be setting the business up for sale

Opened the 2nd and 3rd store a week apart from each other-  budgets, forecasting P&L, processes and procedures, be open to advice from others. Is the owner running the business? What will the numbers look like when you have to hire a general manager? Is the existing business profitable? If you're buying an empty building consider keeping a list of vendors, equipment, stock, staff, etc. 

Fail forward and fail faster

Bryan invests up to 200K in training for himself and his employees. He also offers financial help to them. 

"We fix people"

Employees have both virtual and in-person meetings weekly.
Connect with the show:
Check out today's partner:

Visit www.NAPAAutoCare.com