Restructuring New Staff – Vinnie Lucido [RR 728]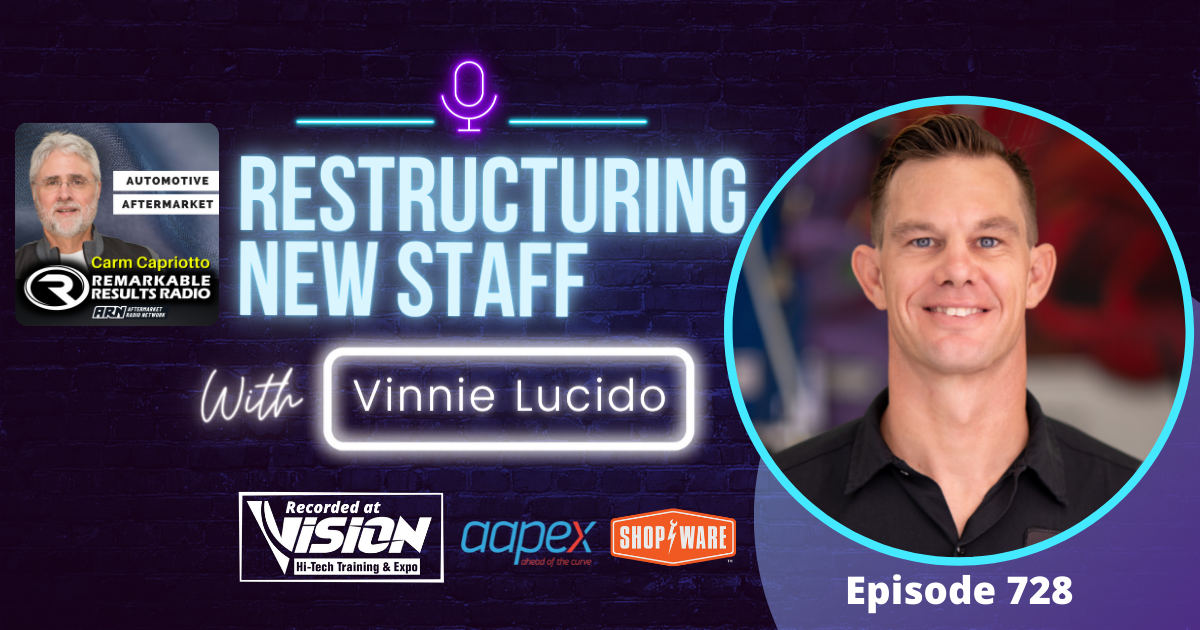 The idea of completely restructuring your staff seems impossible, right? So how did Vinnie Lucido do it after his brother and partner retired from the business? And how did his role as the sole owner and operator change? I asked Vinnie all these questions, in the Vision KC studios, including his perspective on interns and how he can work such a few hours a week.
Vinnie Lucido, Owner, CoAuto, Reno, NV. Listen to Vinnie's previous episodes HERE.
Key Talking Points
2018 Facility of the Year for Vision

8 people total including Vinnie attending Vision 2022- $30,000 with flights, balanced classes with some employees in the same class and some on their own. 

Completely restructured staff- his partner/brother left the business to travel with his family in an RV. Vinnie became the singular owner. Over a year span, some staff left and some were let go Keep your mind open to opportunities for other people to join that can exceed your expectations 

Has team leader (manager) full time- his morales align with Vinnie 

Started watching his team orchestrate on their own and not being needed- works 4-8 hours a week. Focuses his time on marketing and social media/commercials

Has student intern that started by pushing brooms to successfully taking apart and rebuilding lead tech's Audi 

No risks, no rewards- say yes and be vulnerable

Weekly and monthly meetings

Networking together- power comes from peers you meet, take golden nuggets from classes
Connect with the Podcast:
Check out today's partners:

Set your sights on Las Vegas in 2022. Mark your calendar now … November 1-3, 2022, AAPEX – Now more than ever.

More Time. More Profit. Transform your shop at getshopware.com/carm