Are You Comfortable With Your Problems? Business Coaches Lab [RR 729]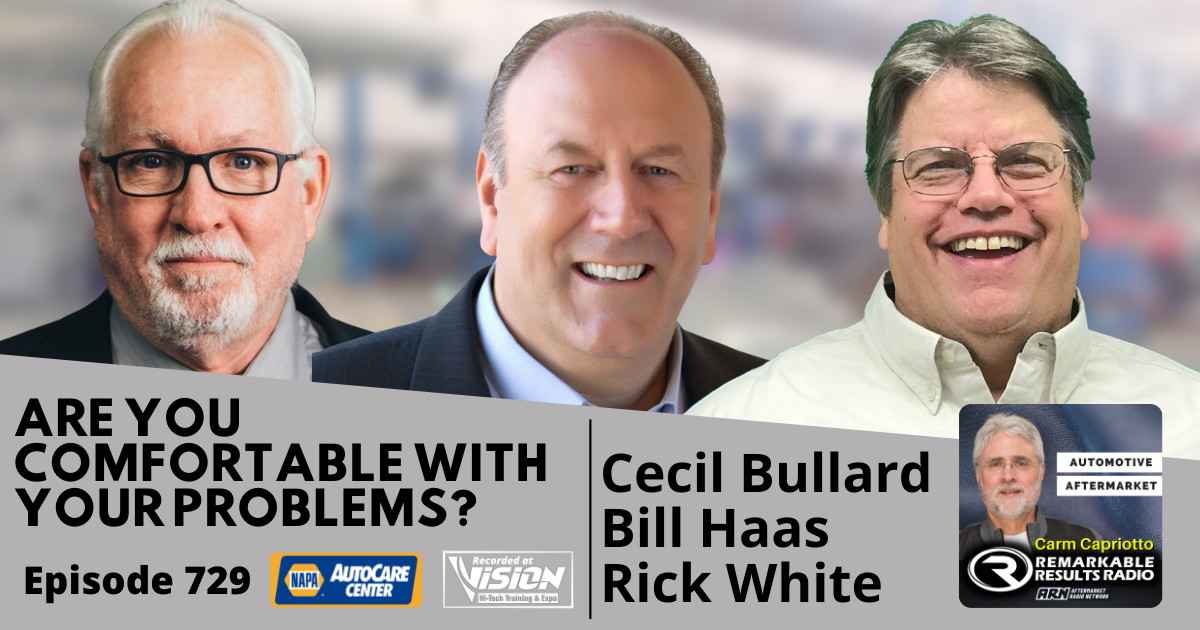 You're going to love this transparent interview recorded live at vision 2022. 3 business coaches, and no agenda. Listen firsthand from these business coaches on why so many business owners are struggling and how they are able to lift them to success. We talk about marriages, ego, habits, mistakes, and bad reactive pricing.
Cecil Bullard, President of the Institute for Automotive Business Excellence. Listen to Cecil's previous episodes HERE.
Bill Haas, Owner of Haas Performance Consulting, Listen to Bill's previous episodes HERE.
Rick White, President and Lead Coach for 180BIZ, Listen to Rick's previous episodes HERE.
Key Talking Points
Coaching- purpose, passion, joy. Becoming partners with their clients

"When you put the key in the front door on the first day, how did you feel?"

Marriages going flat because you spend all your time at the shop

Finding someone that speaks your language- earning trust takes time

Walking away- after 3-4 months if the client is not making changes 

Turning around a struggling shop- make changes until their habits

Most shop owners back into pricing- reactive pricing instead of creative pricing

Lose your ego and ask for help

Every staff member should have targets/goals of performance that align with the company's goals and vision. Don't overcomplicate your goals.

Fulfillment- hitting targets and having self-satisfaction, that's how they know they're doing their job right.

Most employee issues are management issues

Celebrate your goals together

Pay isn't the most important motivator- let your employees feel appreciated (team T-shirts, business cards)

Mistakes need to happen, pattern failures are a choice. Making the same error twice is a mistake 

Efficiency- doing more with less

Owners are the catalysts to push and challenge employees to grow
Connect with the Podcast:
Check out today's partner:

Learn more about NAPA AutoCare and the benefits of being part of the NAPA family by visiting www.NAPAAutoCare.com