Do Your Standards Align with Your Core Values [RR 740]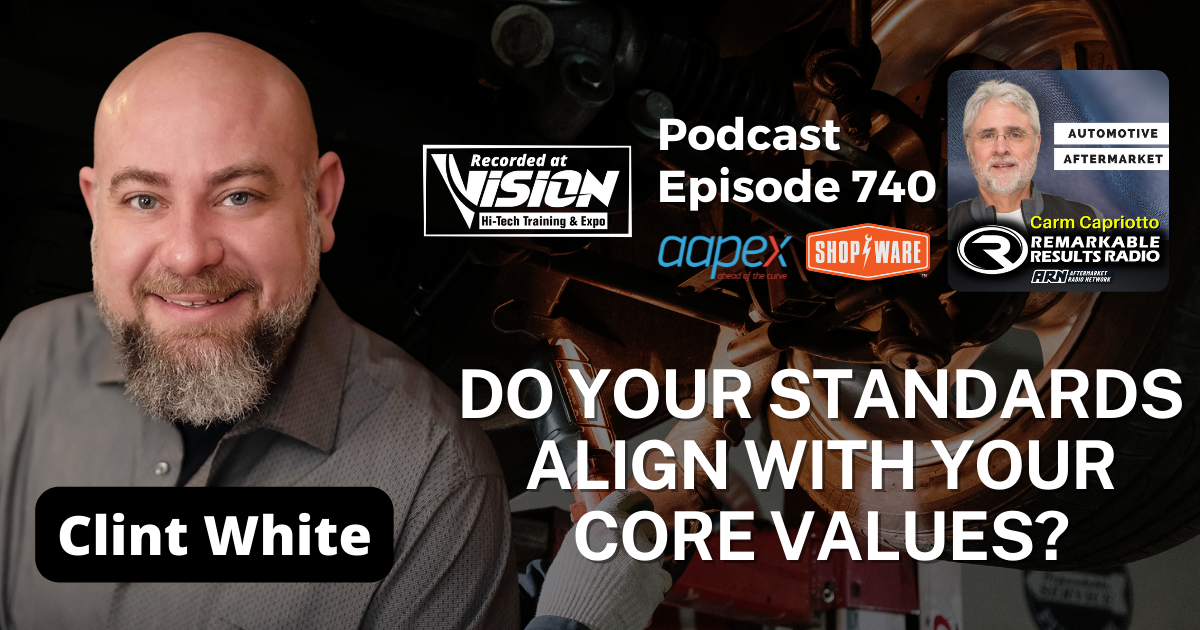 How aligned are your business standards with the core values of yourself, and your team members? What are your corrective action plans? I'm with Clint White at Vision 2022 and we discuss accountability when things don't go as planned in your business. It happens to everyone, but how to address it is a critical step some owners miss. 
Clint White, Service Advisor Coach & Shop Consultant with CWI and currently holds multiple ASE certifications. Clint's previous episodes HERE
Key Talking Points
Accountability- process to actively participate in

Standards- SOPs are required for all businesses, but do your employees know the foundation they're built on? Failure to follow the process. If 'rules' are integrated with core values they will be followed. Set clear expectations based on core values. What does it mean to succeed/do the right thing?

Corrective action/reprimand because they are afraid of losing someone- stunts growth

Neglect isn't effective- leaders must hold themselves accountable

People behave differently when they're being 'watched' 

Training adheres to standards

Defined corrective action plan- gives structure, form/meeting/counseling. Identify the event, identify the 'why'(was it a technical issue, personal issues?) actionable steps to avoid the mistake again, its improvement and growth.

Reward and recognition- team bonuses together
Connect with the Podcast:
Check out today's partners:

Set your sights on Las Vegas in 2022. Mark your calendar now … November 1-3, 2022, AAPEX – Now more than ever. And don't miss the next free AAPEX webinar. Register now at AAPEXSHOW.COM/WEBINAR.

More Time. More Profit. Transform your shop at getshopware.com/carm