Surviving Two Store Openings During the Pandemic [RR 750]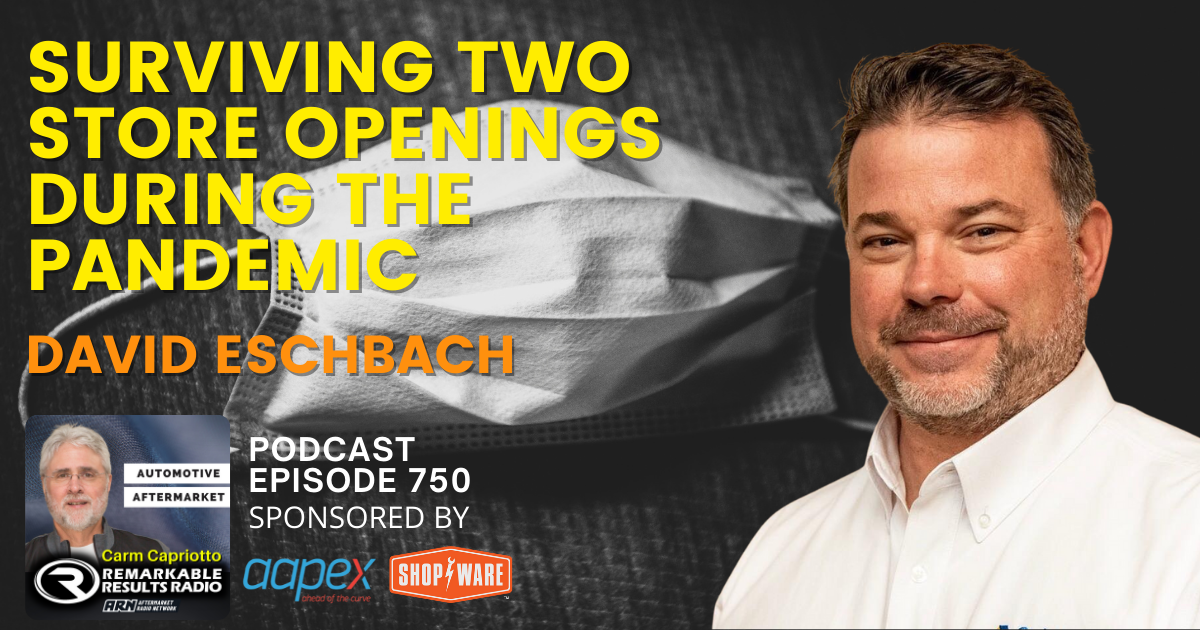 What is it like opening two locations at the dawn of COVID? David Eschbach shares his story around three primary business tenets. Each Take-Away is wrapped in a compelling story and supported by integrating sub-lessons. See the show notes as a guide, as this information is applicable for leading a business during any crisis or economic environment, not just during COVID.
David Eschbach, Spirt One Automotive, St. Louis, MO
Key Talking Points
Five Stages of Business- Obscurity, Awareness, Need, Change, Recommend
Awareness- understanding your voice and message is powerful. Include the spouse as 3rd party evaluator with reviews. "No one works for me, they work with me."
Forfeiting the Right to Emotion- The difference between emotion and compassion. Dollars are for the owner. Victories are for the team.
Focus on Simple Victories Not Dollars
Marketing, Advertising and Branding: must be done daily, everyone is a prospect, don't stop marketing even if you are busy and booked weeks out. Are you "coca-cola?" "Success is detrimental to your daily efforts" "Triumph only means your next effort has to produce bigger results." Creating a Marketing Calendar. Marketing Everyday- The Everyday Habit. Understanding how to attract new customers. The failure of discounts and rebates, instead market experiences. Becoming an Influencer, let the relationship build your business
Your Health is the Health of your Business- your team counts on you for your decisions. The best decisions come from a healthy mind and body.
Connect with the Podcast:
Check out today's partners:

Set your sights on Las Vegas in 2022. Mark your calendar now … November 1-3, 2022, AAPEX – Now more than ever. And don't miss the next free AAPEX webinar. Register now at AAPEXSHOW.COM/WEBINAR.

More Time. More Profit. Transform your shop at getshopware.com/carm