The Value of Exit Interviews [THA 278]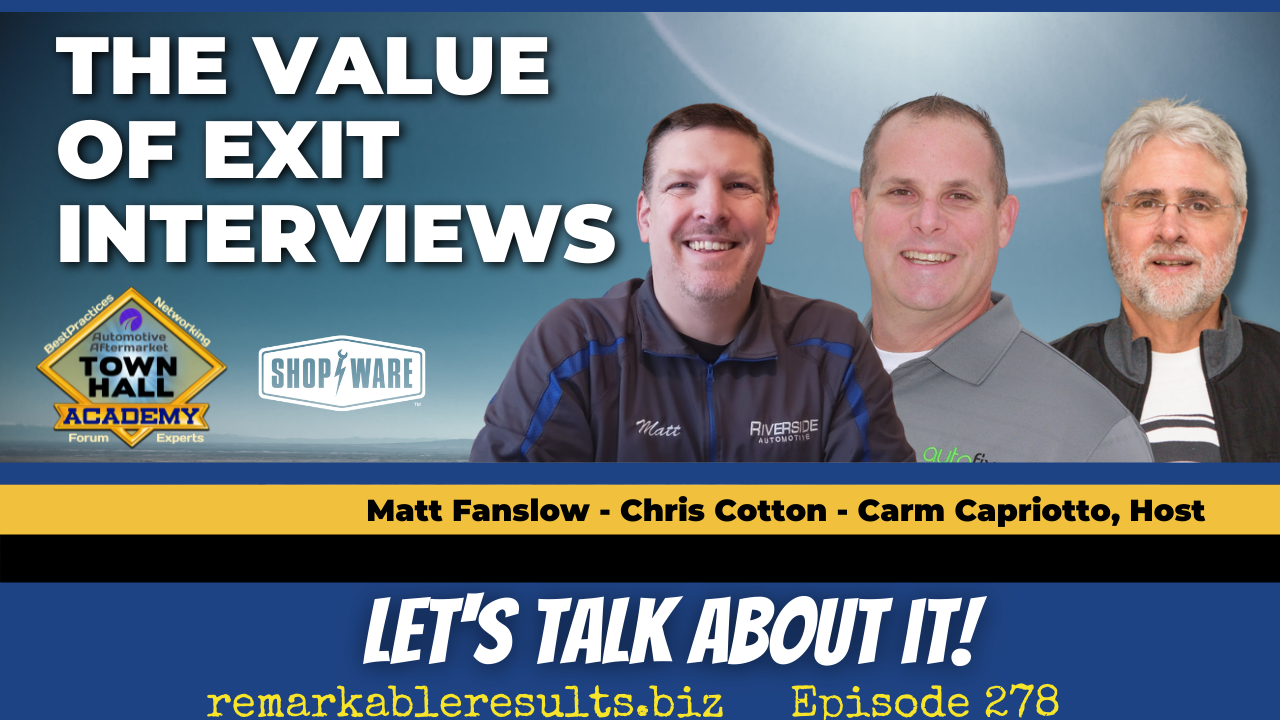 We're talking Exit interviews. Some shop owners do them religiously. Some don't want to face the music. Some don't know what to do in an exit interview. 
Is it a smart time not to burn a bridge? Is there a format to follow? We are going to attempt to answer these questions and more in today's Town Hall Academy. You can learn a lot about yourself and your company in exit interviews.
Watch the Episode on YouTube
Matt Fanslow, lead diagnostician and shop manager, Riverside Automotive, Red Wing, MN. Matt's previous episodes HERE
Matt Fanslow Podcast: Diagnosing the Aftermarket A to Z
Chris Cotton, AutoFix Auto Shop Coaching and the Chris Cotton Weekly Blitz Podcast
Key Talking Points
Think of it as information gathering.  We think nothing of gathering information to go about repairing a vehicle, be it a customer interview, service information search, or data collection via a scan tool or scope, or meter.  It's getting more and more common to ask clients for reviews.  We want good reviews on our sites, or on Google or Facebook and we want bad reviews to go to us immediately so they can be rectified and hopefully earn a "good" review.

People leave people, not companies

Winning sports team- winning is a salve for everything

If a soon-to-be or former employee just doesn't want to talk to you about their time with you, it may be a sign that your "open door policy" isn't nearly as open as you thought.




Your role in an exit interview, as the owner or manager, is to shut up and listen.  Ask questions.  The only statements you really should be making is maybe clearing up real misunderstandings, earnestly asking questions, and thanking them for their time with you working AND talking to you. 




Take the information and try very hard to look at it purely at face value, and then after a day or two or a week, come back to it and try to put yourself in their shoes/boots and read between the lines.  Don't let your imagination get too crazy, but with those two perspectives, you should be able to extract information that is true and applicable to improving your business and work environment.

There are not enough exit interviews done

We value customer reviews why not employees on an exit interview

The company should have a formal policy regarding exit interviewing. Must have a policy and or procedure. The same list of questions for all departing employees etc….

Not emotional…..hard part about smaller businesses is that the direct report usually does the interview, if at all possible have a neutral party conduct the interview, you can even outsource it if it fits in your budget to do so 

if you think of this in marketing terms this is a retention tool, not an acquisition tool. You need to listen to the employees as they leave and then think about your current employees, how can you use the information gathered in order to keep the employees you have

top 2 reasons for leaving repair shops is lack of accountability and employee not knowing what their future holds/training plan or lack of one.
Connect with the Podcast
Check out today's partners:

More Time. More Profit. Shop-Ware Shop Management getshopware.com