How Partnerships Work [RR 766]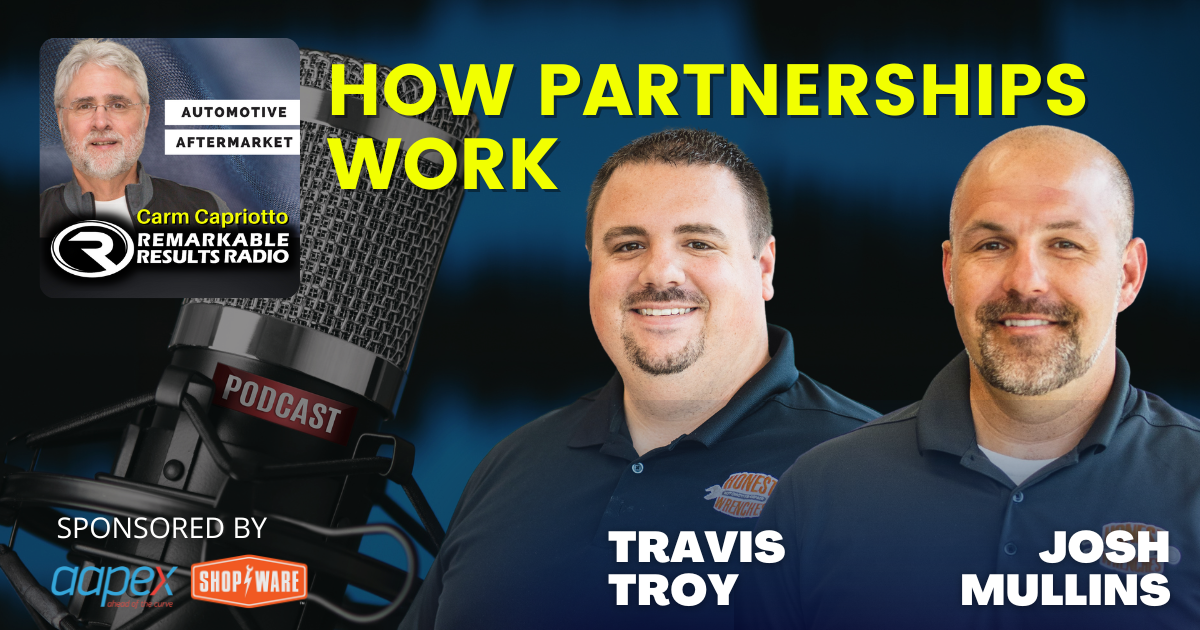 What does it take to build and maintain a long-term and successful business partnership? Why do so many fail? I'm with Travis Troy and Josh Mullins from Honest Wrenches, and they are debunking the misconception that partnerships in business don't work. Spoiler alert, just like a marriage, it takes hard work and clear communication with aligned values.  
Travis Troy, Josh Mullins, Honest Wrenches, Akeny and Des Moines, IA. Listen to Travis' other episodes HERE
Key Talking Points
Thinking of opening a second location? If you're going to do it, just do it; you'll figure it out along the way

Biggest learning curve- you're already spread thin because you're afraid of letting things go, but you must. Letting go will challenge you and bring you success. Empower your team.

Trust the process that is built

Working together- 2 way street, stay in your lanes with the flexibility to help each other when needed and asked. Constant 'check-ins' and communication together. You have to be aligned together. Know the capabilities and roles of your partner and understand the boundaries without overstepping each other 

Making mistakes- it happens; move on without making each other feel guilty about the wrong decision. Empower each other to use blameless problem-solving.

Travis and Josh are in CEO and COO group along with other networking groups

"People buy from people"

10 year age gap- it's not about the age gap, you can't compare workloads, you need defined roles. Don't create animosity and if it starts building you stop and talk it through.

Grow with the right people- don't force yourself to grow and risk diminishing the culture.
Know your purpose, your wants, and your desires
Connect with the Podcast:
Check out today's partners:

Set your sights on Las Vegas in 2022. Mark your calendar now … November 1-3, 2022, AAPEX – Now more than ever. And don't miss the next free AAPEX webinar. Register now at AAPEXSHOW.COM/WEBINAR.

More Time. More Profit. Transform your shop at getshopware.com/carm