Why Do a Repair Order Audit? [THA 286]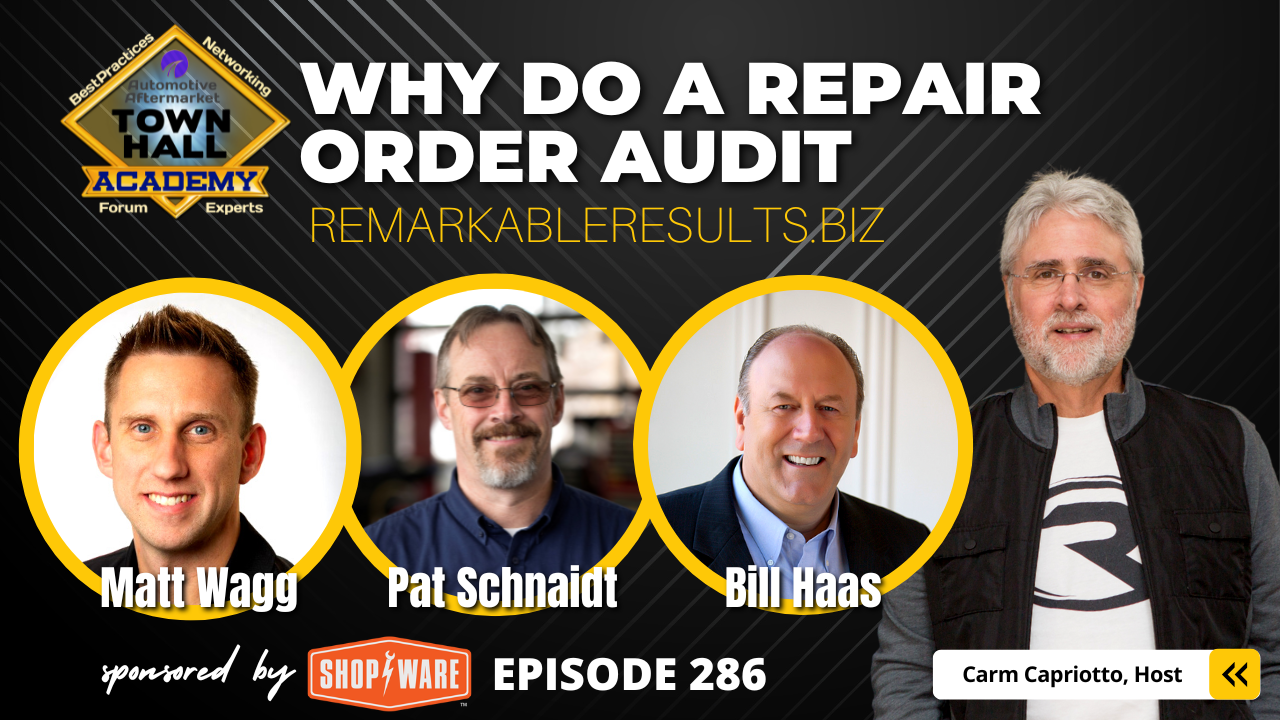 Are you chasing the KPI's in your business without pausing and diving into what creates those Key Performance Metrics? Are you reviewing repair orders? The amount of data filtered properly from an RO Audit will astound you. Use the data from a Repair Order Audit to refine your business.
Watch the Episode on YouTube
Matt Wagg, Accelerated Diagnostics and Automotive, Bennington, NE, Matt's previous episodes HERE
Pat Schnaidt, Performance Tune Auto Repair, Fort Collins CO
Bill Haas, Owner of Haas Performance Consulting, Bill's previous episodes HERE.
Key Talking Points
When you perform an audit of your invoices, you realize what created the KPIs we pay so much attention to. Puts another set of eyes on your invoices to read the story. "What happened? What did we provide? Are we doing what we should be doing? Are we saying what should be said? Are we meeting what the customer is looking for?" Ensures your advisors are aligned with your business expectations. Don't assume things are happening because you talked about it once!

While many of us trust "gut feel" – and that is important to have – math always wins. Data-driven decisions provide insight. Can prove or disprove your gut?

You have a KPI for parts gross profit. When you audit your invoices, you find the jobs that provide the best parts gross profit. You have a KPI for hours per invoice. The audit identifies the jobs that produce the most hours. Now you understand the work you should be focused on.

Coaching opportunities- you can see things at a daily point and address them immediately. Technicians with inspection issues, profitability issues, service advisor, declined job tracking, selling maintenance and prescribing it, getting hours per RO up. Magg Wagg coaches daily with email, calls out the good things as well. 

Discoveries- process flaws, unsold jobs, how little you make on oil service jobs, what is the average mileage of vehicle, selling maintenance jobs, confidence to bring another service advisor on board, creates relationship builder with customers, track trends. Don't be afraid of change, have open eyes, take the time to evaluate, and you will see a return on the time and investment. 

Looking at internal processes- Pat identified warranty jobs weren't being processed correctly. Tracking internally cost of goods.
Connect with the Podcast
Check out today's partners:

More Time. More Profit. Shop-Ware Shop Management getshopware.com