Practice What You Learn – G Truglia and Pete Meier [RR 784]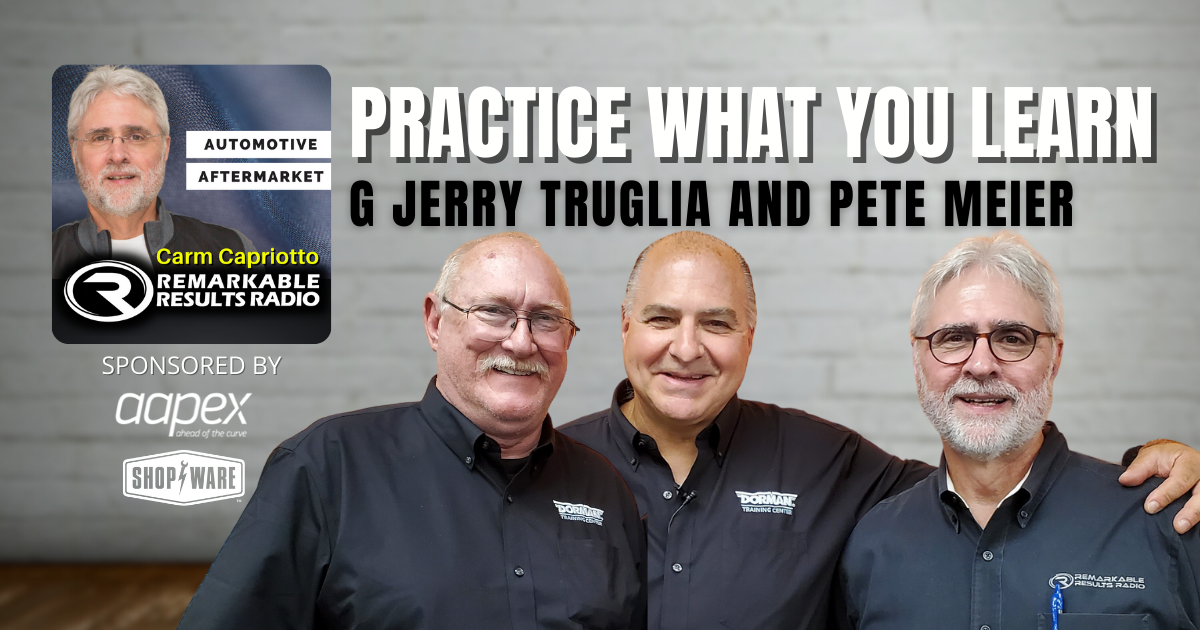 The proverb 'A little knowledge is a dangerous thing' expresses the idea that a small amount of knowledge can mislead people into thinking that they are more expert than they are, which can lead to mistakes being made. When it comes to repairing EV/Hybrids, the era of being a parts changer, I'm told,  is nonexistent. We recorded live at Dorman with G Truglia and Pete Meier, 2 out of 4 trainers for a weekend of hands-on training.  Listen to their perspectives on EV/Hybrid repair and training and why critical thinking is more important than ever.
G Jerry Truglia, ATTS: Automotive Technician Training Services, Technician Service Training. Listen to G Jerry Truglia's other episodes HERE.
Pete Meier, Creative Director, Motor Age, and industry trainer. Bikers C.A.R.E Inc. Listen to Pete's other episodes HERE
Key Talking Points
Tips and tricks with EV/Hybrids- you must understand electric

Using a meter- where to put it, what scale to put it on and what the readings mean

You either fix it right, or you fix it wrong- there is no middle ground or a gray area

Information is key- batteries, computer systems, motors, etc

You have to have logic and critical thinking when working with high voltage

Changing a battery isn't so simple anymore 

Commitment to training and education- reading publications, attending live hands-on  classes

Challenges- technicians do not receive support from the shop owner

Transferring information from the brain to your hands- no longer a parts changer to fix problems. Comprehensive understanding.  

How many shops are doing EV/Hybrid the right way?

60 volts can stop your heart and kill you

"A little bit of knowledge is a dangerous thing."
Connect with the Podcast:
Check out today's partners:

Set your sights on Las Vegas in 2022. Mark your calendar now … November 1-3, 2022, AAPEX – Now more than ever. And don't miss the next free AAPEX webinar. Register now at AAPEXSHOW.COM/WEBINAR.

Shop-Ware: More Time. More Profit. Shop-Ware Shop Management getshopware.com