Forecasting Your Future [RR 826]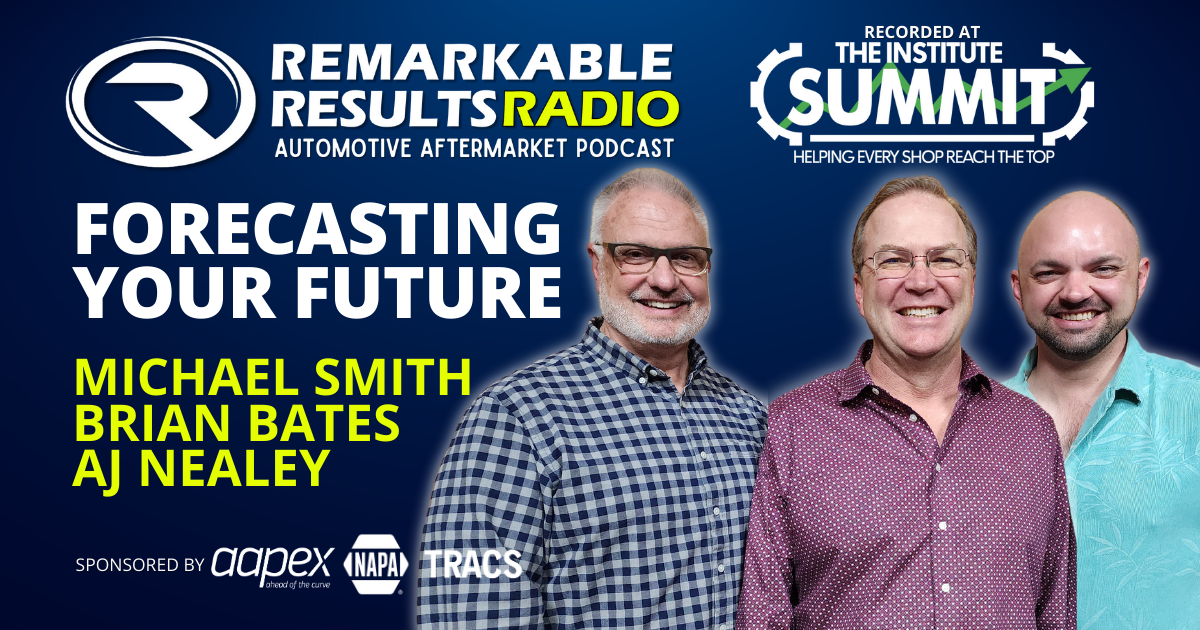 The future is here, consolidation is already happening. The middle-level shops will now be at the bottom end of the bell curve. What are the trends at the OEM level? Is Uber/Lyft the fleet of the future? What is the outlook of the changing service aftermarket? Recorded Live at the 2022 Institute Summit, Michael Smith, Brian Bates, and AJ Nealey discuss the future; it is happening sooner than we think. 
Michael Smith, Managing Partner, Herzberg Smith and Co, Michael Smith's previous episodes HERE
Brian Bates, Eagle Automotive Service, Littleton, CO, 9 locations. Brian's previous episodes HERE
AJ Nealey, Nealey Auto Service, Edgewater, MD. AJ's previous episodes HERE
Show Notes
Trends- what's happening at the OEM level? What are the automotive companies doing now and what are they planning to do? How fast they're planning to do it?

What they do now is what we will experience three to five years down the road.

Dealership service department- struggling to retain and hire technicians 

As a manufacturer, dealerships are a necessary evil in their world because they have to have somebody distribute the parts, distribute the cars, interact with the customers, etc.

Car buying experience- is the salesperson/car lot necessary?

Do we have an opportunity to manage/repair fleets? Imagine Uber and Lyft are the fleets of the future.

The emotion is the connection- how do we accept self-driving vehicles? Your identity?

There's a global movement around ESG, Environment, Society, and Governance. And the concept of it is to have this green movement, which is being sold through the media. 

If the auto companies can have their way and they dominate all of it, the connectivity, the autonomous, if they have control of all that at the auto company level, they estimate it's a 34 billion a year profit for the automotive industry versus if they lose touch with this and Uber's shared mobility and all this gets distributed, 5 to 6 billion a year in profit.

Baby boomers want out of the industry- buyers market for shop

In the future, there will be fewer competitors who are bigger. And more sophisticated, and many of the marginal shops will have been long gone. The middle-level shops will now be at the bottom end of that bell curve. And so the whole industry has taken giant leaps forward beyond where we've been before.

2017-250,000 shops. 2022-127,400 shops

What is the value of your shop? How can you create as much value for your business as possible?

Find your Purpose.

Build a company that has value, and that value has to be built around people

What do you want to do in the next two to five years?

You have to put a team in place that has value to somebody coming and wanting to acquire your business. 

The most important part of this is who you bring on board and inspiring them and leading them.

"Impacting lives by inspiring values"

Give back to the people, community, and business  

Get out of your comfort zone and make those changes
Thanks to our Partners, AAPEX and NAPA TRACS.
Set your sights on Las Vegas in 2023. Mark your calendar now … October 31 – Nov 2, 2023, AAPEX – Now more than ever. And don't miss the next free AAPEX webinar. Register now at AAPEXSHOW.COM
NAPA TRACS will move your shop into the SMS fast lane with onsite training and six days a week of support and local representation. Find NAPA TRACS on the Web at NAPATRACS.com
Connect with the Podcast:
-Join our Insider List: https://remarkableresults.biz/insider
-All books mentioned on our podcasts: https://remarkableresults.biz/books
-Our Classroom page for personal or team learning: https://remarkableresults.biz/classroom
-Buy Me a Coffee: https://www.buymeacoffee.com/carm
-The Aftermarket Radio Network: https://aftermarketradionetwork.com
-Special episode collections: https://remarkableresults.biz/collections
Check out today's partners: